#EndorseThis: Desperate For Advice, Trump Calls Colbert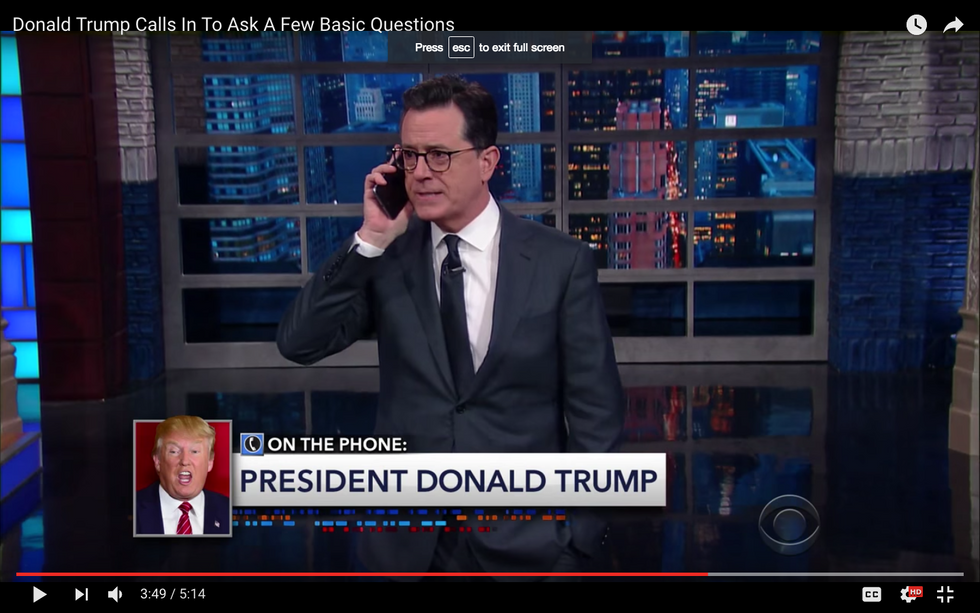 When Donald Trump tweeted an attack on Senator Richard Blumenthal this week, the president was returning to a pattern he established during the Republican primaries: He sometimes told unpleasant truths about adversaries, even while lying about himself and many other things. In this case, as Stephen Colbert admitted with pain, Trump was right about Blumenthal's old and debunked claim of military service in Vietnam, a sad lie for which the Connecticut Democrat apologized years ago
But as Colbert reminded him, Trump was unwise to bring up the vexed issue of Vietnam and the draft. According to the Late Show host, Trump's personal history of five (5) draft deferments, including one for "bone spurs" in his heels, was captured in a terrifying movie titled Apocalypse Ow!
Meanwhile, SColbert noted how Trump calls his national security adviser Mike Flynn for advice about issues — specifically, whether a strong or weak dollar is "better" — at 3 a.m. At least he didn't drunk-text him: "U up?"
Then Trump phoned Colbert — and it got even funnier.