Trump Campaign Chief On Secret Ukrainian Ledger For More Than $12 Million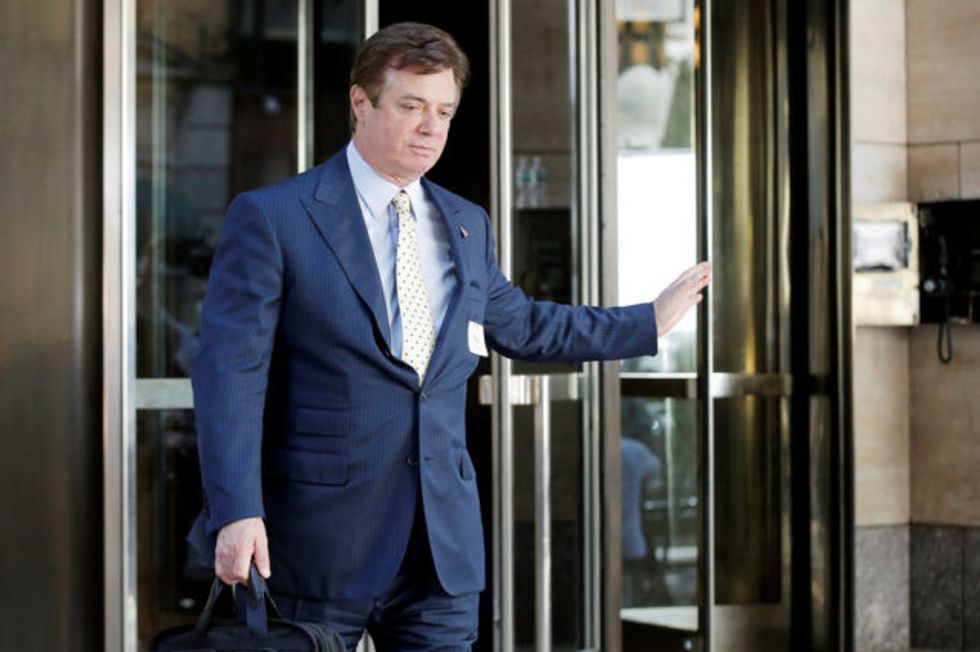 The New York Times published a story Sunday detailing Paul Manafort's dealings with pro-Russian political forces in Ukraine. According to The Times, Manafort, Donald Trump's campaign manager, was named on a secret, handwritten ledger showing $12.7 million earmarked for him.
Manafort had previously worked extensively in Ukraine, including for Rinat Akhmethov, a wealthy steel and iron ore businessman. Manafort's ties to the Putin-aligned mogul recall the connections between Russian aluminum mogul Oleg Deripaska and John McCain's 2008 campaign manager, Rick Davis.
More relevant to this alleged payout, however, are Manafort's ties to Viktor Yanukovych, the former pro-Russian president of Ukraine. According to a Politifact story from a few months back, Akhmetov was a supporter of Yanukovych, and Manafort was first invited to consult on Yanukovych's campaign in December of 2004.
Investigators told The Times that the money was part of an illegal system of payouts to multiple individuals, including elected officials, that was completely off-the-books. Prosecutors have also been looking into an $18 million deal done in part by Manafort to sell Ukrainian cable television assets to a partnership. Manafort worked with Oleg Deripaska, an ally of Russian President Vlladimir Putin, on that deal.
This is not the first time Trump or a member of his campaign has been publicly derided for ties to or comments about Russia. Trump has made positive statements about Putin in the past, and even went so far as to ask Russia to hack Hillary Clinton's deleted emails.
Officials say Manafort may not have received the cash, but it was marked for him specifically.
The Times notes that Manafort's personal items and furniture were in the office he used when he worked for Yanukovych as early late May of this year.
Manafort refused to respond to interview requests or questions from The Times at the time of publication, but his lawyer, Richard A. Hibey disputed the claim that Manafort had received "any such cash payments."
Monday morning, in a statement obtained by NBC News, however, Manafort slammed the claims against him:
Once again, the New York Times has chosen to purposefully ignore facts and professional journalism to fit their political agenda, choosing to attack my character and reputation rather than present an honest report.

The simplest answer is the truth: I am a campaign professional. It is well known that I do work in the United States and have done work on overseas campaigns as well. I have never received a single 'off-the-books cash payment,' as falsely 'reported' by The New York Times, nor have I ever done work for the governments of Ukraine or Russia. Further, all of the political payments directed to me were for my entire political team: campaign staff (local and international), polling and research, election integrity and television advertising. The suggestion that I accepted cash payments is unfounded, silly and nonsensical.
Corey Lewandowski, former campaign manager for Trump, made waves for tweeting the story Sunday evening.
Clinton's campaign chair, Robby Mook, said in a statement:
Donald Trump has a responsibility to disclose campaign chair Paul Manafort's and all other campaign employees' and advisers' ties to Russian or pro-Kremlin entities, including whether any of Trump's employees or advisers are currently representing and or being paid by them.
By Monday morning, the DNC had also put out its own official statement on the matter, through Press Secretary Mark Paustenbach:
The fact that Donald Trump's top campaign aide, Paul Manafort, may have accepted millions in undisclosed cash payments from pro-Kremlin entities in Ukraine is especially troubling in light of the Russian government's recently exposed cyber-attacks on the Democratic Party. Donald Trump must disclose any and all ties, financial or otherwise, that he or his campaign aides have to the Russian government. Our Democracy depends on free and fair elections, and the American people deserve to know if the Trump campaign is being influenced in any way by a foreign power.
Photo: Paul Manafort, senior advisor to Republican U.S. presidential candidate Donald Trump, exits following a meeting of Donald Trump's national finance team at the Four Seasons Hotel in New York City, U.S., June 9, 2016.  REUTERS/Brendan McDermid