Illegal? Trump Campaign Asks International Politicians For Money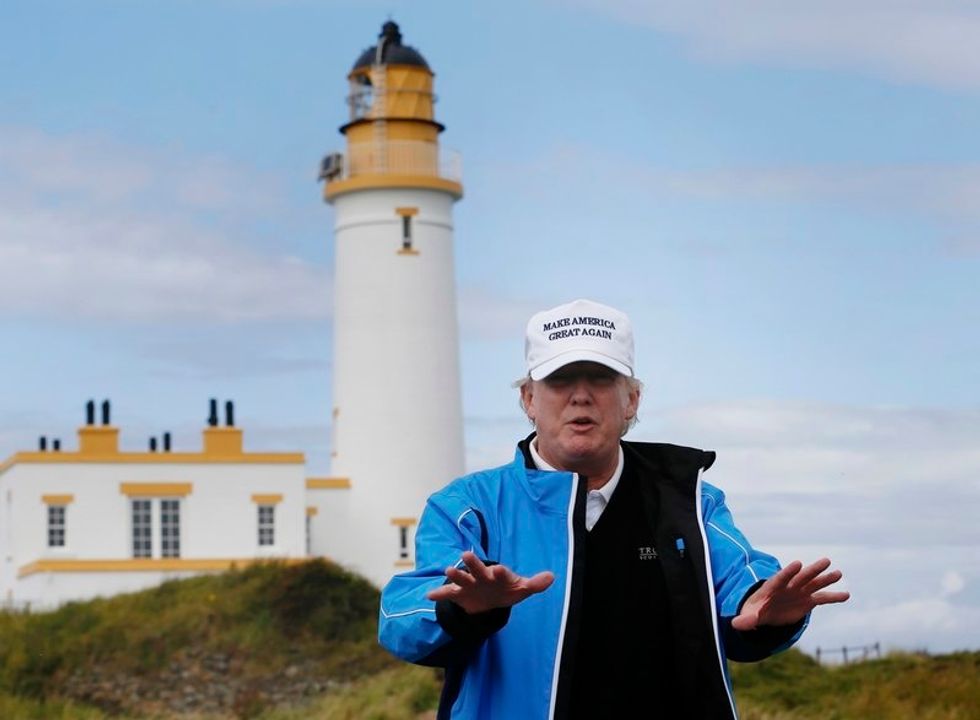 Donald Trump is really milking the Brexit outcome — repeating that he was right about which side would win the referendum on the United Kingdom's membership in the European Union, arguing that somehow makes him an economic genius, and claiming the results are an early signal of a global movement to "take [your country here] back."
But now, Trump seems to have gone too far. Members of parliament in the United Kingdom, Iceland, and Australia have sounded the alarm about emails from the Trump campaign that use the Brexit result to solicit funds — even though political donations from foreign sources violate federal election law.
"These voters stood up for their nation — they put the United Kingdom first, and they took their country back," reads one of the emails, before asking for a contribution.
The email recipients took to social media to denounce Trump's efforts.
Dear @nytimes, could you pass a message to @realDonaldTrump for me? Please stop sending campaign begging letters to MPs. It's pathetic!

— Stuart McDonald MP (@Stuart_McDonald) June 27, 2016
https://twitter.com/NatalieMcgarry/status/745790016891289602?ref_src=twsrc%5Etfw
@joshtpm @PatrickRuffini pic.twitter.com/wpV348Hws7

— Tim Watts MP (@TimWattsMP) June 29, 2016
Iceland Magazine reports:
"I have no idea why he emailed me the letter," MP Guðlaugur Þór Þórðarson, a member of the Independence Party (Sjálfstæðisflokkurinn) and one of the Trump emal recipients, told Morgublaðið newspaper.

Katrín Jakobsdóttir, head of the Left Green Party, received an email from Trump. "This whole matter is very perplexing. The letter left me speechless," she said.
The Trump camp doesn't seem to have reviewed their fundraising email lists very thoroughly: Many recipients are members of the Scottish National Party (SNP), which strongly opposed Brexit and is now calling for an independence vote for Scotland. One of its members, Tasmina Ahmed-Sheikh, called for Trump to be banned from the U.K. She also received fundraising emails from Trump.
How the Trump campaign got all those email addresses is unclear. They might have come from a rented telemarketing list, or perhaps were taken directly from official webpages. But either way, any contribution from a foreign national is illegal under U.S. law, regardless of his or her employment. The fact that the Trump campaign is reaching out to politicians in other countries, most of whom directly oppose his agenda and are now actively complaining about him, is about as bizarre as… well, as the rest of Trump's campaign.
A representative from the Federal Election Commission told Fusion that although it is illegal for a campaign to solicit foreign contributions, the Trump campaign would only have violated the rules if it knowingly included the foreign email addresses in its mailing list.
Christopher Mullins-Silverstein, an SNP staffer, sent a letter to the FEC complaining about the Trump emails. "You should know who you're asking these questions to," he said.
Photo: U.S. Republican presidential candidate and businessman Donald Trump gestures as he tours his Trump Turnberry Resort in Scotland, Britain August 1, 2015.   REUTERS/Russell Cheyne/File Photo