Trump Campaign Manager Parscale Paid Thousands By Foreign Officials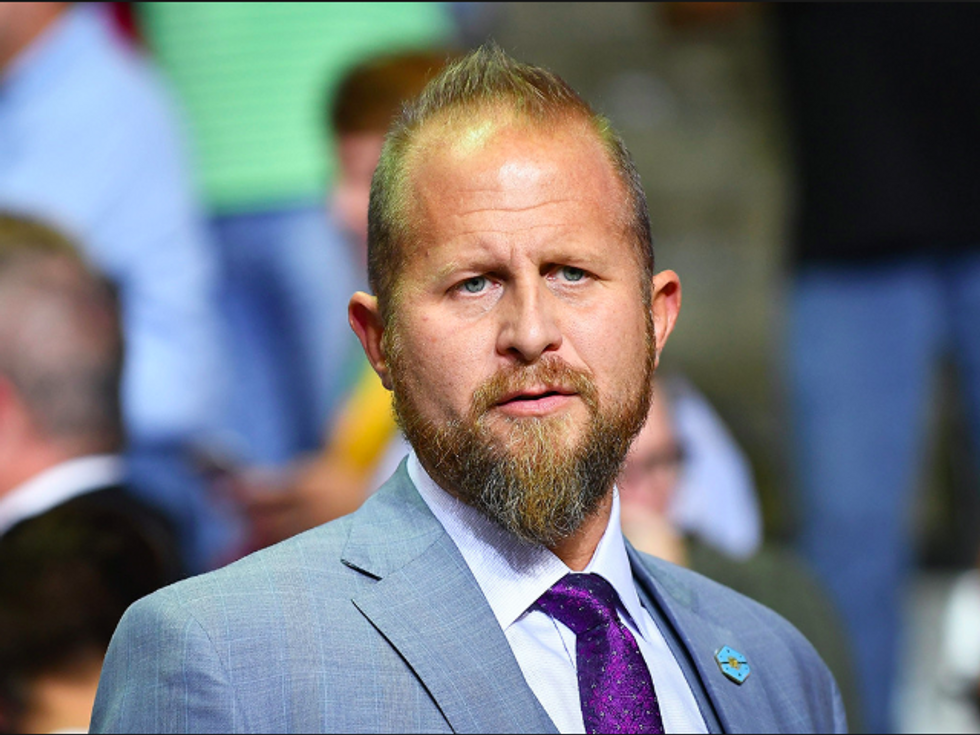 Brad Parscale rakes in thousands from abroad at the same time he's running Trump's reelection campaign. And the campaign is fine with it.
Trump's campaign manager, Brad Parscale, recently took thousands of dollars in payments from foreign officials. Parscale made his money while laying the groundwork for Trump's 2020 reelection campaign.
The Washington Post reports that Parscale was in Romania in March, "delivering a paid speech to a room full of Romanian politicians and policy elites."
While Parscale would not reveal the precise amount of his payment, the company that represents him lists his speaking fee as $15,000 to $25,000.
Parscale admitted to the Post that he has given several of these speeches for foreign payments over the last few years, with the full knowledge and permission of the campaign.
"I've never heard of anything like this before," Republican campaign strategist John Weaver told the Post. "There are too many opportunities where there could be potential conflicts between a presidential campaign and the policies that the candidate could espouse and potential income. It is a conflict-of-interest zone that you just never enter into."
Weaver was a key figure in campaigns for Republican presidential candidates like George H.W. Bush, John McCain, Jon Huntsman, and John Kasich.
"It appears the Trump political organization has learned nothing from 2016 about the dangers of senior campaign personnel's entanglement with foreign money," Trevor Potter of the Campaign Legal Center told the paper.
Trump has refused to cut off his own financial entanglement with foreign entities, even while occupying the Oval Office, despite widespread criticism that such ongoing relationships are highly unethical and perhaps even unconstitutional. The willingness to ignore such ethical concerns apparently extends to Trump's campaign as well.
"The appearances are terrible," former George W. Bush ethics lawyer Richard Painter explained. "You would certainly think that a campaign manager would not take money from foreign nationals in this political environment."
The Trump campaign's entanglement with foreign governments, particularly Russian operatives, has been a major issue over the last few years and the primary subject of the nearly two-year investigation by special counsel Robert Mueller.
The Trump campaign is shrugging off such concerns. Parscale claimed questions about his foreign payments are just "another effort by the biased fake news media to systematically target another person in President Trump's orbit."
Parscale, as campaign manager, is one of the highest-ranking people in Trump's orbit. And while he says that he is not involved with Trump's policies, he is setting the tone and direction of Trump's campaign. He recently said he will be spending up to half a billion dollars of campaign funds on digital advertising, much of which has thus far been racist and nativist in nature, designed to rile up and turn out the bigots within Trump's base of voters.
Parscale was in charge of many of the attempts by the Trump campaign in 2016 to suppress black voters through deceptive ads.
The Trump reelection campaign is also reportedly working with former operatives from Cambridge Analytica, the data harvesting firm that is implicated in several scandals surrounding the 2016 election and the Brexit vote in the United Kingdom.
But it's rare for Trump or any members of his team, whether in the White House or on the campaign, to try to avoid even the appearance of impropriety. So for Parscale, the only issue with profiting from deals with foreign officials is that anyone is asking questions about it in the first place.
Published with permission of The American Independent.
IMAGE: Trump 2020 campaign manager Brad Parscale.