Trump Campaign Used Donor Cash To Pay Kushner's Legal Bills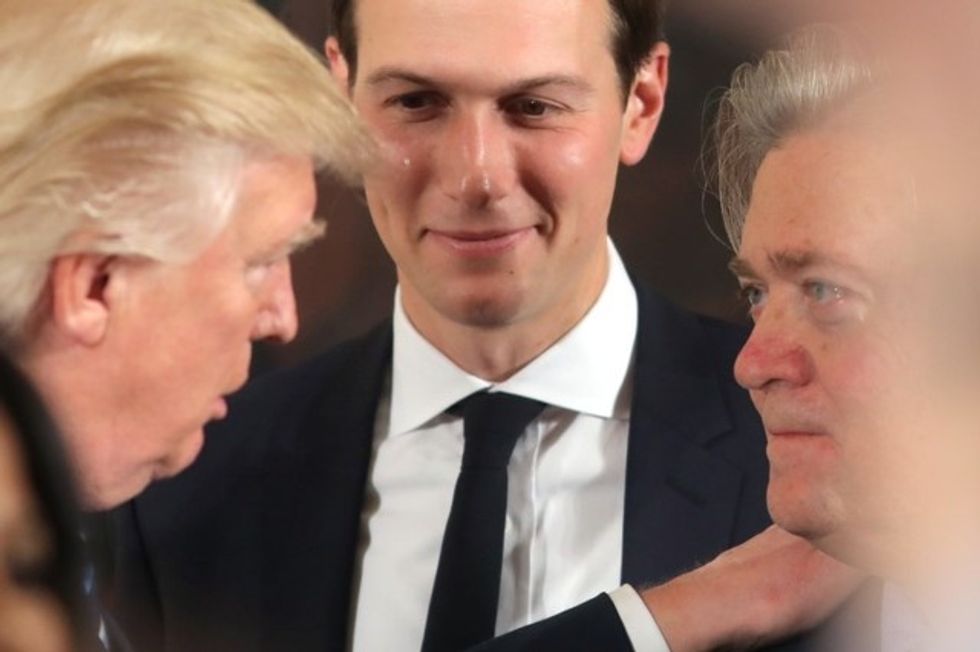 Trump's re-election campaign has used thousands of dollars from donors to pay legal fees for Trump's son-in-law, Jared Kushner, who is a multi-millionaire.
ABC News reports that nearly $100,000 donated to the campaign has gone to pay off Kushner's liabilities. Two payments were made to the firm Winston & Strawn LLP for a total of $97,904. Kushner's lawyer Abe Lowell has been part of the firm since May 2018.
Kushner's net worth has been reported to be anywhere from just north of $320 million to as much as $800 million, and his combined net worth with his wife Ivanka Trump could be over $1 billion. A 2016 report from Forbes estimated that the Kushner family, headed by Jared's father Charles Kushner, had a $1.8 billion dollar fortune.
But the money for his legal defense is being financed largely through small-dollar contributors to the Trump campaign, who donated 98.5 percent of the money to the enterprise. Most of those donations have been for $200 or less.
Kushner has been squarely in the crosshairs of the ongoing investigations surrounding Trump at the highest levels. The FBI has reportedly been probing Kushner and his business concerns as part of the ongoing Robert Mueller investigation.
At the same time, Kushner has been evasive on his official disclosure forms about his Russian contacts, and he was unable to be directly given a security clearance for access to top secret information.
The campaign has spent massive amounts of money on legal fees for the scandal-plagued individuals involved at the highest levels of Trump's inner circle. Over $6.7 million has been spent so far.
That includes $514,000 to help Donald Trump Jr., $590,000 for former White House communications director Hope Hicks, $276,000 for former Trump fixer and personal lawyer Michael Cohen, and $173,000 for former Trump campaign manager Corey Lewandowski, according to the ABC News report.
Many of the people involved are extremely wealthy, with millions of dollars in the bank and the ability to cover these legal expenses out of their own pockets.
But they are instead following the model set by Trump himself, who marketed himself as a billionaire while he personally profited from his own presidential campaign. He has continued the practice with the power of the presidency behind him.
Trump's inner circle has had to deal with the legal fallout of their involvement with a presidential campaign that made multiple contacts with Russian operatives. Those contacts triggered the ongoing special counsel investigation of Trump and his team, and have racked up serious convictions and indictments by Robert Mueller.
Donors to Trump's presidential campaign in all likelihood believe their donations are going toward traditional expenditures — campaign ads, political hires, organizing — but millions of dollars they've given are financing the legal lifestyles of the extremely rich.
Published with permission of The American Independent.