Trump Card: Could Dark Money Win The Nomination For The Donald?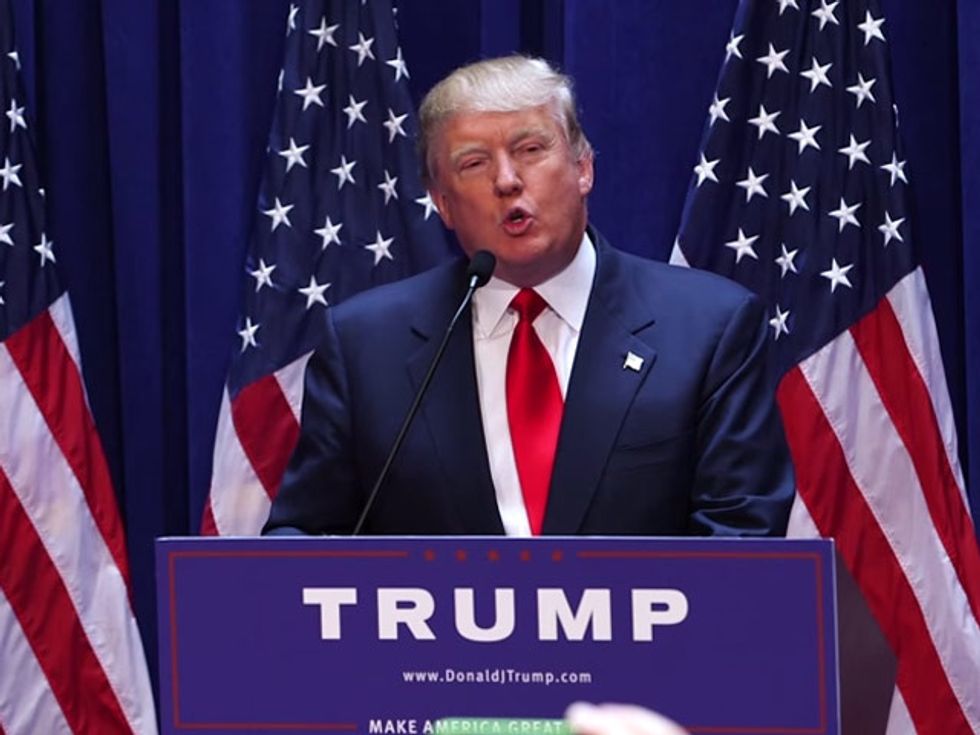 What could benefit Democrats more than Donald Trump's explosive presidential candidacy – except Donald Trump as the 2016 Republican nominee? A ticket led by Trump has all the makings of a right-wing Armageddon, putting as many as 400 electoral votes in the Democratic column.
While The Donald shows no sign of muting his appeals to the GOP's most racist and lunatic elements, his rise in recent polls makes that impossible dream seem slightly more plausible. The latest survey by The Economist/YouGov puts Trump in first place, ahead of Jeb Bush, Marco Rubio, Rand Paul, Scott Walker and all the rest of the clown-car occupants. Other polls showing him running second to Bush and in the top tier in early primary states.
At least one looming obstacle to a Trump triumph remains, however (aside from his boatload of baggage and his penchant for spectacularly ill-advised remarks). Nobody who knows him well believes that the self-proclaimed "billionaire" is willing to spend the many millions of dollars needed for the television buys that would make him a serious primary contender.
Evidently he believes that free media – like the continuing tsunami of negative publicity earned by his barking-mad announcement speech and subsequent remarks – will carry him through. Although wiser heads have explained why that won't work, he isn't listening.
But there is a solution. An actual billionaire on the Democratic side — someone like George Soros or Tom Steyer — could simply set up a pro-Trump SuperPAC funded by "dark money."
This cloaked entity could become, as Trump would put it, "the biggest SuperPAC EVER," promoting the casino developer and denigrating his Republican opponents in Iowa, New Hampshire, South Carolina, and onward, until victory. And since the Republicans just adore Citizens United, they could scarcely complain if and when a sudden influx of undisclosed cash makes their worst nightmare come true.
Sadly, this is the sort of initiative that wealthy Democrats are far too principled (or squeamish) to consider. But just imagine next year's Republican convention if Trump arrives with the most delegates – as my National Memo colleague Eric Kleefeld did yesterday on Twitter:
Donald Trump would be the first ever nominee for president whose party refuses to give him a speaking slot at the convention.

— Eric Kleefeld (@EricKleefeld) July 9, 2015