Trump: Christie Viable If He Can Put GWB Scandal Behind Him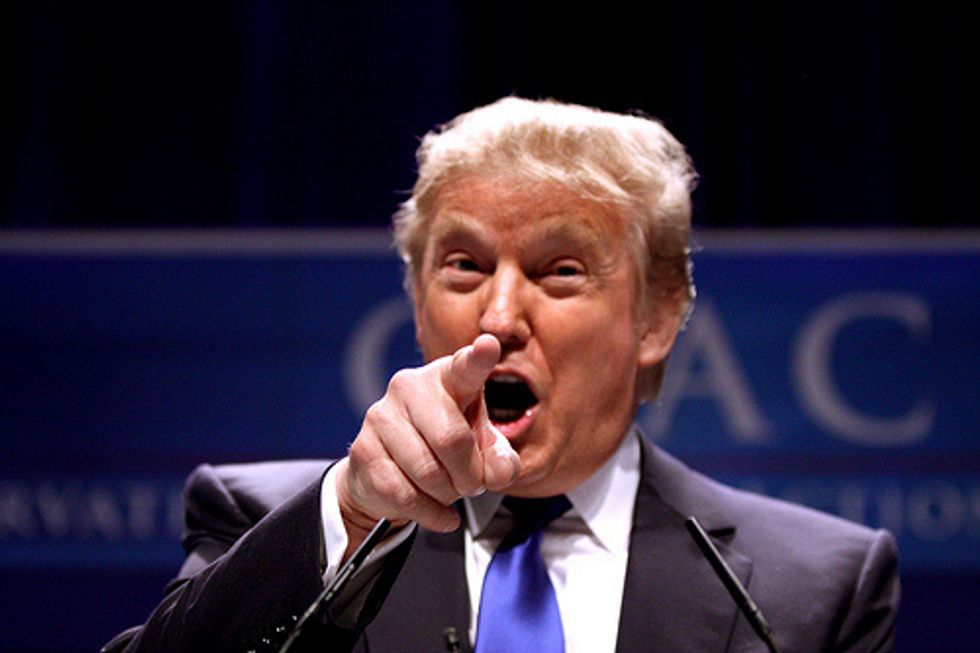 By Herb Jackson, The Record (Hackensack, N.J.)
WASHINGTON — New Jersey Gov. Chris Christie will be a viable presidential candidate in 2016 if he can get the scandal over access-lane closures on the George Washington Bridge behind him, Donald Trump told a luncheon at the National Press Club on Tuesday.
"Chris is a friend of mine and he's good guy, but he's got to get his problem cleared up, there's no question about it," Trump said in response to a question about Christie and the 2016 presidential field.
"I've spoken to him about it and it was a crazy set of events that took place. … Certainly he's been devastated by it," Trump continued. "At some point it will come out. And many people are looking. And I made a statement, and I didn't mean it as a negative statement about him: He's one email away from having a big problem. That has to disappear. It has to go away. And then certainly, he'd be viable."
Christie has been working to convince audiences, including one in Washington two weeks ago, that investigations have proven he had no involvement in the lane closures, which caused four days of gridlock, and that Democrats suspect were carried out to punish Fort Lee's mayor for not endorsing Christie.
An investigative report by a New York City law firm hired by the state concluded that an aide to Christie, Bridget Anne Kelly, and one of the governor's appointees on the Port Authority, David Wildstein, were responsible for the lane closures and the governor knew nothing about the action. An investigation by a special committee of the Legislature continues, and the U.S. attorney's office in Newark has empaneled a grand jury as well.
After commenting on Christie, Trump also defended his high-profile effort to get President Barack Obama to release his birth certificate, and said he still wants to see other documents, including Obama's applications to college. He also said he would put in a bid to buy the NFL's Buffalo Bills, and that NFL owners were impressed with the job he did decades ago in the now-defunct USFL, when Trump owned the New Jersey Generals.
In remarks at the luncheon before he took questions, Trump decried the nation's failures in economics and foreign policy, saying governments in China and Russia are laughing at the United States.
He said he loves being a developer and bestowing his brand name on luxury projects, and doesn't want to go into politics, but said he also loves the country more and if no one capable of the leadership needed steps forward, he would consider a 2016 presidential bid himself.
"I love this country and I hate to see what's happening and if I don't see the right person, I will do something in '16, I will do it as sure as you're sitting there," Trump said.
Photo: Gage Skidmore via Flickr