Trump 'Clarifies': I Meant The Opposite Of What I Said About Russia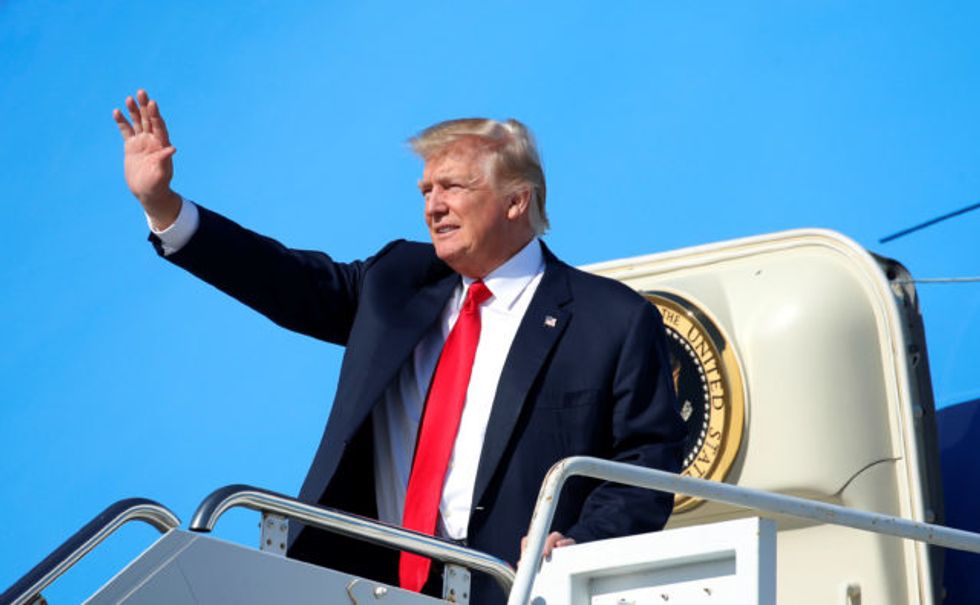 Reprinted with permission from Shareblue.
Remember Trump's disastrous summit with Russian dictator Vladimir Putin on Monday?
You know, the one where Trump made it perfectly clear he trusts Putin more than he does U.S. intelligence agencies?
The one that CIA director John Brennan found so shocking and abhorrent he called Trump's behavior "treasonous"?
The one that sparked so much national outrage, even some Republicans grudgingly admitted that Trump did a bad thing?
Yeah, now Trump wants you to believe that the whole thing was just a big misunderstanding.
During his joint press conference with Putin in Helsinki, Finland, on Monday, Trump very clearly said: "My people came to me, [Director of National Intelligence] Dan Coats came to me and some others saying they think it's Russia. I have President Putin, he just said it's not Russia. I will say this, I don't see any reason why it would be."
But on Tuesday — more than 24 hours after he made those remarks — Trump claimed that he really meant to say he saw no reason why it wouldn't be Russia.
"The sentence should have been, 'I don't see any reason why it wouldn't be Russia,'" Trump said. "Sort of a double negative."
Here's the full text of his unbelievable backtrack:
I thought that I made myself very clear by having just reviewed the transcript. Now, I have to say — I came back and I said, What is going on? What's the big deal? So I got a transcript and I reviewed it. I actually went out and reviewed the clip of an answer that I gave. And I realized that there is a need for some clarification. It should have been obvious — I thought it would be obvious — but I would like to clarify just in case it wasn't.

 

In a key sentence in my remarks, I said the word "would" instead of "wouldn't." The sentence should have been, "I don't see any reason why I wouldn't — or, it wouldn't be Russia." So, just to repeat it: I said the word "would" instead of "wouldn't," and the sentence should have been — and I thought it would be maybe a little bit unclear on the transcript or unclear on the actual video. The sentence should have been, "I don't see any reason why it wouldn't be Russia." Sort of a double negative.

 

So you can put that in. And I think that probably clarifies things by itself.
This claim is obviously absurd to anyone who watched the rest of Trump's press conference.
It wasn't just that single line that shocked the world. It was the whole presser. In context, it was very clear Trump meant what he said — and he said it multiple times, in multiple ways.
"I have great confidence in my intelligence people. But I will tell you that President Putin was extremely strong and powerful in his denial today," he said shortly after the "would be" line, clearly expressing far more confidence in Putin's denial than in his own intelligence agencies.
Trump also attacked Robert Mueller's probe into Russian election interference right in front of Putin, and said that he holds "both countries responsible" for poor relations between the U.S. and Russia.
And when Trump was asked directly by a reporter to condemn Putin right then and there, Trump didn't just refuse to do that — he also went on an unhinged rant about Hillary Clinton's emails and the Democratic National Committee.
Even if Trump's claim that he really meant "wouldn't" when he clearly said "would" was remotely plausible, it would have been a huge mistake — and it makes no sense at all that he would wait until the next day to correct it.
Headlines and commentators put his "would" quote on full blast all day and night on Monday. If it really was an honest mistake, there's no way Trump and his team could have taken this long to catch it.
Trump has a long habit of gaslighting America by claiming he never said something that he clearly did.
This might be his most pathetic attempt to do that yet.