Trump Could Confuse Our Way Back Into Climate Deal
@FromaHarrop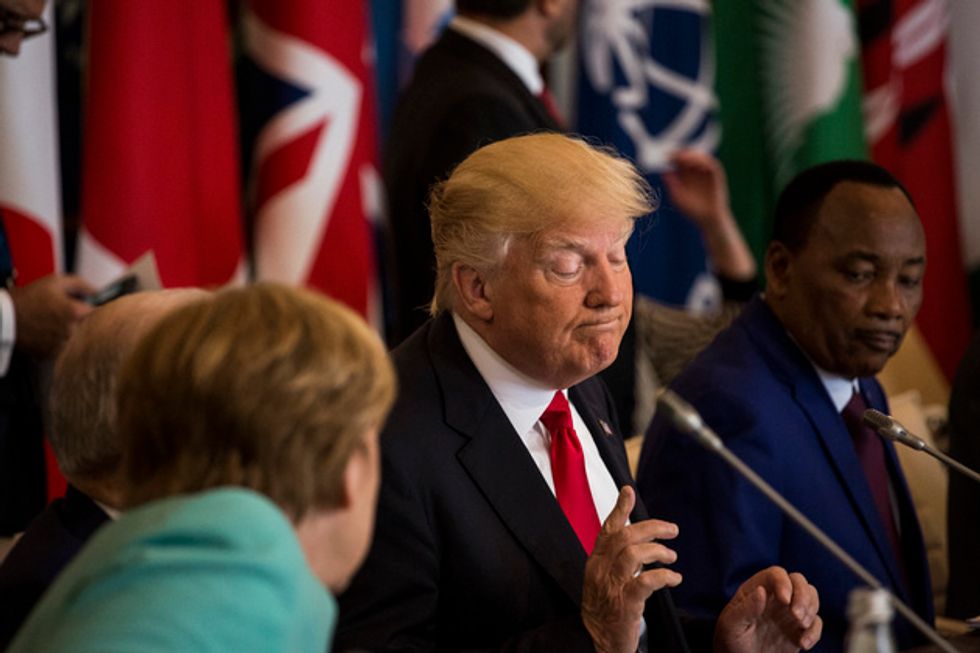 Reprinted with permission from Creators.
Will President Trump bring the country back into the Paris climate agreement? The bets are on, and this bet says he will.
The past few days have produced clashing reports that he may or may not come around. Confusion is how Trump gets turnarounds past the base.
What happened right after he spoke of helping the "dreamers," immigrants brought to this country illegally as children? He defended his earlier controversial remarks equating the Charlottesville racists to the protesters. And he retweeted anti-Muslim sentiments.
After his call to ban transgender troops from serving in the armed forces, our military leaders pushed back, and Trump pulled back. Defense Secretary James Mattis is now tasked with devising a new policy months hence. Meanwhile, transgender people are re-enlisting.
What makes one think that Trump will follow a similar trajectory on the Paris climate deal? Several things.
One, and I hate putting this first because it should be the least consequential: his approval ratings. They've been inching up from the depths for three weeks in a row. Trump's moves toward moderation, which includes working with Democratic leaders, are surely playing a part. A rising applause meter lowers a reality TV star's blood pressure.
Two, and it's a shame this has to go second, is Emmanuel Macron. The French president excels in courting Trump's grandiosity. As other European leaders gave Trump a wide berth, Macron gallantly invited him to Paris for the Bastille Day parade.
At the Elysee Palace, Macron had Trump sitting on gilded chairs that the gilded chairs in Trump Tower wish they could be. Trump was so impressed by the Bastille Day spectacle that he's proposing a Fourth of July parade in Washington that would "top it."
This relationship has led Macron to opine that Trump may reverse the decision to leave the Paris deal. Shortly thereafter, economic adviser Gary Cohn said Trump still plans to withdraw. But no matter.
Macron said there will be no renegotiation — "we won't go back" — but added the "door will always remain open." The dance is a minuet, controlled and ceremonious.
Three is Cohn's participation in the climate issue. Cohn had been an advocate of staying in the Paris agreement. During the United Nations General Assembly, he met with the climate ministers from big-economy countries.
Note Cohn's words. He said the withdrawal will happen "unless we can re-engage on terms more favorable to the United States."
However, the Paris agreement lets countries set their own targets for cutting greenhouse gases. That includes lowering them. Also, every country can meet the targets in its own way.
So Trump can change some numbers under the Paris rules and call it a renegotiation. He's good at that sort of thing.
Next, there is an economic downside to standing outside this international treaty. Not being part hurts America's ability to profit from the booming clean energy economy. Some countries have already been threatening to slap tariffs on American products made under lax environmental standards. And our pullout has opened a leadership chair that China is now filling.
Lastly, and this should really be first, climate change is feeding America's devastating natural disasters. Scientists widely agree that warming waters are making hurricanes more vicious. Witness the monster storms ripping up parts of Texas, Florida and the Caribbean. Higher temperatures are also seen playing a role in the intense wildfires threatening much of the West.
Trump so far has shown little interest in addressing climate change, but more and more of the American people do. Rejoining the Paris agreement would probably do wonders for his approval ratings. And this brings the argument full circle.
Follow Froma Harrop on Twitter @FromaHarrop. She can be reached at fharrop@gmail.com.To find out more about Froma Harrop and read features by other Creators writers and cartoonists, visit the Creators webpage at www.creators.com.