Trump Considering Giuliani For Commission To Address Muslim 'Problem'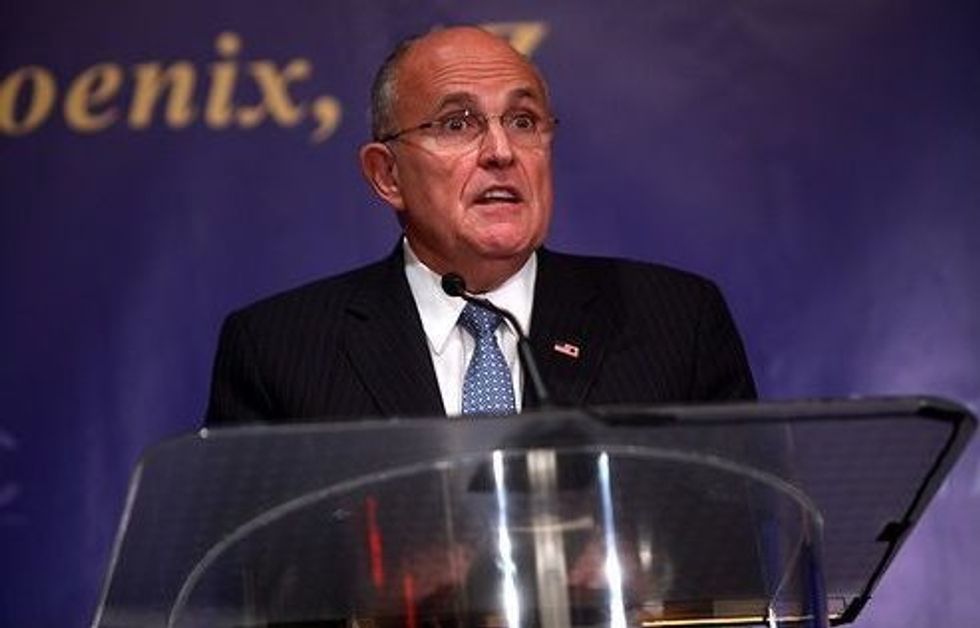 Donald Trump wasn't bluffing when proposed a ban on Muslims entering the United States: This morning, he outlined the mechanism by which he would indiscriminately ban 1.6 billion people from entering the country.
While appearing in one of his countless phone interviews with Fox & Friends, Trump floated former New York City mayor Rudy Giuliani as a potential head of the "commission" he intends to create to look into, as he mentions earlier in the conversation, "radical Islamic terrorism," and the need for "a temporary ban" on Muslims entering the United States.
"I'm thinking about setting up a commission perhaps headed by Rudy Giuliani to take a very serious look at this problem. But this is a worldwide problem, and we have to be smart," he said.
Trump has been fanning the flames of Islamophobia ever since he announced his intention to ban Muslims from entering the country until America's security can be guaranteed. Creating a commission to address the need for — and logistics of — such a ban would be the first concrete step towards its potential enforcement, should Trump win in November.
Mentioning Giuliani is no mistake. He earned his Islamophobia credentials long before Trump ever made his remarks. Following the Charlie Hebdo attacks, Guiliani got on Fox & Friends to paint a picture of the existential conflict between Islam and the Western world.
"Whether the president wants to recognize it or not, they are at war with us. It is worldwide. We are at risk all over the world," he said. He further boasted that when he was a U.S. Attorney, "I surveilled mosques," and criticized current New York City mayor Bill de Blasio for "taking the police out of the mosques in New York."
Representatives of Mr. Giuliani said he had no comment on Trump's remarks. But Ibrahim Hooper, director of communications at Council on American-Islamic Relations, doubted Giuliani would get involved in such a commission.
"Is this a real thing?," he asked. "I can't see him accepting such a position. He's going to be on a panel to decide which Muslims get into America, that's not exactly a position that's gonna benefit him in any way."
Photo: Gage Skidmore via Flickr