Trump, Cruz Angling For One-On-One Republican Race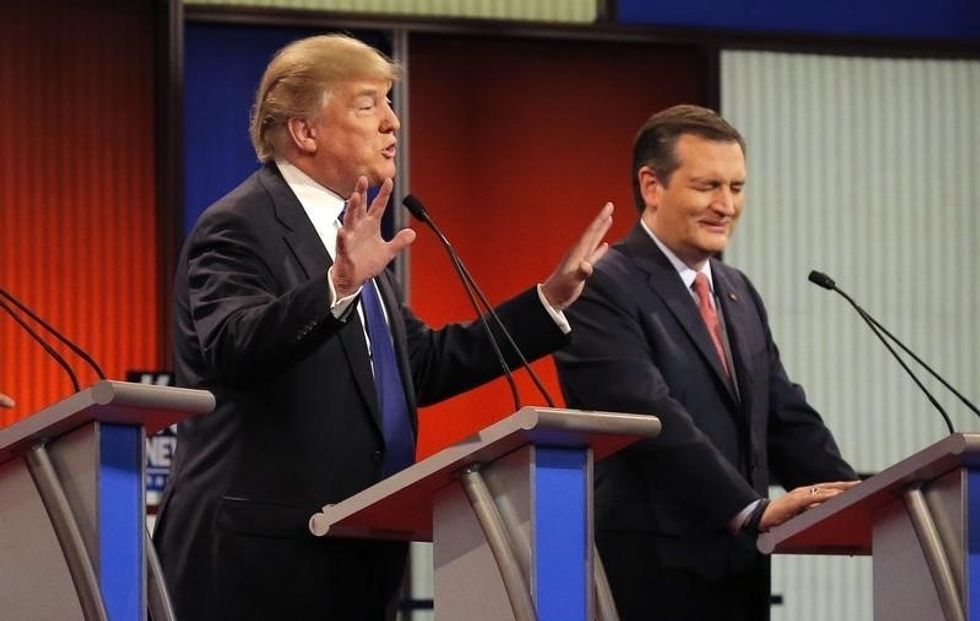 By John Whitesides
FLINT, Mich. (Reuters) – The U.S. Republican front-runner, billionaire Donald Trump, and U.S. Senator Ted Cruz were angling for a two-man race for the party's presidential nomination on Sunday after evenly splitting four state nominating contests at the weekend.
The wins for Trump, 69, and Cruz, 45, on Saturday were a setback for party leaders, who have largely opposed Trump and hinted they prefer Marco Rubio, 44, a U.S. senator from Florida who took third or fourth in Saturday's four Republican contests.
"I think it's time that he dropped out of the race," Trump said of Rubio late on Saturday. "I want Ted one on one."
Cruz has been predicting a two-man race with Trump for several weeks.
On Sunday, Rubio was projected to win in Puerto Rico, his second victory to date in nominating contests across U.S. states and territories. CNN said that with a quarter of the votes counted, Rubio had secured nearly 75 percent of the vote.
Ohio Governor John Kasich, 63, the only other candidate remaining from a starting field of 17, has yet to win any state.
The competition moves on Tuesday to Michigan, Mississippi, Idaho and Hawaii where Trump hopes to expand his lead ahead of a party convention in July and the election to succeed President Barack Obama on Nov. 8.
Next up for Democrats is a contest in Maine on Sunday and a televised debate on CNN at 8 p.m. on Sunday in Flint, a majority-black, impoverished Michigan city that has suffered a health crisis over a contaminated water supply.
In an interview on Sunday, Democratic front-runner Hillary Clinton, 68, played down the legal uncertainty over a federal investigation into her use of a private email server while she was Obama's secretary of state from 2009 to 2013.
"Well there is no basis for that," she told CBS's Face the Nation program after being asked about fears in her party that she or her colleagues from the State Department may be prosecuted. She said she was delighted Bryan Pagliano, a technician who managed her email system, was cooperating with a federal criminal investigation in exchange for immunity.
Clinton's Democratic rival Bernie Sanders, 74, a U.S. senator from Vermont, has sought to appeal to voters in Michigan, where the decline of the auto industry has been sharply felt, by criticizing Clinton for shifting positions on international trade deals.
CONTESTED CONVENTION?
The Republican establishment has blanched at Trump's calls to build a wall on the border with Mexico, round up and deport 11 million immigrants who are in the country illegally and temporarily bar all Muslims from entering the United States.
In an interview published in Welt am Sonntag newspaper on Sunday, German Economy Minister Sigmar Gabriel said Trump was "not only a threat to peace and social cohesion, but also to economic development."
Republican leaders have been little happier with Cruz, a senator from Texas who has alienated many senators in Washington. Cruz has called for the United States to "carpet bomb" the Islamic State militant group and pledged to eliminate the tax-collecting Internal Revenue Service.
Trump still has a substantial lead in the race for delegates who will select the presidential nominee at the party nominating convention in Cleveland in July.
Trump said he should become the nominee even if he ends up with only the plurality of delegates, not the outright majority that party nominating rules require.
"I have a very fervent group of followers," he told the Fox & Friends TV show on Sunday, "and they're not going to be happy if I have the most delegates and we go there and we're a little bit short of a number that was really an arbitrary number."
Reince Priebus, the Republican National Committee chairman, said he thought the party's nominee would most likely be decided by voters before the convention.
"There are no plans to undo the rules, or change the nomination process mid-stream," he told ABC News, playing down any suggestion of a first contested convention in decades.
(Additional reporting by Jonathan Allen; Editing by Howard Goller)
Photo: Republican U.S. presidential candidate Donald Trump speaks as rival candidate Ted Cruz (R) winces at the U.S. Republican presidential candidates debate in Detroit, Michigan, March 3, 2016. REUTERS/Jim Young