Trump Declares War On The Poor — And Republicans Cheer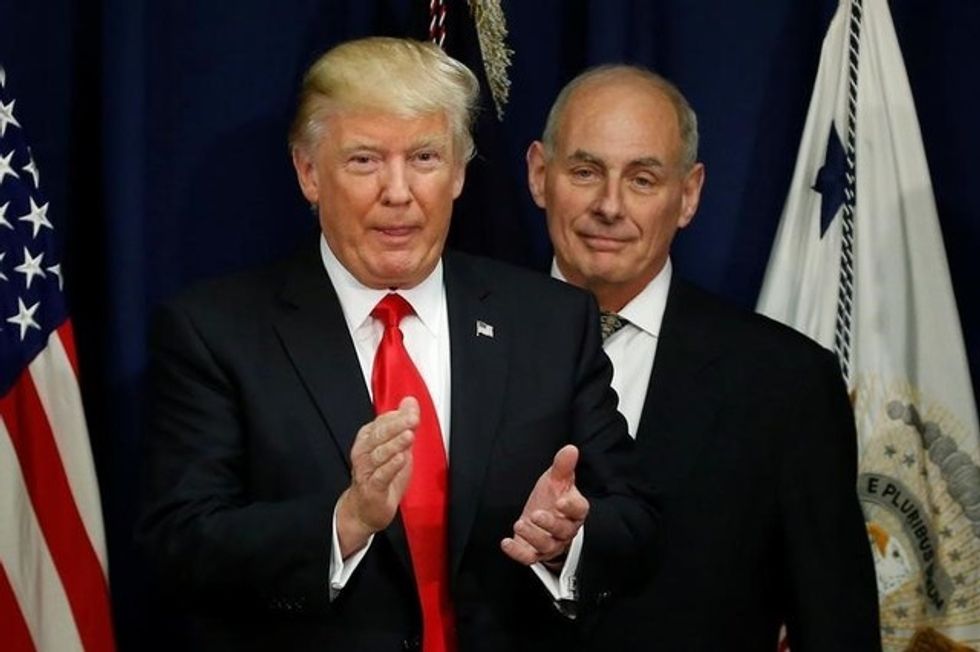 Reprinted with permission from DCReport.org
An executive order last week instructed federal agencies to strengthen existing work requirements and to craft new ones for low-income Americans receiving Medicaid, food stamps, public housing benefits and welfare as part of a broad overhaul of government assistance programs. Recommendations from all agencies are due in 90 days.
The president said that having overhauled taxes and the healthcare system, he wants to "go into welfare reform."
This move comes as outgoing House Speaker Paul D. Ryan (R-Wis.) said in interviews that it is the social services network that has made a trillion-dollar federal debt "inevitable." Ryan said, "These deficit trillion-dollar projections have been out there for a long, long time. Why? Because of mandatory spending which we call entitlements," he told NBC's Chuck Todd. Of course, the deficits increased because Congress cut taxes for corporations and the wealthy while vastly hiking military spending as well as retaining funds for domestic programs.
The White House trotted out Andrew Bremberg, director of the White House domestic policy council to explain. "Welfare reform is necessary to prosperity and independence," said Bremberg, adding that "common-sense reforms" are needed to help Americans "reclaim their independence" and to ensure that tax dollars are being spent on the truly needy. He cited the 1996 welfare changes from former President Bill Clinton that set requirements to work or look for work.
The government estimates it spent more than $700 billion on low-income assistance in 2017. Congress kept most of that in the recently signed federal budget despite attempts by the White House to cut substantial portions of aid in the form of food stamps, health insurance and federal housing subsidies. The White House indicated in February that Trump wanted to broaden work requirements for those receiving housing subsidies in particular.
Of course, most people who receive food stamps, Medicaid or housing subsidies already do work, or meet the requirement of looking for work.
Poverty specialists note that wages for low-income people are, well, low, indeed too low to make ends meet, which is why they qualify for aid programs.
So, if this solution is not aimed at solving a real problem, one is left to conclude that, instead, it is a statement of political expediency.
The Economic Policy Institute houses a ton of research that basically argues broad wage gains are the best antidote to growing problems with poverty, noting that numbers of poor are bloated by stagnant wages. The White House counters that it is going wild at job creation—a claim that statistically does not match job creation numbers so far. In any case, by definition, poverty is growing where jobs are not plentiful.
To enable job availability, the Trump administration has touted its support for child care, for example. But childcare policy is offered only as a tax credit, something that obviously does not help people scratching week to week for enough coverage to look for steady work. And eliminating Obamacare coverage is affecting others who simply are not healthy enough to work. The Trump healthcare approach is to increasingly tie private health benefits to employment.
Political conservatives praise the effort to toughen work requirements, if for no other reason than to seem to be trimming federal costs. There is political support, for example, to standardize work requirements across all aid programs, something that would take congressional action.
At the government briefings, senior White House officials apparently disagreed with the premise that many of those receiving government assistance already work, according to The Washington Post. The officials said that states with welfare policies that have enacted "common-sense" work requirements, such as Kansas and Maine, have helped drive the poorest Americans into jobs. In Kansas, work requirements for adults without children resulted in caseloads dropping by 75% and the average amount of time spent on welfare was cut in half, the White House said.
The administration said studies after changes in Maine and Kansas showed that individuals who returned to work after leaving safety-net programs saw their incomes more than double, on average. The government view is that programs designed to help families have trapped the poor in an endless cycle of perpetuated poverty.
As with so many other slogans and belief systems in the White House, there are huge gaps between saying so and making it actually so. Just as proclaiming "America First" solves few international issues, declaring Work for All doesn't make that a reality.
Maybe it is time to Make America Care Again.