Trump Denies Telling Golf Buddies The White House Is A 'Dump'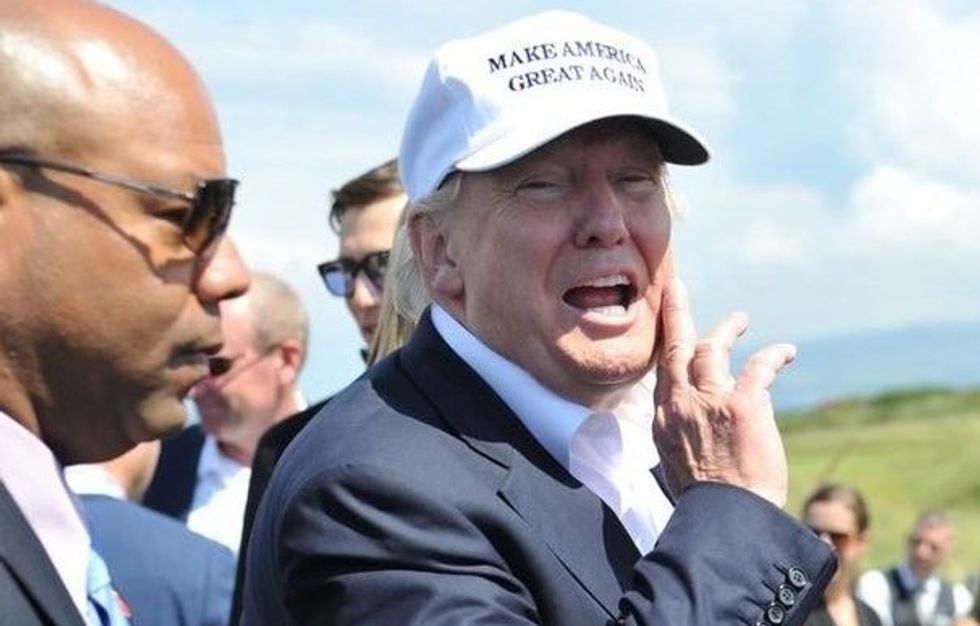 Reprinted with permission from AlterNet.
Eight people claim to have heard Donald Trump call the White House a "dump" while playing a round of golf at the Trump National Golf Club in Bedminster, New Jersey. The quote, published in a Sports Illustrated profile by Alan Shipnuck on Trump's frequent golf habit, was promptly picked up by several media outlets.
Trump took to Twitter to deny the comment.
I love the White House, one of the most beautiful buildings (homes) I have ever seen. But Fake News said I called it a dump – TOTALLY UNTRUE

— Donald J. Trump (@realDonaldTrump) August 3, 2017
In a followup podcast, Shipnuck maintains his multiple sources are credible. Shipnuck stated that Trump made the remark "in front of eight or nine members and staffers at [Trump] Bedminster." A spokeswoman from the White House contacted Shipnuck to ask him to retract his statement.
"They definitely don't waste any time trying to be charming or friendly, these people in the White House communications department," Shipnuck said.
Trump has spent over 20 percent of his presidency at golf clubs. Since taking office on January 20, Trump has been to his golf courses 43 times as of July 30. He just booked a 17-day trip to his New Jersey golf course starting Friday  He calls his Mar-a-Lago, Florida, resort the "Southern White House" because he is there so often. According to the Washington Post, President Obama had played only 17 rounds of golf by August 2009, compared to President Trump's 33 rounds of golf.
President Trump frequently criticized Obama for golfing.
Can you believe that,with all of the problems and difficulties facing the U.S., President Obama spent the day playing golf.Worse than Carter

— Donald J. Trump (@realDonaldTrump) October 14, 2014
Shipnuck's piece describes Trump's various golf properties and his long personal history with the sport. Since opening in 2004, Trump's prized Bedminster country club has consistently placed on Golf Magazine's Top 100 list. The course also served as an important rallying place during Trump's election.
Trump is supposedly one of the best golfers of all the presidents, with a handicap index of 2.8. His penchant for playing contrasts starkly with his lack of political experience compared to all former presidents. In a phone call to senior Sports Illustrated writer Michael Bamberger, Trump claimed to have scored a 68 on the Bel-Air Country Club course. Shipnuck points out that a score of 68 would require near-perfect playing.
But Trump's frequent trips to his golf courses come at a high cost. According to trumpgolfcount.com, the costs for Trump's golf visits total $55,451,051 of taxpayer money.
"Our total estimated cost currently includes three components: (1) Cost of flights to Mar a Lago and Bedminster, New Jersey, using Philip Bump's estimate of $514,000 per hour of flight time, (2) An additional $60 million per year, prorated by day, allocated to Palm Beach and Bedminster for "extraordinary law enforcement personnel costs," prorated per day, and (3) Coast guard costs for protection of Mar a Lago, estimated at $236,000 per day spent there (see Drew Harwell's report for sources)."
Costs are based on total estimated visits to golf courses, not rounds of golf.
In May it was reported that Congress had set aside $120 million to protect Trump and his family. The $60 million used for weekend trips reimburses local municipalities for increased law enforcement personnel costs.
Julia Flasphaler is a junior writing fellow for AlterNet interested in trauma, gender and race. She is a senior English Literature major at Columbia University. Follow her at @juliaflafla.