CNN Reveals New Tape Of Trump Sharing Classified Papers (VIDEO)
@DevilsTower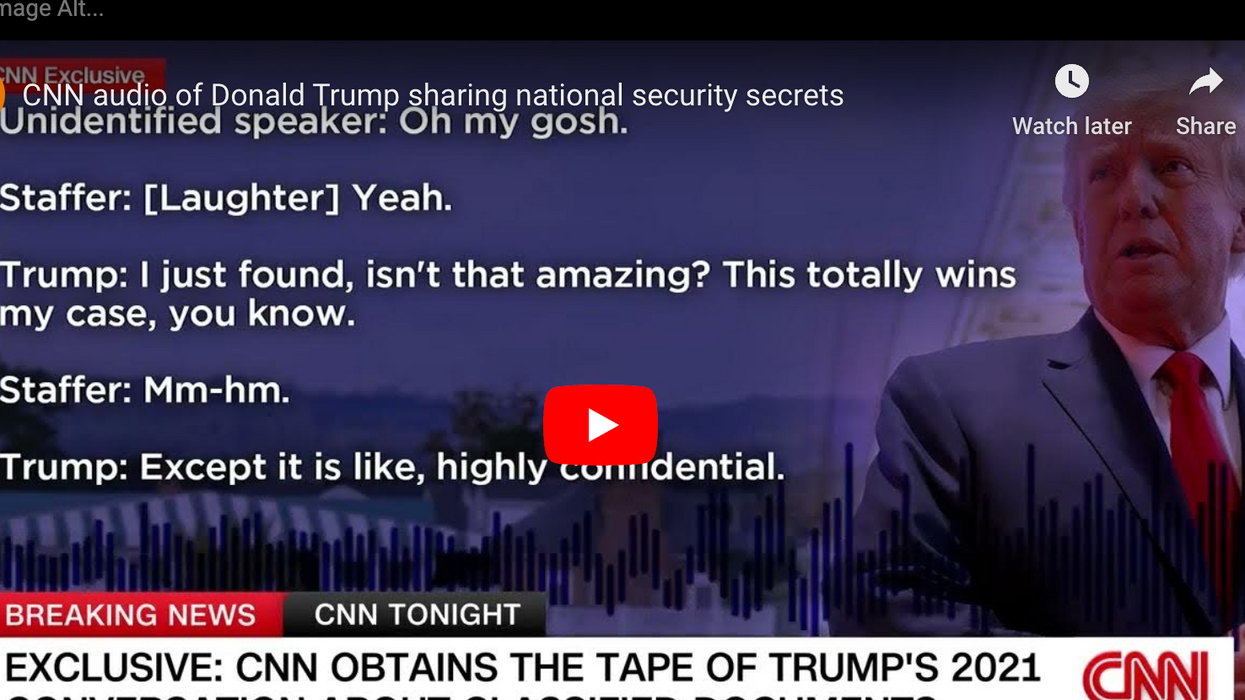 When Donald Trump was indicted on 37 counts ranging from willful retention of national defense information to conspiracy to obstruct justice, that indictment contained devastating snippets of a conversation in which Trump provided prosecutors with a nearly perfect admission of guilt. Now CNN has obtained the full conversation and it turns out to be … even more devastating than it seemed.
In the indictment, Trump was transcribed talking about "the papers." Afterward, Trump claimed he was actually only showing news clippings to an author working as a ghostwriter for his former chief of staff, Mark Meadows. "There was no document," Trump insisted in a Fox News appearance. "I didn't have a document per se. There was nothing to declassify. These were newspaper stories, magazine stories and articles."
But just as the original portion of the conversation ripped through Trump's claims about having declassified everything, the full conversation makes a hash of the idea that Trump was just flipping through newspaper clippings. And Trump is not happy about its release.
The recorded conversation starts immediately with Trump proclaiming that U.S. military leadership, and particularly former chairman of the Joint Chiefs Mark Milley, are "bad, sick people." But then he jumps immediately into audibly fumbling through papers.
Trump: "Well with Milley, let me see that. I'll show you an example. He said that I want to attack Iran. Isn't it amazing, I have a big pile of papers, this thing just came up. Look. This was him."
Trump stops flipping through papers at this point and there is a sharp sound, as if he is stabbing the page with a finger.
Trump: "This was him. He presented me this. This is off the record, but they presented me this. This was him. This was the Defense Department and him. We looked at some–this wasn't done by me. This was him."
The sound of pages turning resumes.
Trump: "Also it's pages long. Look. Wait a minute, let's see here. It's it amazing? This totally wins my case, you know. Except it is like highly controversial, secret …"
Laughter in the background.
Trump: "This is secret information. Look at this! The attack …"
At this point, someone comments that "Hillary would print that out all the time." Trump then comments, "She would send it to Anthony Weiner."
But the joke is on Trump, because even the comments about Hillary Clinton demonstrate that what he was paging through was not newspapers or magazine clippings, but the actual classified documents—just as he said. And as Trump makes clear, it's not just one document. It's a "big pile of papers" that he has with him at the Bedminster club.

The argument that when talking about "papers" Trump meant newspapers is as thoroughly shredded by the conversation as the idea that Trump had somehow declassified this material before leaving office. Not only does he brag about the material being "secret" repeatedly, the conversation goes on, as it did in the indictment, to make things absolutely, abundantly clear.
Trump: "This was done by the military and given to me. Uh, I think we can probably print?"
Staffer: "Well, we'll have to see, yeah. We'll have to try to–"
Trump: "Declassify it."
Staffer: "Yeah."
Trump: "See, as president I could have declassified it, now I can't, you know, but this is classified."
Staffer: "We have a problem."
Trump: "Isn't that interesting? It's so cool. And look, we heard I have a–and you probably didn't believe me, but now you believe me."
This is material right out of a prosecutor's dream. Trump confirms the origin of the classified document, he not only shows it to staffers and the writer, who have no security clearance, while saying "look" and "this is secret," he then goes on to explain that he knows the material remains classified and that he can't declassify it … though he seems to think there is some way around this.
The partial conversation was already indefensible, but the full audio only drives nails into Trump's coffin. Which is why he's reacting to it so well.
CNN audio of Donald Trump sharing national security secrets youtu.be
Reprinted with permission from Daily Kos .