Trump's Economic Policy Team Is Filled With His Capitalist Friends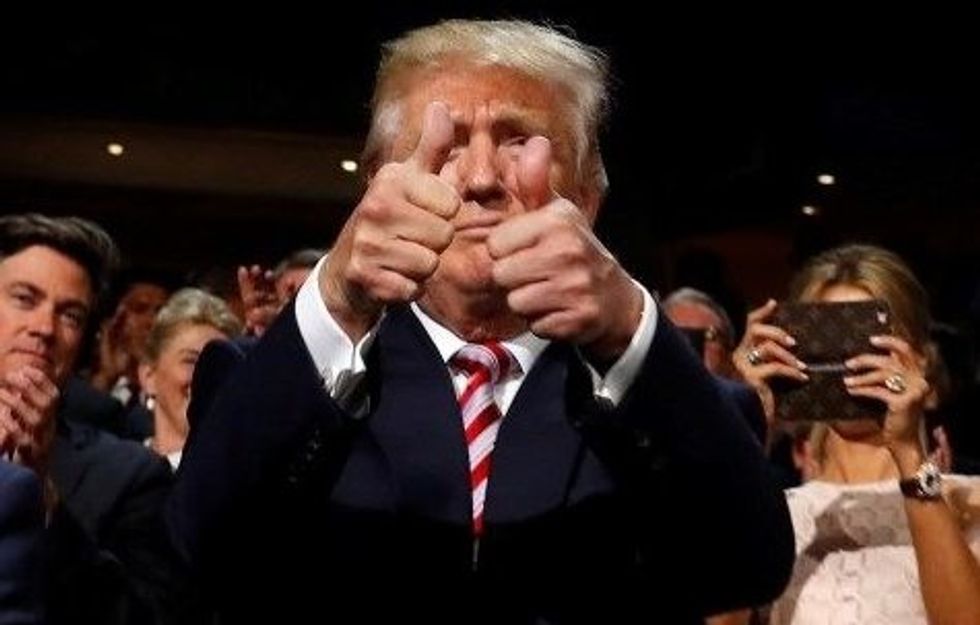 Donald Trump revealed his team of economic advisers on Friday, and the list is missing the names of those who usually serve as advisers to Republican presidential candidates.
As has been the case with the GOP's nominee's campaign, Trump's rich friends are filling the spaces that would normally be occupied by Republican bigwigs who refuse to support his candidacy.
Peter Navarro is the only actual economist on the list, with a PhD from Harvard University. He currently teaches economics and public policy at the University of California, Irvine. Although relatively unknown, he is a big critic of US-China trade.
Instead of economic policy experts, Trump's list of economic advisers is composed of finance and real estate industry executives.
"I am pleased that we have such a formidable group of experienced and talented individuals that will work with me to implement real solutions for the economic issues facing our country," the GOP nominee said in a statement on Friday.
With a team of text-book capitalists guiding his economic plans, its hard to see how Trump would transform his populist economic message into policy.
Hedge fund investor John Paulson has made a name for himself as a cutthroat moneymaker. He is best known for making billions in profit from betting against the housing market before its crash in 2007. According to the Wall Street Journal, Paulson was making $10 million a day at one point, and made $4 billion total from the housing market collapse.
Billionaire oilman Harold Hamm, who is a longtime friend of Trump's and spoke at the Republican National Convention on his behalf, is also part of the team, as is Howard Lorber, the CEO of a tobacco and real estate company.
Besides of a deficit in professional economists, the list also lacks diversity – something exemplified by the fact that it includes five white men named Steve.
Steve Roth, head of the giant Vornado Realty group, is one of them. Steven Mnuchin is another. He the chairman and CEO of hedge fund Dune Capital Management, and used to be an executive at Goldman Sachs. He also serves as Trump's national finance chairman, and made headlines when he was chosen for the position because of his record of contributing to Hillary Clinton when she was a senator.
David Malpass, Dan DiMicco, Stephen M. Calk, Tom Barrack, Steve Feinberg, Andy Beal, and Stephen Moore will also be advising Trump on economic policy.
Photo: Republican U.S. presidential nominee Donald Trump gives two thumbs up as he stands in the Trump family box with his daughter Ivanka (R) awaiting the arrival onstage of his son Eric at the conclusion of former rival candidate Senator Ted Cruz's address during the third night at the Republican National Convention in Cleveland, Ohio, July 20, 2016. REUTERS/Aaron P. Bernstein