Schumer To Senate Republicans:  Choose Trump -- Or Law Enforcement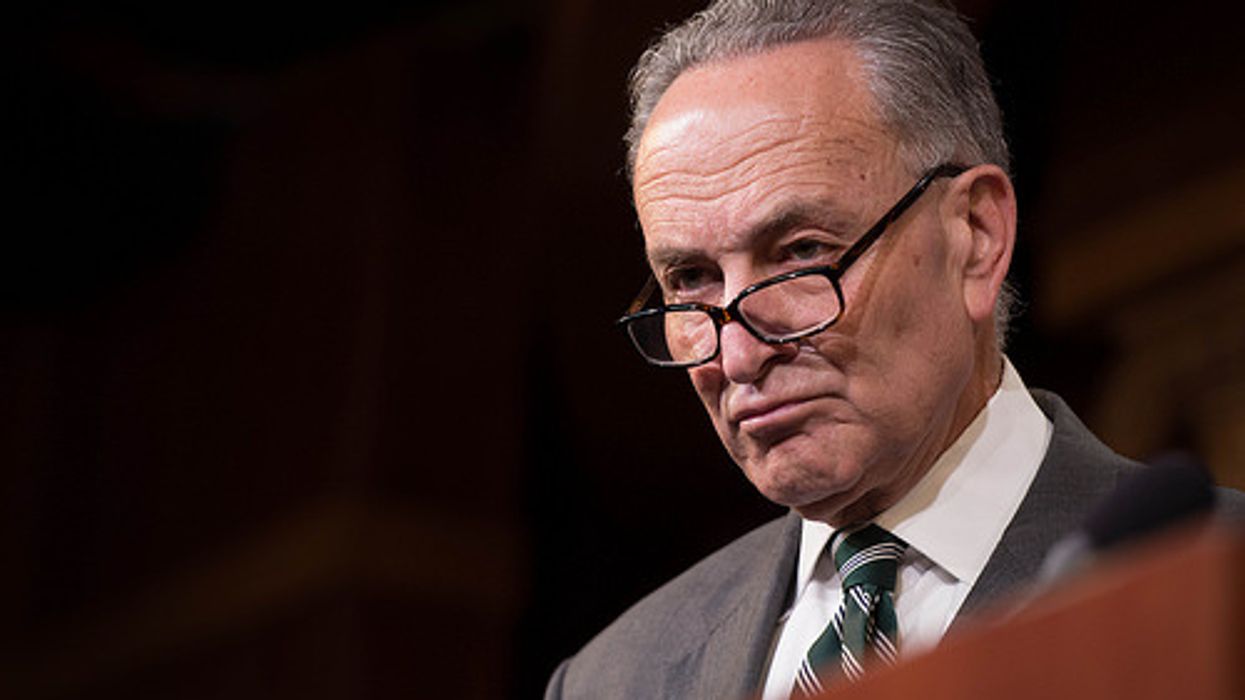 The former popular-vote-losing, twice-impeached, insurrectionist Republican frontrunner for the White House has put his party in a bind following his arrest on 34 felony charges of falsifying business records. That part isn't what Republicans are fretting over. No, it's the former guy's calls for defunding the FBI and Justice Department following his arrest that's once more thrown them into disarray.
Enter Senate Majority Leader Chuck Schumer, who is planning to introduce a resolution to formally reject Trump's calls to defund federal law enforcement. "The former President and his allies in Congress must not subjugate justice and public safety because of their own personal grievances," Schumer said. Trump's demand that Congress strip funding for the Department of Justice is "a baseless, self-serving broadside against the men and women who keep our nation safe," he said.
Those Trump allies in Congress are mostly in the House, and in power. Rep. Jim Jordan, the Ohio Republican who holds the chair of the Judiciary Committee, is all for it. "We control the power of the purse" Jordan said. "And we're gonna have to look at the appropriations process and limit funds going to some of these agencies, particularly the ones who are engaged in the most egregious behavior." That's what he told Fox's Maria Bartiromo following Trump's indictment. "So the DOJ and the FBI?" Bartiromo asked. "Yeah," Jordan confirmed.
Barely Speaker Kevin McCarthy is giving Jordan free rein to keep up his attacks on the Justice Department and FBI and the funding for them. His pinned tweet calls out the "outrageous abuse of power by a radical DA who lets violent criminals walk as he pursues political vengeance" and says, "I'm directing relevant committees to immediately investigate if federal funds are being used to subvert our democracy by interfering in elections with politically motivated prosecutions."
That's a headache for the Republican leader in the Senate, Mitch McConnell, who wants his team to be running on law and order in 2024. Saying that Democrats are the ones who want to defund the police and the GOP is the only thing standing between them and chaos and lawlessness is key to that effort.
An anonymous Senate Republican aide probably tied to McConnell toldThe Hill that there will not be support in the Senate for this. "I understand the former president is frustrated, but that's not going to happen," the source said.
GOP strategists are pretty unhappy with the push, too. "Just because Democrats want to defund police, I don't think it's smart politically or as a policy to say, 'Well, we should defund the FBI,'" Matt Dole, an Ohio-based Republican strategist, told The Hill.
Another GOP strategist, Whit Ayers, pointed out that there's a reality-based problem here. "The Department of Justice had nothing to do with this case, the FBI had nothing to do with this case, but we're supposed to defund two entities that had nothing to do with the case. Does that really make any sense to anyone?" he said. Apparently Ayers has not met the House GOP.
Schumer is going to make the 49 GOP senators vote on whether or not they really do support law enforcement. His nonbinding resolution doesn't have the effect of law, but will ask the GOP to "recognize the dedication of the people who serve in the law enforcement agencies, condemn calls to defund Justice and the FBI, and reject partisan attempts to degrade public trust in them."
"The former President and his allies in Congress must not subjugate justice and public safety because of their own personal grievances," Schumer said.
Reprinted with permission from Daily Kos.