Trump Fights Back At Conservative Talker — With An Old Bush Strategy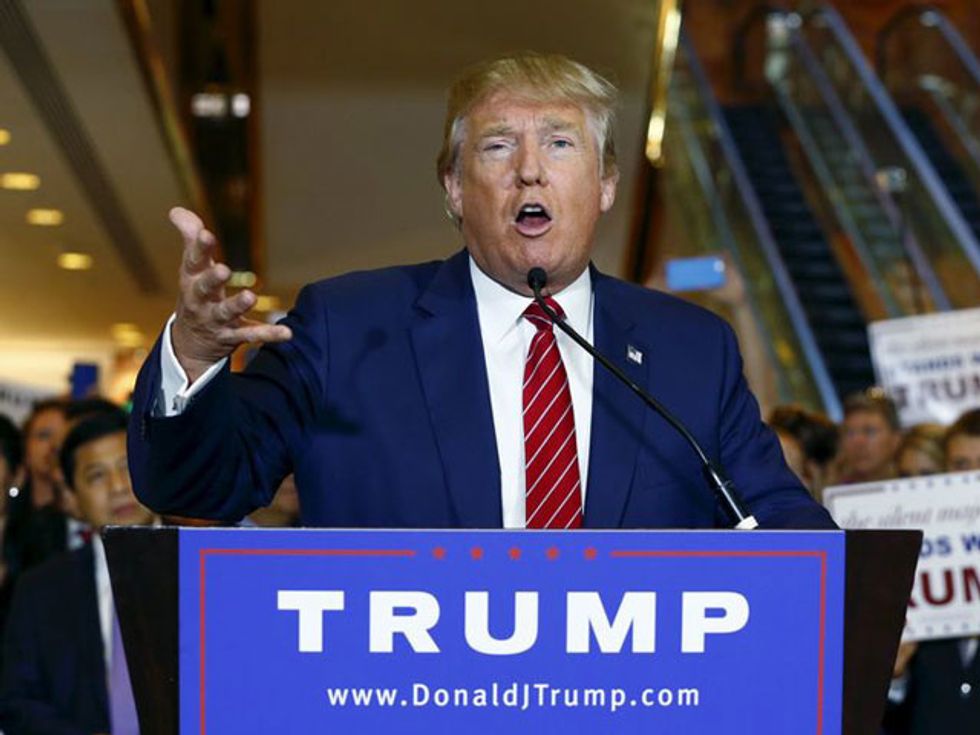 The political world is abuzz after Donald Trump's seemingly disastrous interview Thursday with right-wing talk radio host Hugh Hewitt, in which The Donald botched a pop quiz on the names of various leaders of different Islamist military forces, and then later called Hewitt "third rate" for having the gall to challenge him.
But what's really going on here is a fascinating case study in karma for conservative media — and for the Bush family.
First, let's go back in time.
Way back in November 1999, presidential candidate George W. Bush sat down for an interview in New Hampshire, during which he too was quizzed on the names of prominent world leaders — and he failed miserably.
From The Associated Press report:
The questions were put to Bush by political reporter Andy Hiller during a break in Bush's campaigning in New Hampshire. Hiller is known locally for asking sassy questions of political leaders.

Hiller asked: "Can you name the president of Chechnya?"

"No, can you?" Bush replied.

"Can you name the president of Taiwan?" Hiller asked.

"Yeah, Lee,'" responded Bush, referring to Taiwanese President Lee Teng-hui.

"Can you name the general who is in charge of Pakistan?" asked Hiller, inquiring about Gen. Pervaiz Musharraf, who took over last month in a military coup.

"Wait, wait, is this 50 questions?" replied Bush.

Hiller replied: "No, it's four questions of four leaders in four hotspots."
After this painful exchange continued, the Bush campaign hit back in public opinion by spinning that nobody casually knew this kind of stuff — not even their own top foreign policy team members. Instead of knowing all these details, they argued, the American people wanted a real leader to set the country's vision and find out the specifics from there.
From The Washington Post:
Bush campaign spokeswoman Karen Hughes defended the Texas governor yesterday.

"I have yet to meet anyone who knows off the tip of their tongue who the president of Chechnya is," she said, adding that neither the Bush campaign's senior policy advisor, Josh Bolton, nor foreign policy adviser Joel Shinn knew all the answers off the top of their heads.

"What the American people want to know is not whether a candidate has memorized the names of hundreds of premiers and prime ministers around the world," she said. "What they do want to know is does a candidate have a clear vision of America's strategic interests around the world and can that candidate exert American leadership in the world."
Now let's take a look at The Donald's interview this week with Hewitt, where Trump faced a similar pop quiz — and responded by harnessing all the same anti-intellectual spin that the Republican establishment used so brazenly 16 years ago.
There's one key difference this time, though: Trump is his own spin man, and doesn't need a Karen Hughes to say it for him — and he might even be doing it better than the Bushes ever did.
Hewitt: But on the front of Islamist terrorism, I'm looking for the next commander-in-chief, to know who Hassan Nasrallah is, and Zawahiri, and al-Julani, and al-Baghdadi. Do you know the players without a scorecard, yet, Donald Trump?

Trump: No, you know, I'll tell you honestly, I think by the time we get to office, they'll all be changed. They'll be all gone. I knew you were going to ask me things like this, and there's no reason, because number one, I'll find, I will hopefully find General Douglas MacArthur in the pack. I will find whoever it is that I'll find, and we'll, but they're all changing, Hugh. You know, those are like history questions. Do you know this one, do you know that one. I will tell you, I thought you used the word Kurd before. I will tell you that I think the Kurds are the most under-utilized and are being totally mistreated by us. And nobody understands why. But as far as the individual players, of course I don't know them. I've never met them. I haven't been, you know, in a position to meet them. If, if they're still there, which is unlikely in many cases, but if they're still there, I will know them better than I know you.
Trump repeatedly referred to this line of interviewing as "gotcha questions," a charge that Hewitt denied. Trump also argued that if he did not know who all these figures were, he would find the right people who did know (today's equivalent of "General Douglas MacArthur," presumably), and put them in his administration.
The host eventually returned to this point, and invoked his own role as one of the moderators at the upcoming Republican debate on CNN.
"At the debate, I may bring up Nasrallah being with Hezbollah, and al-Julani being with al-Nusra, and al-Masri being with Hamas," Hewitt said. "Do you think if I ask people to talk about those three things, and the differences, that that's a gotcha question?"
"Yes, I do. I totally do," Trump replied. "I think it's ridiculous."
And Trump wasn't done, either. Friday morning, he called into MSNBC's Morning Joe, for a rambling 20-minute discussion that touched on the Hewitt interview.
"By the when, when you say 'Quds' versus 'Kurds,' I thought he said 'Kurds,' this third-rate radio announcer that I did his show," Trump said, as the Morning Joe panel all laughed. "And it was like 'gotcha, gotcha, gotcha,' every question was do I know this one and that one. And you know, it was like he worked hard on that."
The key moment is at approximately the 5:00 mark below.
Photo: U.S. presidential hopeful Donald Trump speaks during a press availability at Trump Tower in Manhattan, New York, September 3, 2015. REUTERS/Lucas Jackson