Trump Flops On Immigration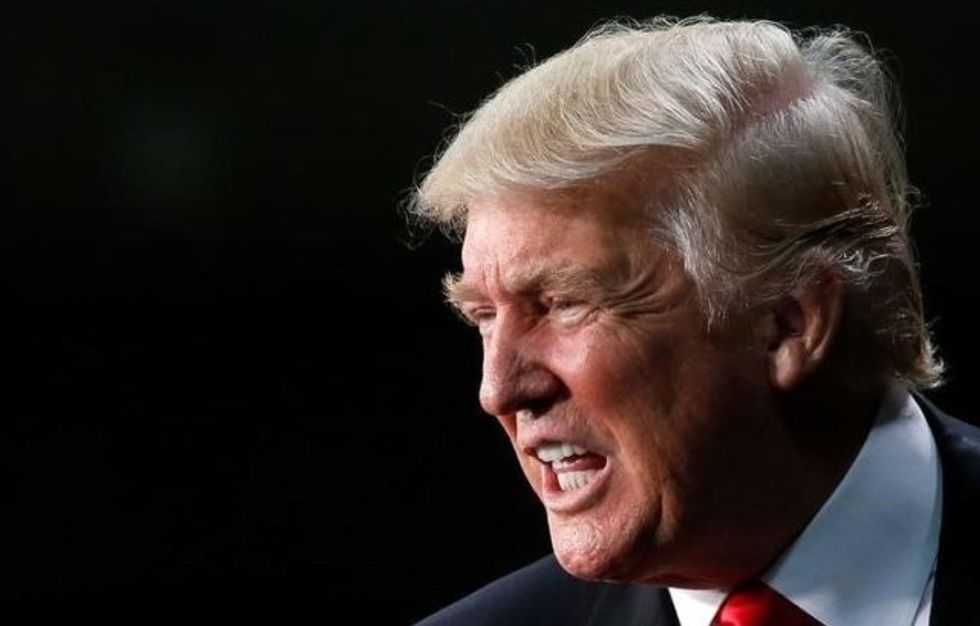 Donald Trump — who started his presidential campaign by calling the people Mexico "sends" here rapists and criminals — has reportedly attempted to "reach out" to minority voters this past week.
On Saturday, Buzzfeed reported that during a meeting with his Hispanic advisory council, Trump said something "humane and efficient" would have to be done with undocumented immigrants living in America. Even that tepid shift contradicts his 14-month stance that every undocumented immigrant should be rounded up and ejected from the country.
It also runs counter to Trump's first television ad, aired in Florida and other states on Thursday, which alleged that under a Hillary Clinton presidency, "illegal immigrants convicted of committing crimes get to stay, collecting social security benefits, skipping the line."
Even normally-credulous pundits have lost faith in the fabled Trump "pivot."
"Sometimes, in the heat of debate and speaking on a multitude of issues, you don't choose the right words or you say the wrong thing," he told a crowd in Charlotte, NC recently, presumably referencing the previous year of his campaign. "I have done that. And believe it or not, I regret it. And I do regret it, particularly where it may have caused personal pain. Too much is at stake for us to be consumed with these issues."
It's the masterwork of a non-apology apologist. Trump is sorry if you got your feelings hurt.
In Detroit on Friday, Trump posed a question to black voters: "What do you have to lose?"
"You're living in poverty, your schools are no good, you have no jobs, 58 percent of your youth is unemployed. What the hell do you have to lose?"
"Hillary Clinton would rather provide a job to a refugee from overseas than to give that job to unemployed African-American youth in cities like Detroit, who have become refugees in their own country," Trump said.
A day earlier, Breitbart News — the chairman of whose parent company, Stephen Bannon, is now the Trump campaign's new CEO — published "Shock Poll: Trump's Black Support Grows 6X in Week," comparing Trump's lowest and highest poll numbers among black respondents in the month of August, 2.5 percent support on August 11 and 14.6 percent on August 17 and 18.
Stephen Bannon, whose hiring bizarrely coincided with Trump's public displays of racial acknowledgement, is just about the worst person alive in politics to orchestrate a political effort aimed at winning over minority voters.
Bannon recently earned the praise of Peter Brimelow, editor of the most popular white supremacist website on the internet, VDARE. "Latterly, Breitbart emerged as a nationalist site and done great stuff on immigration in particular," Brimelow told The Daily Beast. Under Bannon's management, Breitbart intensified its coverage on undocumented immigrants, attracting a new, younger "alt-right" readership.
"Breitbart has elective affinities with the Alt Right, and the Alt Right has clearly influenced Breitbart," Richard Spencer, head of the white supremacist think tank the National Policy Institute, told the Daily Beast. "In this way, Breitbart has acted as a 'gateway' to Alt Right ideas and writers."
The Trump campaign has a history of flirting with, and sometimes directly engaging, white supremacists. Donald Trump Jr. gave an interview to white nationalist radio host James Edwards in March, which the campaign denied and then said was a mistake. Edwards was later granted press credentials to the Republican National Convention. (Convention organizers did not respond to my calls for comment at the time.)
In May, Mother Jones reported that the Trump campaign had credentialed William Johnson, a white supremacist who had previously received oodles of press attention for peppering Wisconsin with robocalls supporting Trump ahead of the state's Republican primary, as an official California delegate to the Republican National Convention.
Again, the campaign claimed the credentials were a mistake, blaming a "database error," though Johnson claimed he had disclosed his political views in his application to the campaign.
Photo: Republican presidential nominee Donald Trump speaks at a campaign rally in Charlotte, North Carolina, U.S., August 18, 2016. REUTERS/Carlo Allegri