Trump Falsely Claims That Supreme Court Pick's Criticism Is 'Fake News'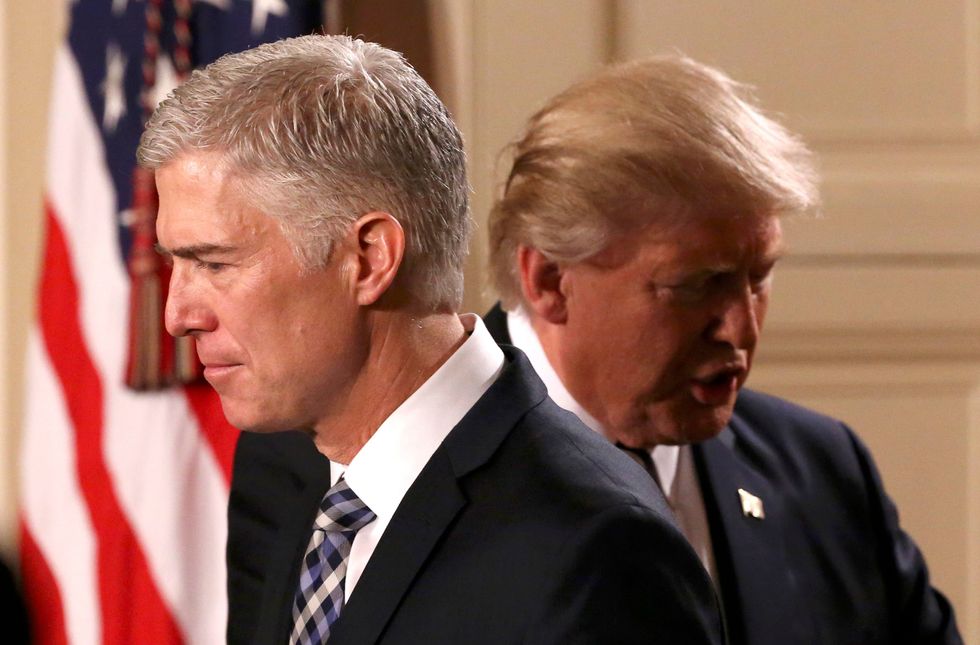 WASHINGTON (Reuters) – U.S President Donald Trump on Thursday disputed multiple accounts that his nominee for the Supreme Court had expressed dismay over his attacks on judges, saying without evidence that Judge Neil Gorsuch's comments had been misrepresented.
The Republican president has publicly vented his frustration with a court order last week that temporarily halted his travel ban on people from seven Muslim-majority countries, criticizing the judge who issued the order, the appeals process, and the wider judiciary.
Gorsuch's remarks describing Trump's attacks on the judiciary as "demoralizing" and "disheartening" were first disclosed on Wednesday by Democratic Senator Richard Blumenthal, who urged Gorsuch to go public.
Ron Bonjean, a Republican strategist hired by the White House to guide Gorsuch's nomination through the U.S. Senate, also said on Wednesday that the judge had made the comments to Blumenthal.
Former Republican Senator Kelly Ayotte, who has been accompanying Gorsuch in meetings with senators on Capitol Hill as he seeks support for his confirmation, said on Thursday the judge had made similar remarks in his discussions with senators.
Trump, taking a personal swipe at Blumenthal, disputed the account in a Twitter post early on Thursday.
"Sen. Richard Blumenthal, who never fought in Vietnam when he said for years he had (major lie), now misrepresents what Judge Gorsuch told him?" Trump wrote.
Appearing on CNN shortly after Trump's tweet, Blumenthal said it was important for Gorsuch to make his private remarks public and that he would press him to do so during Gorsuch's Senate confirmation hearing.
"We're careening, literally, toward a constitutional crisis," said Blumenthal, who sits on the Judiciary Committee that holds the hearing. "He's been nominated by a president who has repeatedly and relentlessly attacked the American judiciary.
"He has to show the American people that he'll be more than a rubber stamp for Donald Trump."
Blumenthal said on MSNBC that Gorsuch told him he should feel free to make their discussion public, but that he felt the judge should go further.
After U.S. District Judge James Robart put on hold Trump's Jan. 27 temporary travel ban, the president attacked Robart on Twitter as a "so-called judge" whose "ridiculous" opinion "essentially takes law-enforcement away from our country." He has kept up his criticism of the judiciary since then.
The Trump administration appealed Robart's ruling and an appeals court was expected to decide the issue in coming days.
U.S. presidents are usually hesitant to weigh in on judicial matters, and in particular avoid personal attacks, out of respect for a U.S. Constitution clause ensuring a separation of powers between the executive branch, Congress and the judiciary.
"I think President Trump is going to harm both Judge Gorsuch's chances at confirmation and his standing as president if he continues to undermine the independence of the judiciary," Democratic Senator Chris Coons told CNN on Thursday.
Trump nominated Gorsuch on Jan. 31 to succeed Justice Antonin Scalia on the nine-member court. Scalia died a year ago this month.
Trump, who took office on Jan. 20, tried to shift the focus to Blumenthal in two Twitter posts, resurrecting a years-old controversy over the senator's Vietnam service.
As a Senate candidate in 2010, Blumenthal was criticized for saying he "served in Vietnam." Blumenthal said he had used "misplaced words" about his Vietnam service but never meant to deceive voters.
Trump himself received five draft deferments during the Vietnam War, including one for bone spurs in his heel, the New York Times reported in August.
In a statement on Thursday, Ayotte said Gorsuch, speaking generally, said "he finds any criticism of a judge's integrity and independence disheartening and demoralizing."
(Reporting by Doina Chiacu, Susan Heavey, Richard Cowan; Editing by Bernadette Baum and Frances Kerry)