Trump Isn't Sure About Bush, But 'I'm Actually A Nice Person'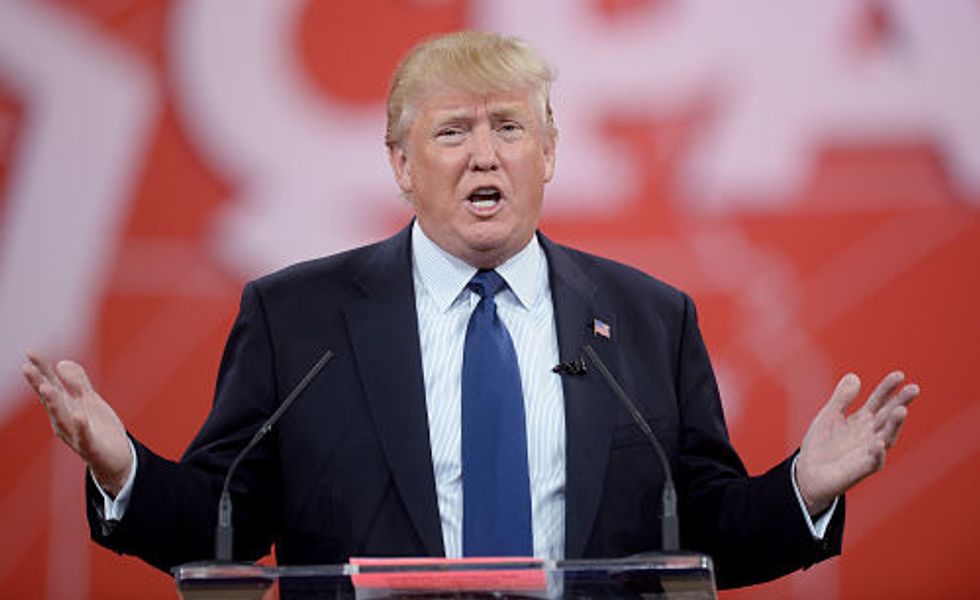 By David Lightman, McClatchy Washington Bureau (TNS)
OXON HILL, Md. — Donald Trump is no fan of Jeb Bush, and he isn't sure he could support the former Florida governor if Bush became the Republican presidential nominee.
"I'd have to think about that. But I certainly don't know right now," the New York real estate developer told McClatchy in an interview Friday.
Trump is particularly bothered by Bush's support for the Common Core educational standards and a path to legalization for some immigrants.
"I think it's going to be very hard for him, certainly to get the nomination, and I think it's going to be hard for him to win the race," Trump said.
The Celebrity Apprentice host is himself considering a bid for the nomination. He spoke Friday at the Conservative Political Action Conference in the Washington, D.C., suburb of Oxon Hill, and he's organizing in key primary and caucus states.
Though his standing in Republican presidential polls is negligible, he insisted he's doing well.
"I've been getting the best reception. I've been getting the biggest crowds," he said. "People like what I say. I don't know if they like me or not. I'm actually a nice person, but I'm not sure people agree on that."
That could be Trump's biggest hurdle. He's a controversial figure who has flirted with presidential runs before but never formally entered the race. This time, he said, "I am really inclined. I want to do it so badly."
He realizes who his biggest rival might be, and he told an Iowa audience last month, "The last thing we need is another Bush."
Trump elaborated Friday, saying, "I don't like his views on Common Core and I don't like his views on immigration."
Many conservatives have harshly criticized Bush for backing Common Core, the educational standards 43 states have adopted. And they dislike Bush's immigration views.
Trump found offensive Bush's statement last year that "They broke the law, but it's not a felony. It's an act of love. It's an act of commitment to your family."
"That statement was a disaster," Trump said. "He's got to come a long way off that statement."
Even if he does, Trump has other issues with the Bush family.
"I was not a big fan of the previous Bush," he said.
Trump recalled the Iraq War. "I said if you're going to be there, it's going to turn out very badly. I was right about that," he said.
If the U.S. had to intervene, he said, it should have secured the oil. "You know who has the oil right now? ISIS has the oil rights now, and that's how they're funding the whole operation," he said. McClatchy has reported that the Islamic State group controls no oil in Iraq, but it does in the territories it has conquered in Syria.
Trump figures he can succeed as president because he knows how to negotiate. "I've been dealing with governments all my life. That's what I do. I build," he said.
Congress and the White House are stalemated over funding the Department of Homeland Security. Trump said he'd bring everyone into a room and work something out.
"I would say the common ground with me starts very, very strongly (with) we've got to have a border. After that we start talking," he said.
That border would have a huge wall, "a wall that is impenetrable, a wall — and nobody builds better than Trump, in all fairness — but it all starts with a wall."
Photo: Donald Trump speaks at the 42nd annual Conservative Political Action Conference (CPAC) Feb. 27, 2015 in National Harbor, Md. Conservative activists attended the annual political conference to discuss their agenda. (Olivier Douliery/Abaca Press/TNS)