Trump Launches A Suicidal War On His Own Party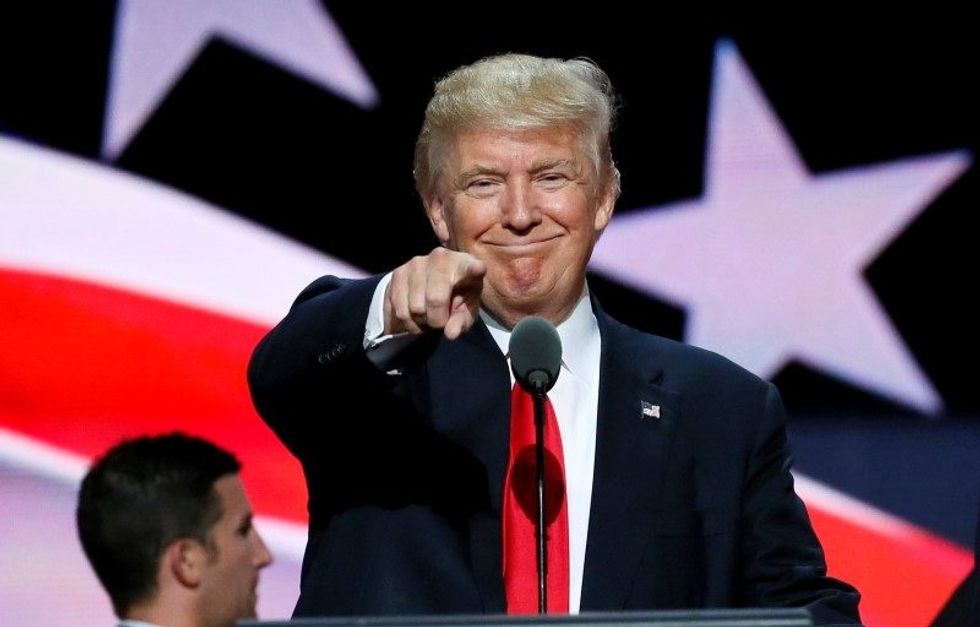 Reprinted with permission from Creators.
During the presidential campaign, Donald Trump often told the story of the kind woman who found a half-frozen snake and took it in and nursed it back to health — only to be repaid with a cruel bite. What Republicans didn't know is that in this story, they're the woman and Trump is the reptile.
With his approval rating sinking, Trump has decided his problem is that he has too many allies. So he set out to rid of himself of an important one: Senate Republican leader Mitch McConnell.
The taciturn Kentuckian managed to inspire rage by suggesting that, being new to Washington, Trump had "excessive expectations about how quickly things happen in the democratic process." The president responded by tweeting angrily, "Can you believe that Mitch McConnell, who has screamed Repeal & Replace for 7 years, couldn't get it done. Must Repeal & Replace ObamaCare!"
As if that weren't enough, Trump followed up in an interview by indicating he might favor McConnell's resignation as Republican leader if he couldn't get Trump's agenda enacted.
McConnell looks as worried as a poker player holding four aces. He is accountable only to the voters back home, who elected him to his sixth term by a 15-point margin in 2014, and to Senate Republicans, who installed him as their leader 10 years ago and appear to be perfectly content with him.
Upon reading Trump's tweets, Senate Democratic leader Charles Schumer and House Democratic leader Nancy Pelosi, we can assume, immediately fell to their knees to rejoice at this sudden windfall.
As commanders of an outnumbered force, their best hope is that their adversaries will devour themselves, and Trump is doing his best to make their wish come true. He has proved himself the supreme master of the unforced error.
There are many things Trump does not seem to comprehend about the presidency. One is that on a wide range of important issues, he can't do much without the help of Congress. Another is that the legislative branch is equal to the executive branch, not subordinate.
He also fails to grasp that he has no more of a popular mandate than every single member of Congress, none of whom came in second in the popular vote.He didn't install any of them. The voters did. Every representative and senator knows — far better than Trump does — what he or she needs to do to win re-election.
Most of them were in office long before he arrived and will be there after he's gone. They don't owe him and don't fear him.
A president, of course, can sometimes compel even unfriendly members of Congress to going along with his legislative agenda. In 1981, Republican Ronald Reagan got his signature tax cut approved even though his party was in the House minority. No fewer than 48 Democrats (and all but one Republican) felt obliged to support it. In the Senate, only 10 Democrats dared to vote no.
But at the time, Reagan had an approval rating of 55 percent. Having been a two-term governor of California, he also had some knowledge of how to work with lawmakers. Trump, by contrast, boasts an approval rating of 38 percent and a bottomless ignorance of the legislative process.
It didn't occur to him that if an unpopular president wants anything passed, he needs to offer ideas that are practical and politically salable (see: Reagan tax cut). Trump was unable to get Congress to vote for the repeal and replacement of Obamacare partly because he didn't know anything about policy details and therefore was ill-suited to negotiate with people who do.
He was also handicapped, as congressional Republicans were, by the unexpected surge of public sentiment for the status quo. Getting any major change through Congress demands careful craftsmanship and shrewd compromises. Neither requirement played to Trump's strengths.
His missteps go beyond consigning himself to legislative impotence. They also put his presidency in jeopardy.
A president under investigation by a special counsel has to consider the prospect of impeachment. All Trump has to do to avoid it is keep Republicans aligned with him. But instead of striving to ingratiate himself with those who hold his fate in their hands, he seems determined to antagonize them.
Someone might want to tell Trump the story of the dying sinner whose priest asked if he was prepared to renounce Satan. The man replied, "This is no time to be making new enemies."
Steve Chapman blogs at http://www.chicagotribune.com/news/opinion/chapman. Follow him on Twitter @SteveChapman13 or at https://www.facebook.com/stevechapman13. To find out more about Steve Chapman and read features by other Creators Syndicate writers and cartoonists, visit the Creators Syndicate website at www.creators.com.