Trump Launches 'Unhinged' Two-Hour Twitter Rant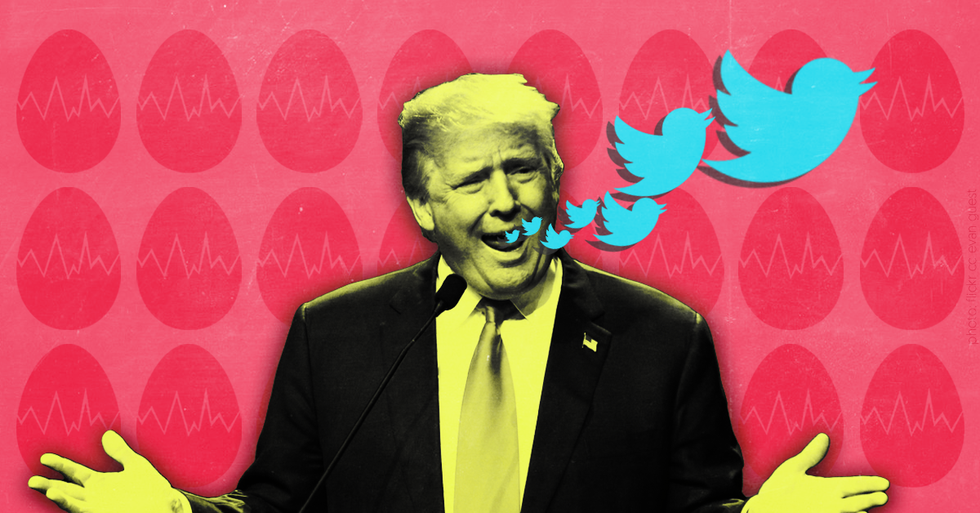 Being leader of the free world is a big job, as you are responsible for the needs of nearly 330 million people, help oversee one of the most important economies in the world, and also deal with foreign threats and other world crises.
Yet, despite all of that, Trump found two hours Tuesday morning to air his grievances with the media, congressional Democrats, Twitter, and the European Union in a series of unhinged tweets that are sure to kick off yet another round of speculation about his mental state.
The tweets began at 5:59 a.m. Eastern with a hate tweet against New York Times columnist Paul Krugman. Trump appeared to be angry with Krugman's Monday column in which he accuses Republicans of being a "party that no longer believes in American values."
"Paul Krugman, of the Fake News New York Times, has lost all credibility, as has the Times itself, with his false and highly inaccurate writings on me," Trump tweeted. "He is obsessed with hatred, just as others are obsessed with how stupid he is."
Melania Trump's "Be Best" anti-bullying campaign has clearly yet to have a positive impact on her husband.
The tweets only got more unhinged from there.
In a subsequent tweet, the president again falsely claimed that the New York Times apologized to him for its 2016 coverage (that didn't happen), and wondered if the Times would apologize to him again.
"But this one will have to be a far bigger & better apology," Trump tweeted. "On this one they will have to get down on their knees & beg for forgiveness-they are truly the Enemy of the People!"
Yes, Trump actually tweeted that.
Trump then announced a Saturday night campaign rally in Wisconsin, which he'll use to counter-program the White House Correspondents' Association dinner. Given Trump's tweet-storm, that rally is sure to be as off the rails as ever.
And he then accused Democrats of being "totally insane" — which given this bonkers tweet storm is one serious example of projection.
But wait, there's more!
Trump went on to claim that because the economy is doing well, that means he should be "immune from criticism."
"In the 'old days' if you were President and you had a good economy, you were basically immune from criticism," Trump tweeted. "Remember, 'It's the economy stupid.' Today I have, as President, perhaps the greatest economy in history…and to the Mainstream Media, it means NOTHING. But it will!"
Maybe Trump should have a conversation with Bill Clinton, whom Republicans relentlessly targeted and even impeached for an affair. Of course, not only has this president had an affair, which got him implicated in an illegal campaign finance scheme, but special counsel Robert Mueller detailed multiple instances in which Trump tried to obstruct justice in the Russia probe.
Trump the media critic then returned, as he praisedFox & Friends for being the best morning show and attacked MSNBC's Morning Joe for being "Dumb and Sick" — his capitalization. The difference between the two shows? The latter criticizes Trump's out of control conduct, while the former has guests who heap praise on Trump when no praise is warranted.
Trump also took Twitter to task, criticizing it for being "hard for people to sign on" to and "constantly taking people off list." It appears someone needs to help teach the president how to remember his username and password.
Trump's insane thread then ended on a positive note.
"KEEP AMERICA GREAT!" he shouted in all caps.
What a wild ride.
Published with permission of The American Independent.