Donald Trump Makes It Easy To Vote For Her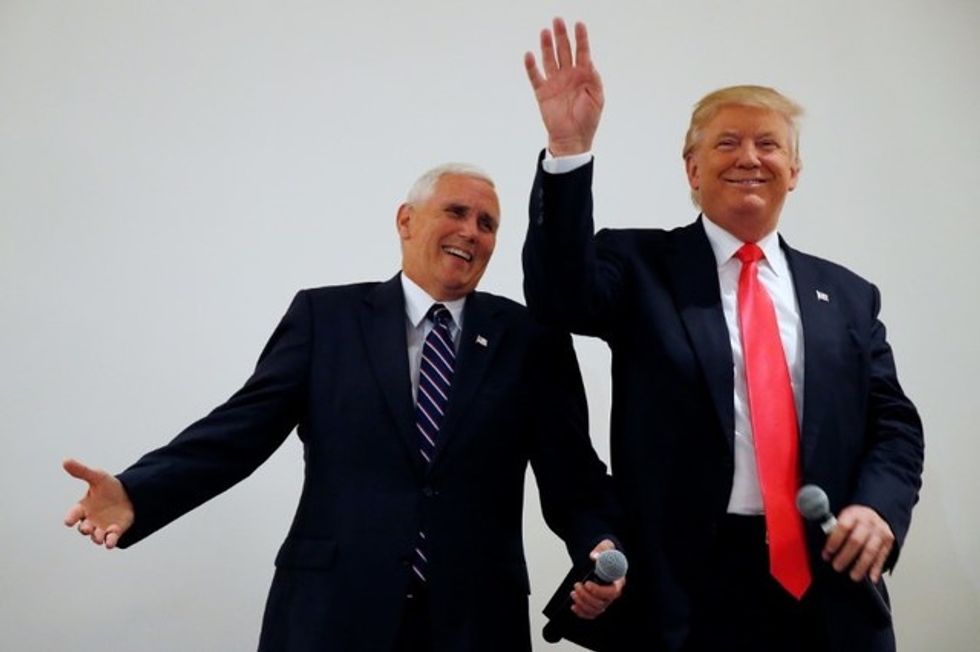 If this presidential election was an airplane flight, we'd all have barf bags on our laps. Just when you think it couldn't possibly get any worse, it does.
Next Tuesday the nation is being forced to choose between Hillary Clinton, a calculating liar, and Donald Trump, a clumsy liar, proud tax dodger and serial sex creep.
These are the national standard-bearers of the Democratic and Republican parties. No wonder the rest of the world thinks we've gone crazy.
Clinton and Trump are two of the most unpopular figures ever to run for the White House, leaving millions of dispirited Americans to vote purely with the hope of minimizing the damage.
On one side is Hillary, who in a more sensible time would have lost in the primaries because of her mishandling of State Department emails and the shady stewardship of the Clinton Foundation.
On the other side is Trump, who in a sane universe would have no chance of winning because of basically every scummy thing he has said and done — from his rip-off "university" to his contorted tax returns, to his leering boast about grabbing women's genitals.
Setting aside the not-so-minor issue of all those alleged assaults, Trump's lazy ignorance of economic policy, foreign relations and even basic Government 101 is mind-blowing.
Yet his white hardcore base roars at his spray-tanned vaudeville act. Some of these people actually believe he'll build a giant wall between the United States and Mexico, and that Mexico will pay for it.
Some of them actually believe he's going to round up and deport five million undocumented aliens.
They also believed him when he first said the number was 11 million.
They would be the same people who actually think he can stop U.S. companies from moving jobs overseas, the same people who think he knows more about ISIS than the generals who are conducting the war on terror.
The folks who still believe all of Trump's impossible promises are suckers. Most Republicans are well aware he's full of crap, yet many will vote for him anyway just because they can't stand Hillary.
Think about that. Their animosity toward one candidate is so visceral that they're willing to hand the powers of the presidency to a dangerous, divisive and obviously uncontrollable buffoon.
It's hard to imagine anything more unpatriotic than willfully putting your country — and the world — at such harrowing risk, simply because you dislike the Clintons and all they stand for.
Look at what Trump stands for.
Last week he was effusively endorsed by the Crusader, a leading voice of the Ku Klux Klan. It's one of the few newspapers in the country to support Trump's campaign, and his embarrassed staff hurried to denounce it.
Yet the ugly truth is that his hate-tinged bluster has energized the bigots, birthers, white separatists, and take-back-America xenophobes. He's depending on all of them to turn out at the polls, and they probably will.
Ironically, they represent one of the few voting blocs that are genuinely enthusiastic about the election.
Most everyone else is trying not to vomit, including evangelicals who do not see in Trump a man who has modeled himself after Jesus Christ.
The campaign has been so awful that moderates in both parties are depressed and disgusted. Many Democrats wish Joe Biden was on the ballot, while Republicans fantasize about Paul Ryan or John Kasich, anybody but Donald.
Even though we're stuck with two candidates who would blow up a polygraph machine, there are other issues — experience and a steady temperament, for example — that are somewhat crucial when electing the person who will have a finger on the nuclear button.
Anybody worried about what the future holds for their children or grandchildren ought to be asking themselves who, based on what we've seen, is likely to do the least harm — Clinton or Trump?
Which of them is least likely by their words and actions to damage the economic recovery, incite more anti-American terrorism at home or lead us into another pointless, costly overseas war? And which of them understands, for better or worse, how government really operates?
Choosing between the lesser of two evils is a common dilemma for voters, and no political candidates are unflawed. The respective imperfections of Trump and Hillary are glaring, but Trump is so much worse.
Undisciplined, unglued and uninformed, he actually makes it easy to vote for Hillary. The bar is that low.
Carl Hiaasen is a columnist for the Miami Herald. Readers may write to him at: 1 Herald Plaza, Miami, Fla., 33132
IMAGE: Republican presidential candidate Donald Trump (R) and vice presidential candidate Mike Pence speak in an overflow room at a campaign event in Roanoke, Virginia, U.S., July 25, 2016.  REUTERS/Carlo Allegri