Trump Makes A Mess Of North Korea Talks Hours After Announcing Them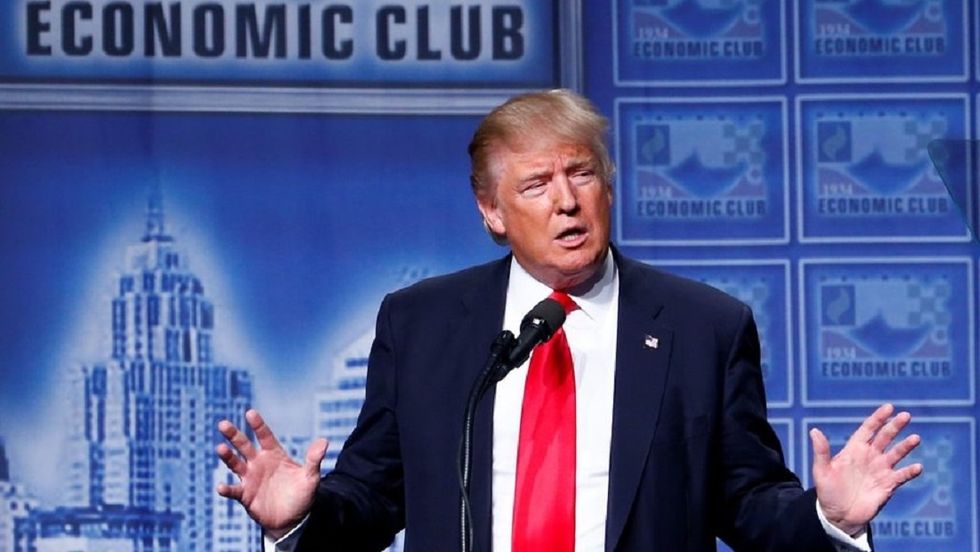 Reprinted with permission from Shareblue.com
Trump's hastily reached decision to accept an invitation to meet with North Korean dictator Kim Jong Un has sent the White House into a tailspin, leaving senior administration officials scrambling to coordinate talking points about an agreement upon which no one seems to have agreed.
In a span of less than 24 hours, the White House announced at least three different positions on the meeting — the most recent of which involved walking back the walk-back it issued earlier in the day.
On Friday, White House Press Secretary Sarah Huckabee Sanders said the talks will not take place unless North Korea takes "concrete and verifiable actions" toward denuclearization — a stipulation that was not made Thursday when Trump blurted out the announcement.
"They have made some major promises. They have made promises to denuclearize. They have made promises to stop nuclear and missile testing," Sanders said Friday in a briefing with reporters. "We're not going to have this meeting take place until we see concrete actions that match the words and the rhetoric of North Korea."
During the briefing, Sanders repeatedly asserted that North Korea had "promised" to denuclearize and said the meeting would not take place until that process had started.
That differs from what Sanders said Thursday evening, when she confirmed that Trump "will accept the invitation to meet with Kim Jong Un at a place and time to be determined."
Also on Thursday, another senior administration official said, "At this point, we're not even talking about negotiations. What we're talking about is an invitation by the leader of North Korea to meet face-to-face with the president of the United States. The president has accepted that invitation."
At the time, the White House said North Korea had committed to halt nuclear tests ahead of the meeting with Trump, but it did not say North Korea had made any commitments to start the process of denuclearization.
But on Friday, Sanders appeared to walk back the initial announcement, prompting MSNBC's Hallie Jackson to question her about the likelihood that the meeting will even take place.
"Is there a possibility that these talks with North Korea with Kim Jong-Un may not happen?" Jackson asked.
"A lot of things are possible," Sanders responded. "I won't sit here and walk through every hypothetical that could exist in the world, but I can tell you the president accepted that invitation on the basis that you have concrete and verifiable steps."
But that wasn't the end of the debacle.
Less than 90 minutes after Sanders walked back the initial announcement, the White House came out with another statement walking back the statement that Sanders had just given.
"The invitation has been extended and accepted, and that stands," a White House official said.
It's unclear how the White House plans to coordinate high-level talks about denuclearization, given that it can't even coordinate its talking points — which explains why experts say there is no way Trump will be prepared if the meeting does take place.
Of course, it would also help if Trump actually knew the difference between the two Koreas.