Trump Mexico Visit Draws Ire From Political Leaders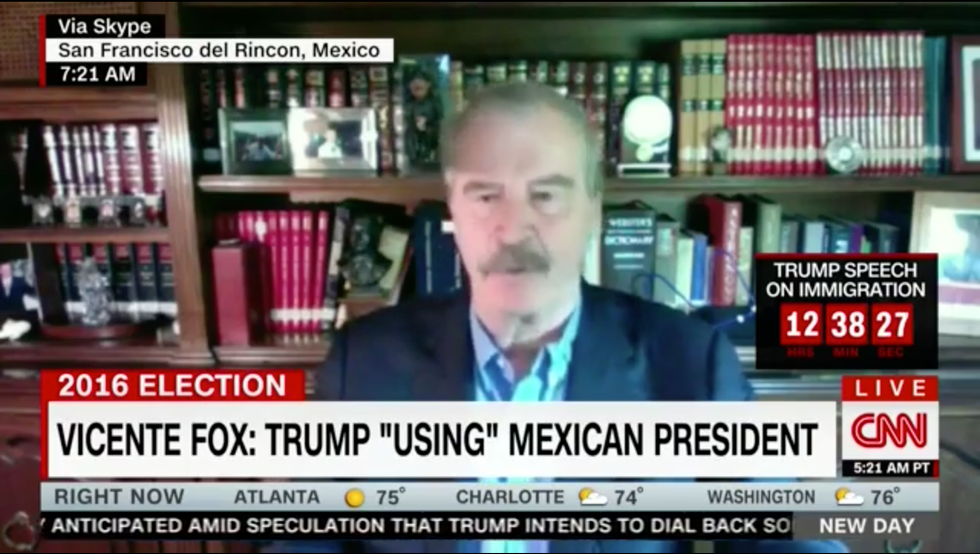 GOP nominee Donald Trump announced Tuesday that he would be making a trip to Mexico at the invitation of Mexican President Enrique Peña Nieto. Although Peña Nieto may have extended the invitation for Trump's visit, several other Mexican political leaders are — very vocally — against it.
The meeting is scheduled for just hours before Trump is set to deliver a speech on his immigration policy, which has been increasingly difficult to follow in recent weeks.
Peña Nieto once compared Trump to Hitler and Mussolini, but confirmed on Twitter that he had invited the Republican presidential hopeful "to discuss bilateral relations."
Appearing on CNN for an interview, former Mexican President Vicente Fox criticized Peña Nieto, as well as Trump, calling the meeting an "opportunistic move."
"I hope U.S. public opinion, U.S. citizens can see this and finally, and finally see what is behind Trump, this false prophet that is just cheating everybody," Fox said.
Fox stated he didn't understand what Peña Nieto was thinking, unless Trump was making the trip to apologize for his disparaging remarks about Mexicans during the meeting, and summed up his feelings on the visit with the statement, "¡Adiós, Trump!"
Former first lady Margarita Zacala de Calderón also reacted strongly to the news, tweeting that Trump is "not welcome" in her country and that Mexicans "repudiate his hate speech."
Mexican Senate President Roberto Gil Zuarth and former Mexican diplomat Jorge Guajardo added to the voices in opposition to Trump's visit. Zuarth tweeted that allowing Trump to come to Mexico legitimized his "proposal of demagogy and hate." Guajarado said he felt "embarrassed as a Mexican" thanks to Peña Nieto's invitation.
Democratic nominee Hillary Clinton's camp also reacted to the news, publishing a post on the campaign website pondering which of Trump's tweets he and the Mexican president may wish to discuss.
"Ahead of Trump's meeting with President Peña Nieto, here's a helpful refresher on all the things he's said about Mexico," the piece read, listing a roundup of all of Trump's worst tweets, including some of the following:
Mexico's totally corrupt gov't looks horrible with El Chapo's escape—totally corrupt. U.S. paid them $3 billion.

— Donald J. Trump (@realDonaldTrump) July 13, 2015
I love the Mexican people, but Mexico is not our friend. They're killing us at the border and they're killing us on jobs and trade. FIGHT!

— Donald J. Trump (@realDonaldTrump) June 30, 2015
We MUST have strong borders and stop illegal immigration. Without that we do not have a country. Also, Mexico is killing U.S. on trade. WIN!

— Donald J. Trump (@realDonaldTrump) June 30, 2015
Peña Nieto's latest approval rating was at just 23 percent, according to Mexico News Daily, and it's unclear that inviting Trump to the country will do anything other than tank his popularity even more. Trump was the subject of a non-legally binding bill in March to ban him from Mexico's capital.
Those in Trump's camp, however, are painting the visit as a positive move for the campaign, with manager Kellyanne Conway describing a meeting that will include discussions on illegal immigration and trade policy. Lewandowski, Trump's former campaign manager, likely current informal advisor, and CNN talking head, said he believes the visit could change U.S.-Mexico relations.
Peter Schechter, director of the Adrienne Arsht Latin America Center at the Atlantic Council, told Politico it was hard to understand the dynamics behind the meeting with the Mexican president.
"Why Peña Nieto wants this meeting is a total mystery. No matter how it is spun, it raises candidate Donald Trump's profile and legitimacy. It will be unpopular with Mexicans, with the Hillary campaign, with all Americans who are worried about attempts to mainstream Trump."
Photo: Republican nominee Donald Trump arrives to speak at "Joni's Roast and Ride" in Des Moines, Iowa, U.S., August 27, 2016. REUTERS/Carlo Allegri