Trump Offers Huge Favors To Billionaires, Calls It A Big Economic Speech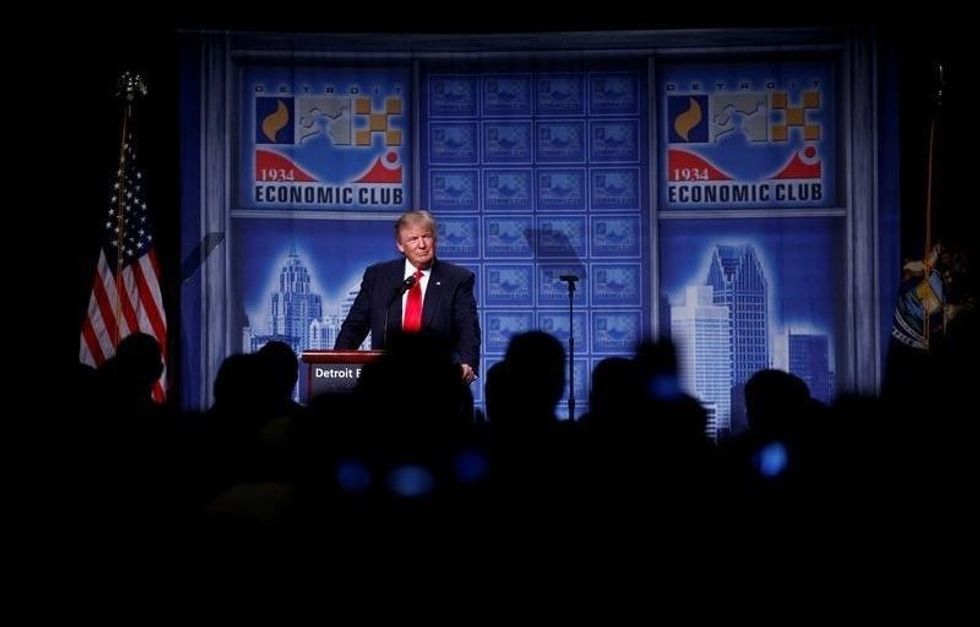 Published with permission from AlterNet.
If it came out of the mouth of any other politician, the speech delivered Monday by the Republican presidential candidate at the Detroit Economic Club would have been stunning in its mendacity. But issuing forth from the pie-hole of Donald J. Trump, it was, sadly, to be expected.
The lies were almost too many to count: Point to a sentence, find a lie. There was the lie about his opponent's policy on taxing the middle class; Hillary Clinton clearly said she wouldn't, and Trump is using her dropping of a consonant on a single word to say she did. (Just to be sure, PolitiFact had academics run audio of Clinton's tax statement through a machine that analyzes such things.)
He claimed "the terrible Obama-Clinton judgment" destroyed Detroit's manufacturing sector, when the Obama administration twisted Republican arms to get the funding to save the American auto industry.
There were also lies of omission. The U.S., he said, has the highest corporate tax rates in the developed world, without mentioning the fact that many of the nation's largest corporations pay no taxes at all. In fact, some, such as Verizon and General Electric, actually pay a negative tax rate, meaning they actually get rebates back from the Treasury.
I could go on and on, but "Trump lies" is pretty much a dog-bites-human story. Yawn.
More telling is who Trump named to his economic team—the very sort of people who stand to gain from his Main Street-looting economic policies. For starters, they are 13 rich white men. But they're rich white men whose riches were mostly gained by preying on the weak. And most, Politico's Shane Goldmacher reports, are major donors to the Trump campaign.
Take John Paulson, whose Paulson & Co. hedge fund, according to Forbes, "is famed for betting against subprime mortgages at the peak of the 2007 credit bubble." Paulson, the magazine reports, is worth $9.8 billion.
Then here's Harold Hamm, founder of the oil firm Continental Resources, who is known to frequent the big donor confabs convened by the Koch brothers (but who is now at odds with the scions of Koch Industries over the brothers' refusal to back Trump). Hamm is a backer of the climate-science deniers in Congress, according to the Energy and Policy Institute, and is said to be shaping Trump's energy policy. If you don't see climate-science deniers as preying on the weak, think about the people who got hurt in Hurricane Katrina. Think about the people who can't sell their homes in Norfolk, Virginia because of sea-level rise.
And let's not forget Steve Feinberg, the CEO of something called Ceberus Capital Management, which Evan Popp and Josh Israel of Think Progress describe as "a private investment firm which specializes in 'distressed investing.'" Among the "distressed" properties acquired by Ceberus is Remington, the manufacturer of the AR-15-style rifle—the kind that was used in the Sandy Hook massacre and other mass shootings.
My personal favorite among the men at Trump's economic table is probably the least wealthy but perhaps the most disingenuous: Stephen Moore, former member of the Wall Street Journal editorial board and late of the Heritage Foundation. Known for his insanely inaccurate economic predictions, Moore has been the toady of billionaires for decades, allowing him to fall ever-upward.
In 2011, while reporting for AlterNet and the Investigative Fund on the Koch brothers' fomenting of the Tea Party movement, I found Moore wrapped up in a for-profit scheme apparently designed to scare the employees of companies hired by him into voting for Republicans. The scheme was called Prosperity 101 and was helmed by Mark Bloch, then the state chairman of the Wisconsin chapter of the Koch brothers' Americans for Prosperity political astroturf group. Moore was often a paid speaker at the ostensibly voluntary seminars employees at firms in the Koch network were invited to attend. He was also often a paid speaker at Americans for Prosperity events, even as he sat on the editorial board of one of the nation's major newspapers.
Moore's contribution to the seminar textbook was illustrative of his willingness to simply make stuff up. From AlterNet's 2011 report:
In "The Keys to Prosperity," Moore's chapter in the Prosperity 101 textbook, he offers up a series of charts, some of them indecipherable, including a pie chart called "Where Your Federal Tax Dollar Goes." (Apparently derived from an earlier presentation Moore made at an AFP Foundation event, the same charts can be found here; scroll to slide no. 16 for this one.) Citing such official sources as the Internal Revenue Service, the Government Accountability Office and the Bureau of Labor Statistics, it features eight slices labeled "Flushed Down a Toilet, "Pissed Away," "Down a Rat Hole," "Sleaze," "Corruption," "Given to 'Supporters,'" "Tossed Down the Drain," and "Postage Stamps." (The latter, Moore baselessly contends, accounts for 6 percent of your tax dollars—which is, incidentally, six times theallotment for non-military foreign aid).
In psychology, there's a concept known as projection, the term for when a patient ascribes to his nemesis the very motive or behavior that animates the patient.
In his nearly hour-long speech at the Detroit Economic Club, Donald Trump accused his opponent of being "bought, controlled and paid for by her donors and special interests."
Look at the men on Trump's own economic team, and you'll get a very clear idea of just who his policies aim to benefit.
Adele M. Stan is AlterNet's senior Washington editor. Follow her on Twitter @addiestan.