Trump On Putin's Meddling: 'What Am I Going To Do?'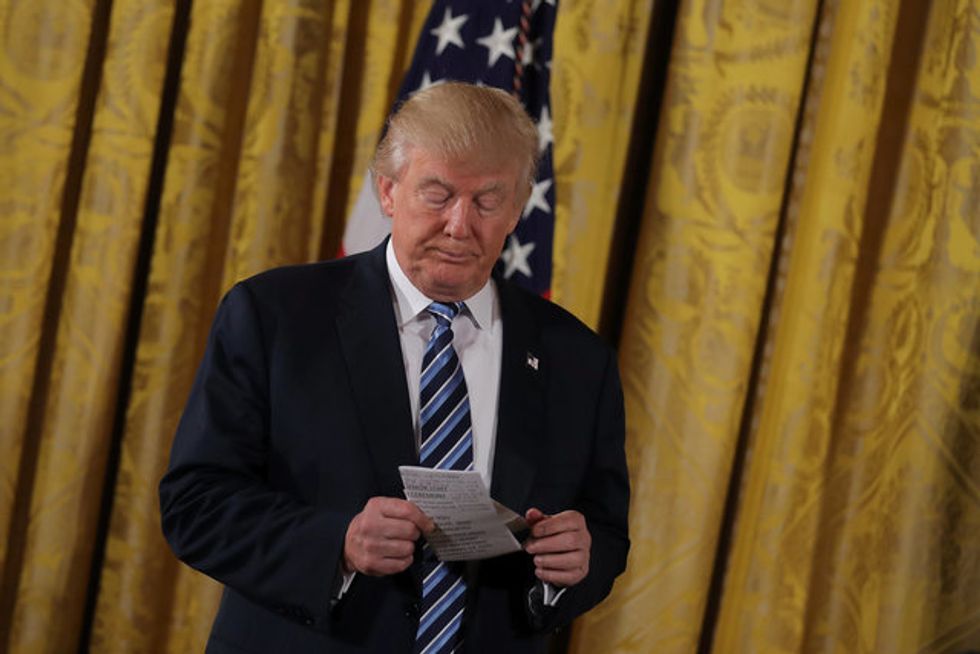 Reprinted with permission from Shareblue.
On Thursday afternoon, Trump lied his way through a 35-minute press conference to end the NATO summit, but also managed to expose the truth about his own weakness with Russia.
Washington Post reporter Phil Rucker asked Trump if NATO is of value in protecting the U.S. from Russia, but Trump sidestepped the question. Instead, Trump brought up his upcoming summit with Putin.
"I'm meeting with president Putin on Monday, and I think we go into that meeting, not looking for so much," Trump said, and grudgingly added, "We will, of course, ask your favorite question about meddling. I will be asking that question again."
"What if he denies it again?" Rucker asked.
"Well, he may, I mean look, he may. What am I going to do? He may deny it, it's one of those things," Trump said. "All I can do is say 'Did you?' and 'Don't do it again,' but he may deny — you'll be the first to know, okay?"
It's telling that Trump called Russian election meddling "your favorite question." This exchange deeply demonstrates the degree to which Trump does not take Russia's actions seriously.
The fact is that Trump could do much more than accept Putin's denial, or impotently asking him to stop. For example, he could address Putin with the U.S. intelligence community's unanimous conclusion that Russia did interfere in our elections, and threaten additional sanctions instead of delaying and obstructing the ones Congress has already imposed.
But that would require him stand up to Putin, and Trump has repeatedly shown that he would rather attack our allies — as he did at the NATO summit — than offend the Russian dictator. Time, and special counsel Robert Mueller's investigation, will tell why that is.
Published with permission of The American Independent.