Trump Plan To End Birthright Citizenship Excites Neo-Nazis And Far Right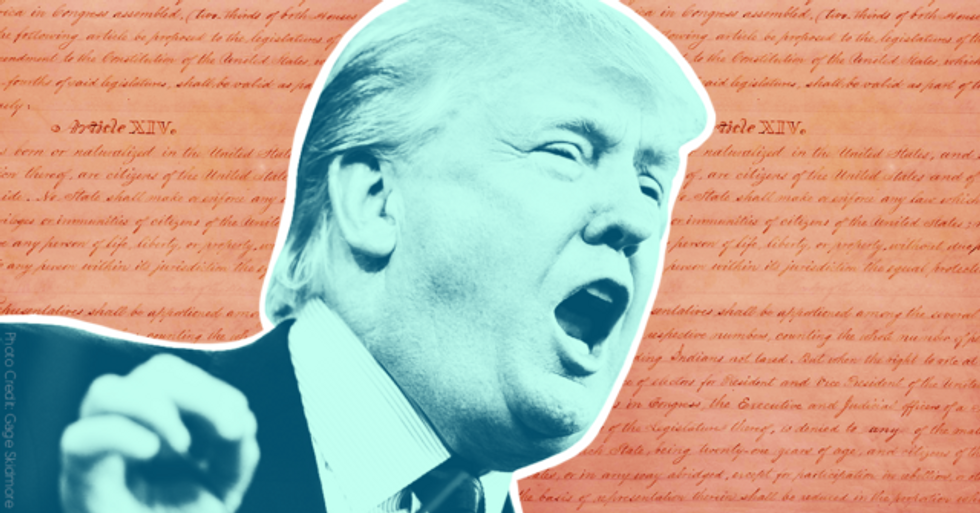 Reprinted with permission from MediaMatters.
For extremists and MAGA internet trolls, ending birthright citizenship as enshrined in the 14th Amendment of the Constitution is a campaign promise that President Donald Trump must deliver. After Trump told Axios that he's considering using an executive order to eliminate the right to citizenship for those born to noncitizen parents on U.S. soil, white supremacists and pro-Trump trolls celebrated online, while some acknowledged that the timing of the announcement — one week before midterms — and the fact that any executive order on the issue would undoubtedly go to the courts likely made it an electoral strategy rather than a policy goal.
White nationalist Cameron Padgett:
White supremacist author and Fox regular Ann Coulter, who referred to children born in the U.S. to noncitizen parents with a slur:
Host for the white supremacist podcast Fash the Nation, known online as Jazzhands McFeels:
Scott Presler, staffer for the anti-Muslim group Act For America and pro-Trump activist:
"Pizzagate" conspiracy theorist Jack Posobiec:
Other Trump sycophants on right-wing media also went on Twitter to defend the president's attack on the 14th Amendment, with some referring to the children of noncitizens born in the U.S. with a demeaning slur:
The white nationalist publication VDare called Trump's statement a "big moment" for the outlet, consistent with the group's first attack in 2001 on American babies born to immigrant parents in U.S. territory:
Neo-Nazi publication The Daily Stormer called Trump's statement to Axios "an October Surprise DOUBLE SIZE for y'all Jews" while celebrating that Trump had suggested to Fox's Laura Ingraham that the U.S. build tent cities for migrants seeking asylum: "Trump announced O P E N A I R C O N C E N T R A T I O N C A M P S for the wetback human garbage invading OUR COUNTRY!"
On a discussion thread in Stormfront, a message board for white supremacists, users characterized "stopping birthright" as essential and speculated that Trump had waited until there is a "conservative majority in the supreme court" to go after the 14th Amendment:
Similarly, a user on the anonymous message board 4chan praised Trump's timing, alluding to "the supreme court which Trump just secured" and saying that the caravan of migrants seeking asylum made for "the perfect time for the optics":
On the anonymous forum 8chan, a thread praising "God Emporer (sic)" Trump celebrated the news, claiming "/pol/" (the "politically incorrect" board on chan) "was always right" in supporting him. The poster also mentioned Trump's assertion that "it doesn't take an act of Congress" to end birthright citizenship, writing, "see midterms for reversal of this if we lose," a reminder of the overwhelming support for the Republican Party among anonymous online extremists.
Talia Lavin contributed research to this piece.
Header image by Melissa Joskow / Media Matters