Trump Pushed British Couple To Meet Woman Who Killed Son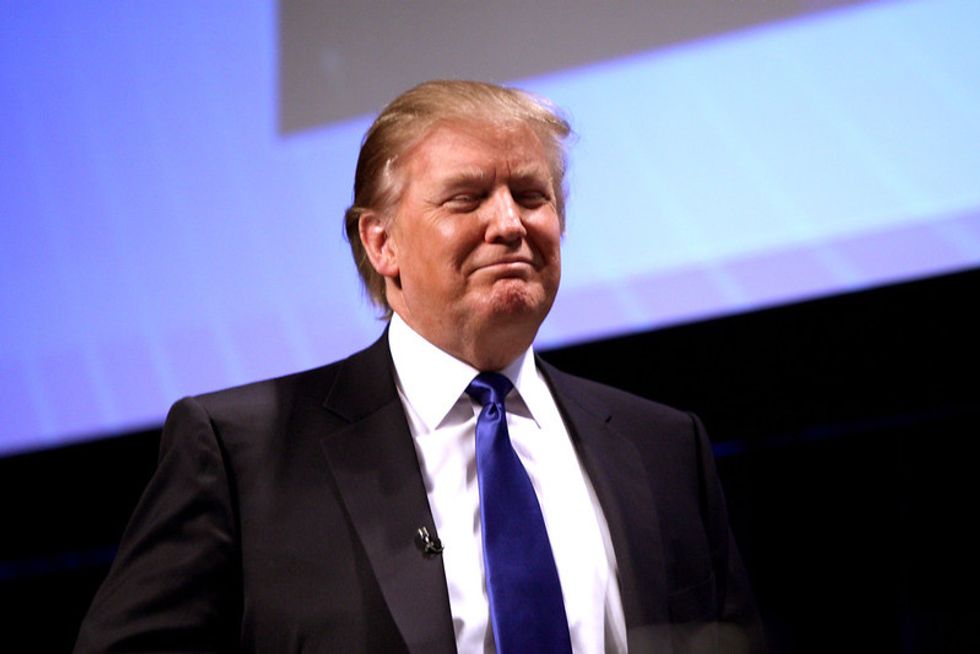 Donald Trump on Tuesday attempted to ambush the grieving parents of a slain British teen with a surprise meeting with the woman accused of causing his death.
Harry Dunn, 19, was killed in a car accident in the U.K. on Aug. 27. Anne Sacoolas, the wife of Jonathan Sacoolas, an employee of the U.S. government based at an Air Force listening station near Croughton, Northamptonshire, England, was interviewed by police about her alleged involvement in the incident, but left the country not long after, returning to the United States and claiming diplomatic immunity.
Police said Sacoolas was driving on the wrong side of the road the morning of the accident and collided with Dunn who was riding his motorbike.
Sacoolas claimed in a statement later that she'd had "no time to react" when Dunn drove up over the hill. Her lawyers say she "stayed on the scene of the accident to assist" Dunn while they waited for help to arrive.
Sacoolas said she was "terribly, terribly sorry for that tragic mistake."
Dunn's parents, Charlotte Charles and Tim Dunn, have been pushing for Sacoolas return to the U.K. to face justice. They went to the White House on Tuesday as part of that effort, when Trump then sprung the meeting with Sacoolas on them.
The couple told CBS News that the request was a "complete shock."
"[Trump] said she was in the building, but the room next to us was being highly guarded," Charles told the outlet. She said Trump seemed "warm" and offered his condolences, but then launched into the stranger portion of the meeting.
"It didn't take long for him to then drop into the conversation that Anne Sacoolas was in the building," she added.
Dunn said he and his wife had previously discussed the possibility that they might run into Sacoolas while visiting Washington but said it "took [their] breath away" when Trump suggested the sudden meeting.
"Wrong setting," noted Charles. "We've said all along that we are willing to meet her, we are still willing to meet her, but it needs to be on U.K. soil. And with therapists, mediators. T hat's not just for us, that's for her as well."
"To be thrown into a room together with no prior warning, that's not good for her mental health, it's certainly not good for ours. We've got locked-in grief for several weeks. You know, none of us know how we were going to react, to have that sprung on us."
Dunn said Trump asked them "two or three times" about meeting Sacoolas, even after they made clear to him they did not feel it was appropriate.
"But he said that she's here, let's get it on, get some healing or something like that," Dunn added. "It was a bit of pressure, but we stuck to our guns."
Trump has a history of placing grieving families in uncomfortable situations.
In 2017, he repeatedly attacked the family of slain Army Sgt. La David Johnson after they spoke out about his comments to Johnson's widow, Myeshia Johnson.
Johnson died in an anti-ISIS operation in Niger, which Trump signed off on, that later led to the deaths of four American soldiers.
Trump told Johnson's widow that the Army sergeant "knew what he signed up for" when he and the others were assigned to the operation. After Rep. Frederica Wilson (D-FL), a friend of the family, spoke out about the incident, Trump attacked her and said she had made up the call.
Trump was also criticized by the family of Otto Warmbier, who was killed in the custody of the North Korean government, after Trump lavished praise on dictator Kim Jong Un.
While Trump called Kim his "friend," Cindy Warmbier, Otto Warmbier's mother, called Trump's actions a "charade."
Published with permission of The American Independent.