Trump Randomly Decides Women Should Be Punished For Getting Abortions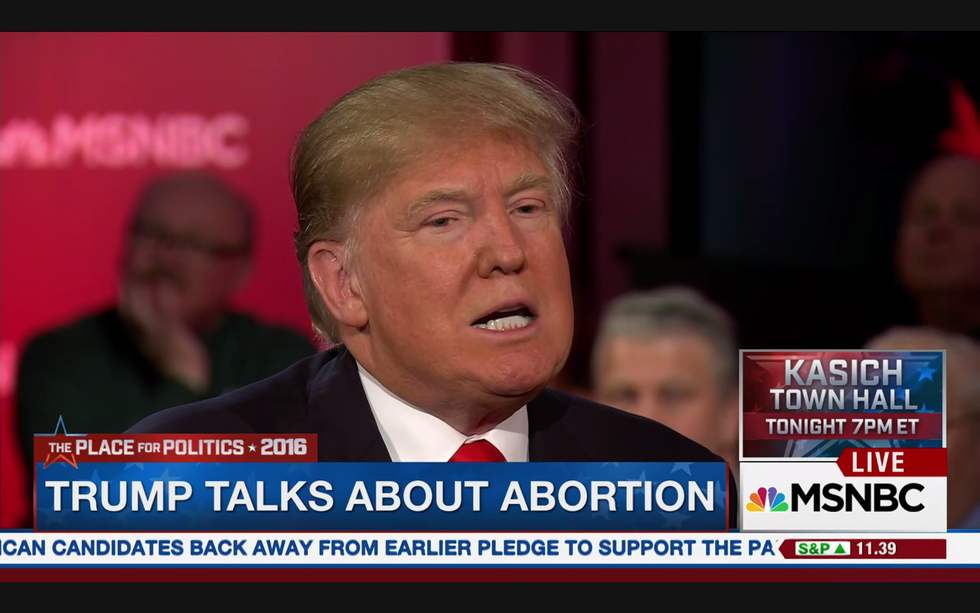 Donald Trump said today that he would punish women for getting abortions if the procedure became illegal — but he would not punish men.
In an interview with Chris Matthews taped for broadcast this evening, the MSNBC host pressed Trump on his views on banning abortion altogether.
From the beginning of Trump's candidacy, he has continuously backpedaled and hedged on the abortion issue. Before he began to run for president, Trump described himself as pro-choice.
After filibustering with an interrogation of Matthews on the host's own religious beliefs, Trump paused when Matthews asked: "Do you believe in punishment for abortion? Yes or no, as a principle?"
"The answer is that… There has to be some form of punishment."
"For the woman?
"Yeah, there has to be some form."
But when Matthews questioned him on what that punishment should be — "10 months or 10 years?" — Trump responded that he doesn't know.
"It's a very complicated position," said the Republican frontrunner.
Trump's campaign quickly released a statement after the interview in an attempt to clarify, or obscure: "This issue is unclear and should be put back into the states for determination. Like Ronald Reagan, I am pro-life with exceptions, which I have outlined numerous times."
Trump's son Donald Jr. also responded on Twitter, emphasizing what he felt had been overlooked in the burgeoning brouhaha: the "banned" part.
Thank you Katy you're the only one that included the question which was if it was ILLEGAL should there be punishment https://t.co/XXrGvXMHjw

— Donald Trump Jr. (@DonaldJTrumpJr) March 30, 2016
No not a hearing problem but the full context doesn't make for the salacious sound byte they are all looking for! https://t.co/RXQqB9vkY7

— Donald Trump Jr. (@DonaldJTrumpJr) March 30, 2016
Because logically, if people disobey the law, then of course they should be punished. And Trump thinks abortion should be illegal in most cases.
Of course, as political strategy, even hard-liners on abortion aim most of their punitive rhetoric at abortion providers, rather than the women who seek abortions. Dozens of organizations, journalists and politicians immediately released statements, some on Twitter, denouncing Trump's remark.
Gov. John Kasich, who has his own anti-women and anti-abortion record in Ohio, told MSNBC's Chuck Todd that he didn't agree with Trump's willingness to punish women who attempt to have abortions. "I do have exceptions for rape, incest, and life of the mother but of course women shouldn't be punished," he said.
Although Texas Senator Ted Cruz, who is also in favor of essentially erasing the effects of Roe v. Wade, has not yet responded to Trump, both Hillary Clinton and Bernie Sanders tweeted their reactions:
Just when you thought it couldn't get worse. Horrific and telling. -H https://t.co/Qi8TutsOw9

— Hillary Clinton (@HillaryClinton) March 30, 2016
Your Republican frontrunner, ladies and gentlemen. Shameful. https://t.co/y49Z8YfRgV

— Bernie Sanders (@BernieSanders) March 30, 2016
Maybe this episode will prompt a much-needed discussion on the morality of limiting abortion access. What is clear is that Trump sought to advance the right's long-standing effort to criminalize a very large portion of the American public.