Trump Relished 'Hang Mike Pence' Chants -- And Told His Staff So
@LauraClawson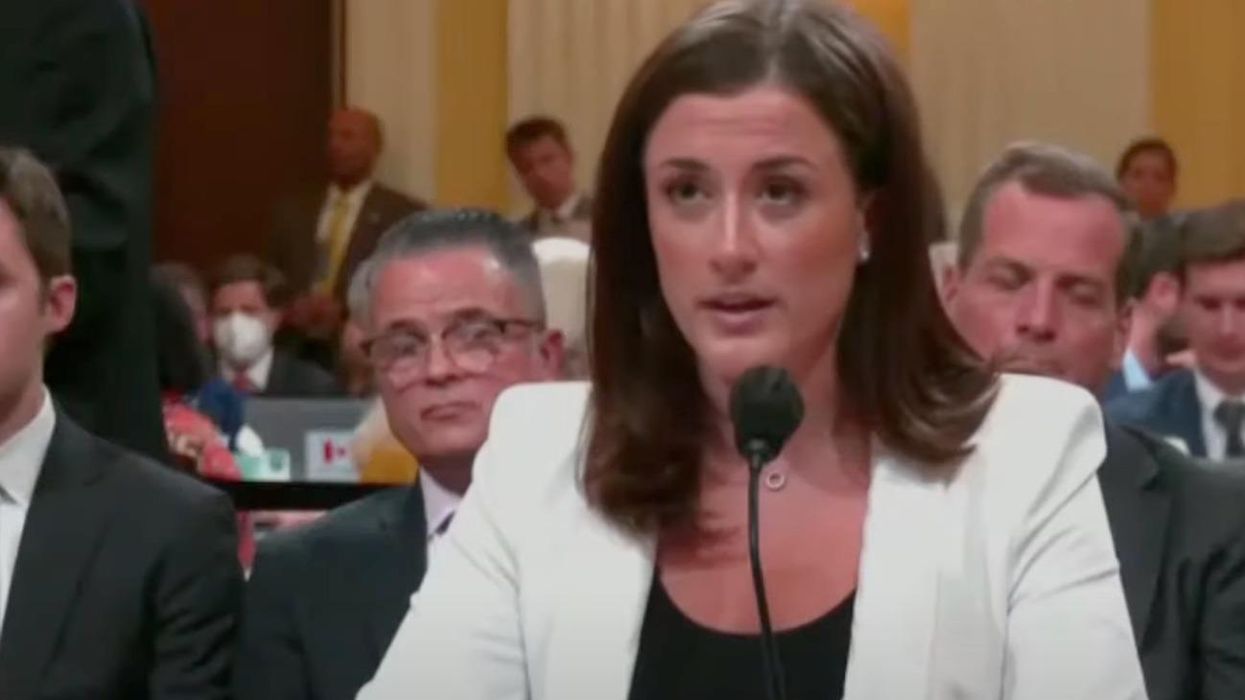 Youtube Screenshot
Former Trump White House aide Cassidy Hutchinson delivered bombshell testimony to the House Select Committee on Tuesday afternoon, confirming in graphic detail that Donald Trump was glad to hear his supporters chanting "Hang Mike Pence" as they attacked the U.S. Capitol.
In a video recording of an earlier interview with the committee, Hutchinson was shown describing her boss, then-Chief of Staff Mark Meadows, discussing the "Hang Mike Pence" chants of the Capitol insurrectionists with then-White House Counsel Pat Cipollone.
"I remember Pat saying something to the effect of, 'Mark, we need to do something more, they're literally calling for the vice president to be f'ing hung,'" Hutchinson said, "and Mark had responded something to the effect of, 'You heard him, Pat, he thinks Mike deserves it, he doesn't think they're doing anything wrong.' To which Pat said something, 'This is f'ing crazy, we need to be doing something more.'"
Committee Vice Chair Liz Cheney segued out of that video, saying, "Let me pause here on this point. As the rioters chanted 'Hang Mike Pence,' the president of the United States, Donald Trump, said that, quote, 'Mike deserves it,' and that those rioters were not doing anything wrong."
Cheney went on to air a clip of a Trump interview with ABC News' Jonathan Karl, in which he responded to a question specifically about the "Hang Mike Pence" chants by saying:
"Because it's—it's common sense, Jon, it's common sense, that you're supposed to protect. How can you—if you know a vote is fraudulent, right—how can you pass on a fraudulent vote to Congress?"
Trump's pivot away from the chant to his anger at Pence showed that, yes, he supported those chants. As did his 2:24 PM tweet on Jan. 6, next flagged by Cheney:
"Mike Pence didn't have the courage to do what should have been done to protect our Country and our Constitution, giving States a chance to certify a corrected set of facts, not the fraudulent or inaccurate ones which they were asked to previously certify. USA demands the truth!"
But while both of these earlier public statements from Trump told anyone who was willing to hear it what they needed to know about his response, there were still people out there—prominent people—giving Trump the benefit of the doubt on his response to "Hang Mike Pence." Hutchinson's testimony has to pull some of those people off the fence of denial.
Donald Trump didn't think the mob violently attacking the U.S. Capitol was doing anything wrong, even when they expressed a desire to murder his own second-in-command, a man who had spent more than four years lavishly tongue-bathing him, because on this one thing Pence had reluctantly concluded he had to follow the law rather than Trump's wishes. Hutchinson's account of the conversation between Meadows and Cipollone shows how explicit Trump's reaction was—it might have been thinly veiled when he talked to Karl, but it wasn't when he talked to his top aides in the moment—and the degree to which everyone around him knew it.
Reprinted with permission from Daily Kos.