Trump 'Repeatedly' Discussed Naming Margie Greene His 2024 Running Mate
@next2godwin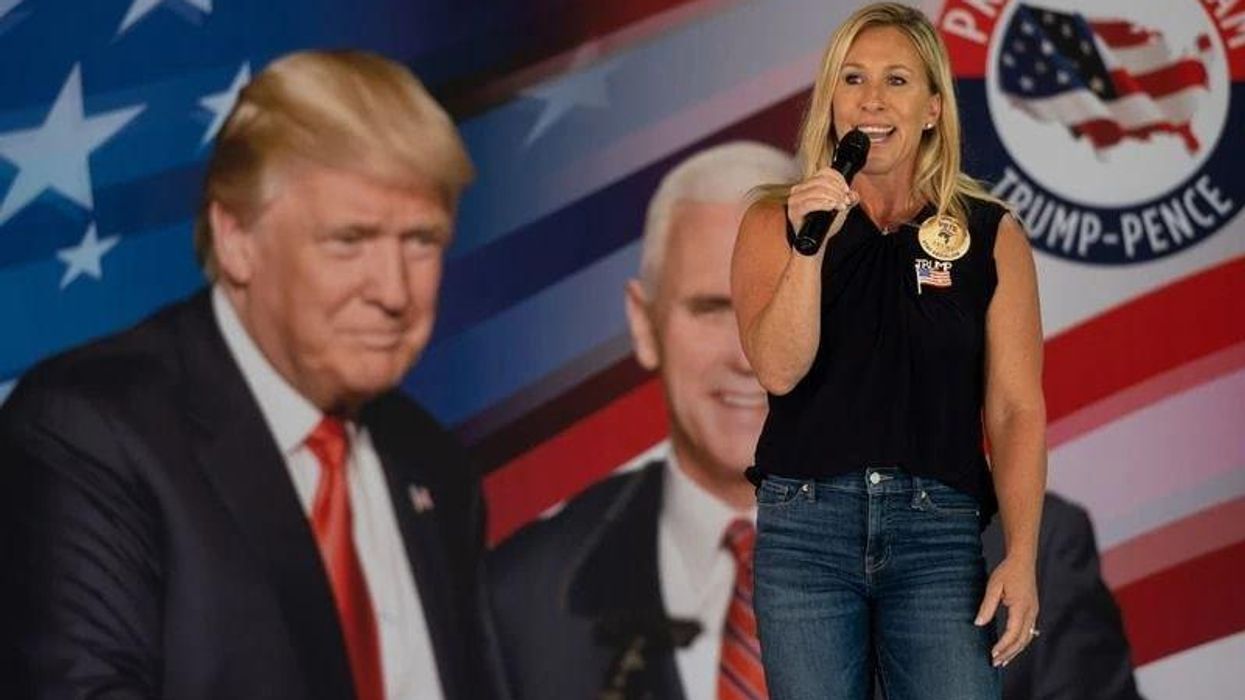 For months, former President Donald Trump has entertained and repeatedly discussed the notion of choosing rising GOP firebrand Rep. Marjorie Taylor Greene (R-GA) as his second-in-command if he were to run in the 2024 presidential elections, New York Times reporter and author Robert Draper told the Daily Beast.
Draper, author of Weapons of Mass Delusion: When the Republican Party Lost Its Mind, told the Beast's "The New Abnormal Podcast" host Andy Levy that the idea of fielding Greene as Trump's vice president has been "discussed since February of this year, and it's been discussed repeatedly."
Greene, Draper said, "has been unflaggingly loyal to Trump throughout," a subservient quality that the former president values more since Mike Pence rebuffed a pressure campaign to overturn Joe Biden's victory in 2020.
"What is Trump concerned about most of all in a VP after the Mike Pence experience?" Draper asked Levy matter-of-factly. "Loyalty. He knows that if he needs someone to fight for him to overturn a presidential election, he has every reason to expect that Greene would be by his side and would be his proximate warrior."
Greene, a QAnon conspiracy monger, is "a fundraising dynamo" with a "huge social media influence" who "ultimately came to be very influential within the [Republican] party itself," Draper said.
The Times journalist also noted that Greene is "cognizant of the fact that the attention economy rewards hyperbole" and that her divisive and inflammatory language has spurred a new generation of GOP extremists, all of whom want to be just like her.
"In Georgia politics, everyone running for office is trying to be Marjorie Taylor Greene," Draper informed Levy. "They're all competing to be more outrageous than the other, and they're stealing lines from her to the extent that it's become bothersome to her because now she's competing not only against herself and whatever outrageous thing she said the day before to gain attention, but she's competing against her mimics too."
That Trump — election denier-in-chief and bigot extraordinarie — wants Greene as a running mate in 2024 is a clear indicator of the proliferation of extremism in the Republican Party, which has fielded an alarming 249 election deniers in the 567 midterm races, according to the Washington-based Brookings institution.
In a press release earlier this year, Trump declared Greene "a warrior in Congress" for her indefatigable support of his political ideology and operations. "She doesn't back down, she doesn't give up, and she has ALWAYS been with 'Trump.'"
Earlier this week, Greene told Draper that the former president had been in touch, and discussions about the possibility of her being his running mate had come up. The Georgian congresswoman informed Draper she would "be honored" to run with Trump in 2024, but "I think the last person that the R.N.C. or the national party wants is me as his running mate."
The rightward swing of the Republican party has alarmed political analysts, even those who had long warned that the GOP was becoming an anti-democratic party — an "insurgent outlier" opposed to "facts, evidence, and science," per the Times.
"We need to stop calling ourselves 'conservatives,'" The Federalist, a right-wing paper, declared in an article published Thursday. "Why? Because the conservative project has largely failed, and it is time for a new approach."
"To those who worry that… once the right seizes power it too will be corrupted, they certainly have a point," the article, by John Daniel Davidson, chillingly conceded. "We should attend to it with care after we have won the war."