Trump Repeats, And Specifies, Racist Rant Against Trump U. Judge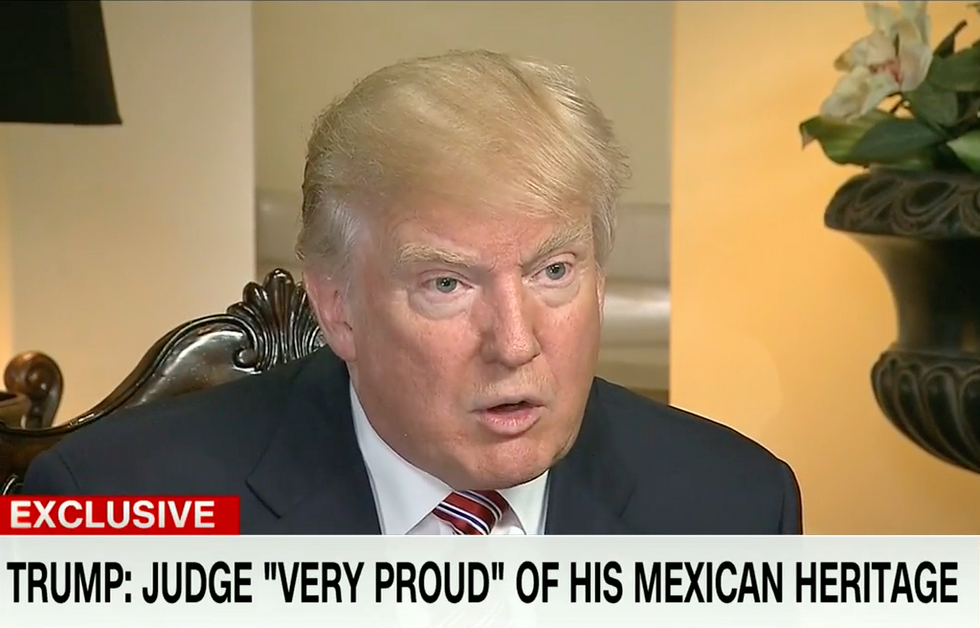 In an interview taped Friday for Sunday morning's The Lead with Jake Tapper, Donald Trump repeated the racist comments he has made at various campaigns stops this week about the federal judge presiding over two lawsuits filed by former students of Trump University.
"He's a Mexican. We're building a wall between here and Mexico," Trump said of U.S. District Court Judge Gonzalo Curiel. He continuously referred to Curiel as Mexican, even though Curiel was born in East Chicago, Indiana, in 1953.
Curiel's parents, like Trump's mother, were immigrants to the United States.
A week ago, Trump inaugurated his attacks against Curiel at a campaign stop in San Diego, alleging that Curiel was biased against him, and that he would not rule impartially over the case because of his race.
"The trial is going to take place sometime in November. There should be no trial. This should have been dismissed on summary judgment easily," Trump said. "Everybody says it, but I have a judge who is a hater of Donald Trump, a hater. He's a hater. His name is Gonzalo Curiel."
Incidentally, Curiel has done more in his career as a judge to fight the brutality of Mexican drug gangs than Trump will likely achieve in his life, president or not.
In an interview with the Wall Street Journal on Thursday, Trump said that Curiel had "an absolute conflict" in presiding over the litigation given that he was "of Mexican heritage" and a member of a Latino lawyers' association.