Trump: Saudi Arabia Is Being Unfairly Accused Just Like Kavanaugh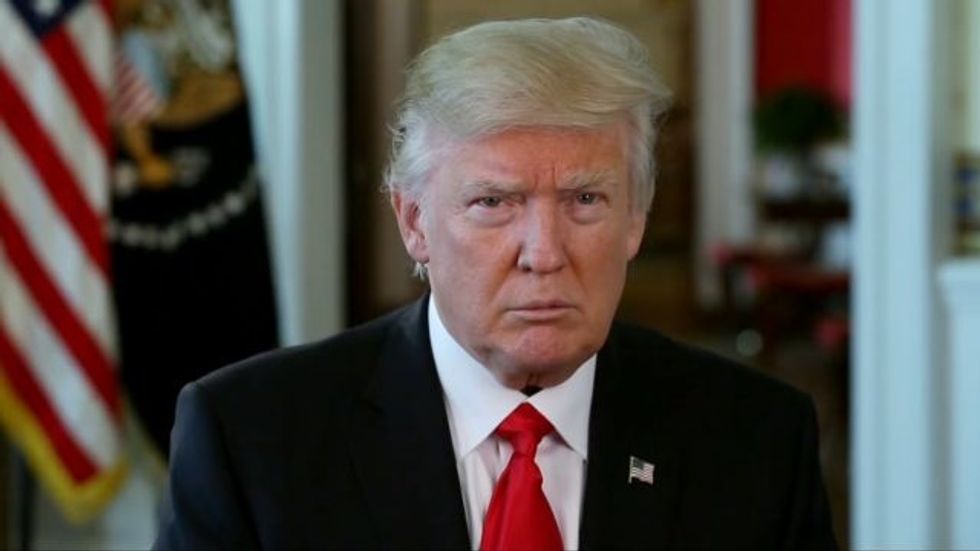 Reprinted with permission from Shareblue.
Speaking about the recent disappearance and murder of journalist Jamal Khashoggi, whose body was reportedly cut into pieces after he was killed at the Saudi consulate in Turkey two weeks ago, Trump lashed out at those criticizing Saudi Arabia, comparing the outcry over Khashoggi's murder to the response to the sexual assault allegations against Brett Kavanaugh.
"Here we go again with you know you're guilty until proven innocent. I don't like that," Trump said Tuesday in an interview with the Associated Press.
"We just went through that with Justice Kavanaugh and he was innocent all the way as far as I'm concerned. So we have to find out what happened," Trump added, repeating his false assertion that Kavanaugh was proven innocent.
Trump's remarks are the latest in a series of outrageous comments in the days following the disappearance and murder of Khashoggi, a frequent critic of the Saudi regime.
Earlier in the day, Trump regurgitated the denials of Saudi officials, saying Crown Prince Mohammed bin Salman "totally denied any knowledge of what took place in their Turkish Consulate," and indicating that he believed him. The statement echoes Trump's defense of Russian President Vladimir Putin, who similarly denied any knowledge of the Kremlin's interference in the 2016 presidential election.
This comes just after Trump floated a conspiracy theory suggesting that "rogue killers" could be responsible for the journalist's disappearance from the Saudi government consulate, contradicting intelligence from the Turkish government and mirroring his debunked conspiracy theory casting doubt on Russia's role in hacking the DNC by blaming it on a "400 pound" hacker.
The assertion that blaming Saudi Arabia for the murder of Khashoggi is another unfair case of "guilty until proven innocent" is par for the course for Trump, who regularly invokes due process and the rights of the accused when the accusations are against him or someone like him.
But when it comes to his perceived foes like Hillary Clinton, Sen. Dianne Feinstein, or Omarosa Manigault Newman, Trump is just fine with jumping right to "lock her up!"
In this case, it only makes sense that Trump would identify with a brutal dictatorial regime, especially since it offers him another opportunity to display his disdain for the free press here and abroad.
But Trump's defense of Saudi Arabia puts Republicans in a difficult position, forcing them to choose between breaking with Trump or joining him in defending a brutal dictatorship in the face of mounting evidence that it orchestrated the murder of a journalist.
While Republicans joined Trump in his defense of thrice-accused sexual predator Kavanaugh, the party doesn't appear to be quite as united when it comes to Saudi Arabia.
Sen. Lindsey Graham, who launched into a fit of rage defending Kavanaugh, has not been so quick to jump to the defense of the Saudi regime, which is notorious for human rights abuses. In an interview that aired Tuesday, Graham pinned the blame for Khashoggi's murder on the crown prince of Saudi Arabia, saying "he had this guy killed."
The question now is whether Graham and his fellow Republicans will back Trump this time, too, and demand "due process" and the presumption of innocence for Saudi Arabia, as they did for Kavanaugh.
Your move, Republicans.
Published with permission of The American Independent.