Trump Says High Pay For CEOs Is A Joke And 'Disgraceful'
@reuters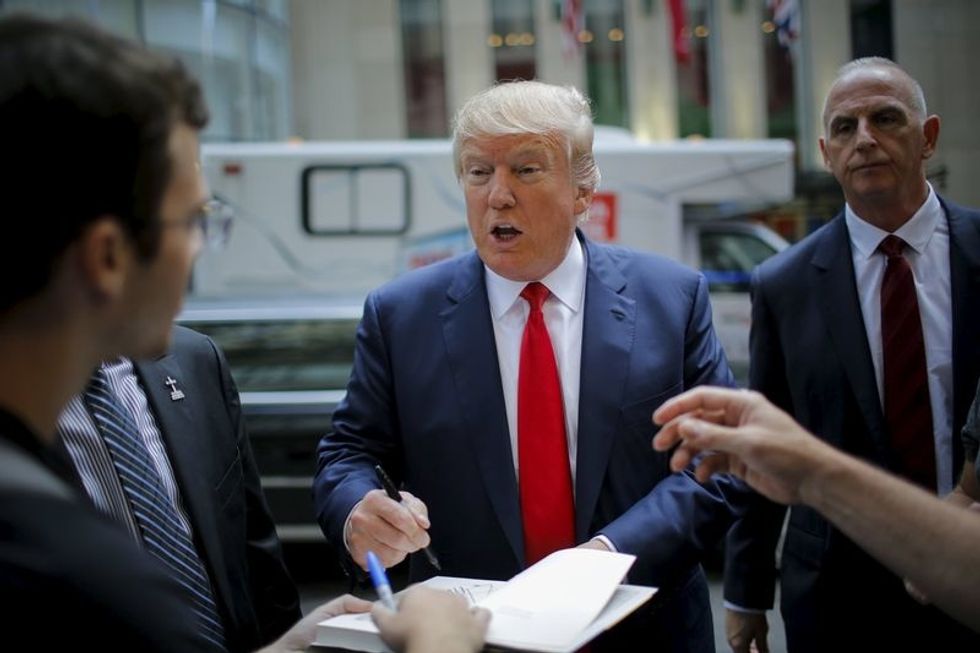 WASHINGTON (Reuters) – U.S. Republican party presidential frontrunner Donald Trump said on Sunday high salaries paid to chief executives were a "joke" and a "disgrace" and said these were often approved by company boards stacked with the CEO's friends.
Trump, a real estate mogul who has said he plans to use his net worth of $8.7 billion to fund his White House campaign, said in an interview with CBS's "Face the Nation" that it was hard to tackle the question of corporate pay because too many corporate boards lacked independence.
"It's disgraceful. Sometimes the boards rule but I would probably say it's less than 10 percent; and you see these guys making enormous amounts of money. It's a total and complete joke," he said.
In particular Trump mentioned retailer Macy's Inc, which in July stopped selling his menswear line after he described migrants from Mexico as drug-runners and rapists.
"You'll take a company like, I could say Macy's or I could say many other companies, where they put in their friends as the head of the company and they get whatever they want," he said.
Macy's did not immediately respond to an email seeking comment.
Trump's attack on corporate boards echos the kind of criticism expressed by shareholder activists such as Carl Icahn, the billionaire investor who Trump has said he would like as his Treasury secretary should he become president.
Trump also said his tax plan, to be unveiled in the coming weeks, would cut taxes for the middle class and corporations, "but for the hedge fund guys they are going to be paying up."
A CBS News poll showed Trump, who is competing for the party's nomination for the November 2016 election, ahead in key battleground states, with retired neurosurgeon and political newcomer Ben Carson in second place.
The poll showed Trump attracting 29 percent of likely Republican voters in Iowa, with Carson on 25 percent. In New Hampshire, Trump had 40 percent to Carson's 12 percent.
Carson said his time on the boards of Kellogg Co and Costco Wholesale Corp, including on compensation committees, showed he had well-rounded experience.
"You get an enormous amount of experience doing those things," he said, speaking on CBS after Trump.
"In fact, if you go back and you look at the compensation of the top executives, it was really very reasonable, nothing like what you were talking about in the previous segment."
The pay of chief executives has also been attacked by Democratic frontrunner Hillary Clinton. According to research by the Economic Policy Institute, a liberal thinktank, CEOs' pay in 2013 was nearly 300 times the pay of the average worker.
(Reporting by Krista Hughes and Toni Clarke; Editing by Raissa Kasolowsky and Greg Mahlich)
Photo: Republican presidential candidate Donald Trump signs autographs as he arrives to attend the Jimmy Fallon show in the Manhattan borough of New York, September 11, 2015. REUTERS/Eduardo Munoz