Trump Speaks, Children Listen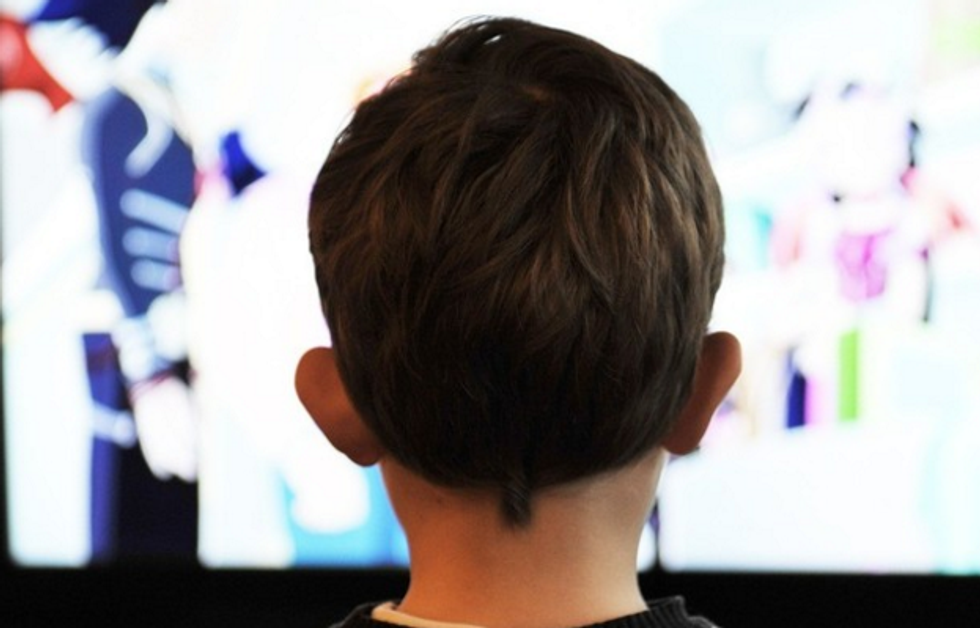 Earlier this summer, I was walking through the Miami airport with my 8-year-old grandson when I looked around and noticed I suddenly wasn't.
I whipped around and spotted him standing a few feet away, his eyes glued to the cable show blasting on a monitor overhead. Twice I called his name. Twice he didn't hear me.
I walked over and looked up to see a familiar CNN clip of Donald Trump's interview with Jake Tapper. Trump was ranting against U.S. District Court Judge Gonzalo P. Curiel, who was born and raised in Indiana.
"Now, this judge is of Mexican heritage," Trump said. "I'm building a wall, OK? I'm building a wall. I am going to do very well with the Hispanics, the Mexicans. … Look, he's proud of his heritage. I'm building a wall. … I think I'm going to do very well with Hispanics, but we're building a wall. He's a Mexican. We're building a wall between here and Mexico."
I placed my hand on my grandson's shoulder to urge him along. He resisted. "Why is he saying that?" he said, his face furrowed with worry.
My grandson is one-fourth Latino — his maternal grandfather is Puerto Rican — and he lives in a community where most of the people are black. Many in his town speak one language at home, and English when they are with people like him. These people are his neighbors and classmates. Many of them are his friends.
Until we walked through that airport, my grandson had not heard much from Donald Trump. His parents limit his television viewing, which had insulated him from the hateful rhetoric of Trump's campaign.
As we walked to our gate I acknowledged that it was upsetting to hear such language from a presidential candidate. He was full of questions we all should be asking:
Why did people vote for him?
Do people clap when he says those things?
What happens if he becomes president?
What happens to his friends, he means.
I think of that discussion with my grandson a lot these days because of the increasingly incendiary rhetoric coming out of Donald Trump's mouth. I worry for children like him who are old enough to recognize hateful language, but too young to know what to make of it.
Many children have adults in their lives who know to intervene and explain why hate, at any age, against innocent people is wrong. What about all those children who do not have those adults to guide them?
We know from history that our worst impulses can catch fire when a prominent person chooses to ignite them. This is as true for adults as it is children. If you are an American claiming to be a Christian and yet looking for permission to hate all Muslims and immigrants, mock women and terrorize people of color, Donald Trump is your sign from God.
As of this week, add violence against the president to Trump's list of permissions granted.
Speaking at a rally in Wilmington, North Carolina, Trump said, about Hillary Clinton, "If she gets to pick her judges, nothing you can do, folks." After some in the crowd booed, Trump added, "Although the Second Amendment people — maybe there is, I don't know."
After the election is over. After the voting is done. What else could he mean except to suggest that gun zealots could turn to violence?
The Trump campaign and his dwindling number of supporters tried to cast the outrage as a deliberate attempt to misinterpret the candidate.
Senator Chris Murphy would have none of that. He represents Connecticut, where 20 children and six adults were slaughtered in Newtown.
"Don't treat this as a political misstep," he said via Twitter. "It's an assassination threat, seriously upping the possibility of a national tragedy & crisis."
How many children are seeing that clip of Trump urging gun owners to take the law into their own hands? How many of them are wondering what the consequences might be?
The better question, perhaps: How do we talk our children out of the same fear gnawing at our own grown-up hearts?
Connie Schultz is a Pulitzer Prize-winning columnist and professional in residence at Kent State University's school of journalism. She is the author of two books, including "…and His Lovely Wife," which chronicled the successful race of her husband, Sherrod Brown, for the U.S. Senate. To find out more about Connie Schultz (con.schultz@yahoo.com) and read her past columns, please visit the Creators Syndicate webpage at www.creators.com.