Is Trump Taking The Pro-Life Movement For A Ride?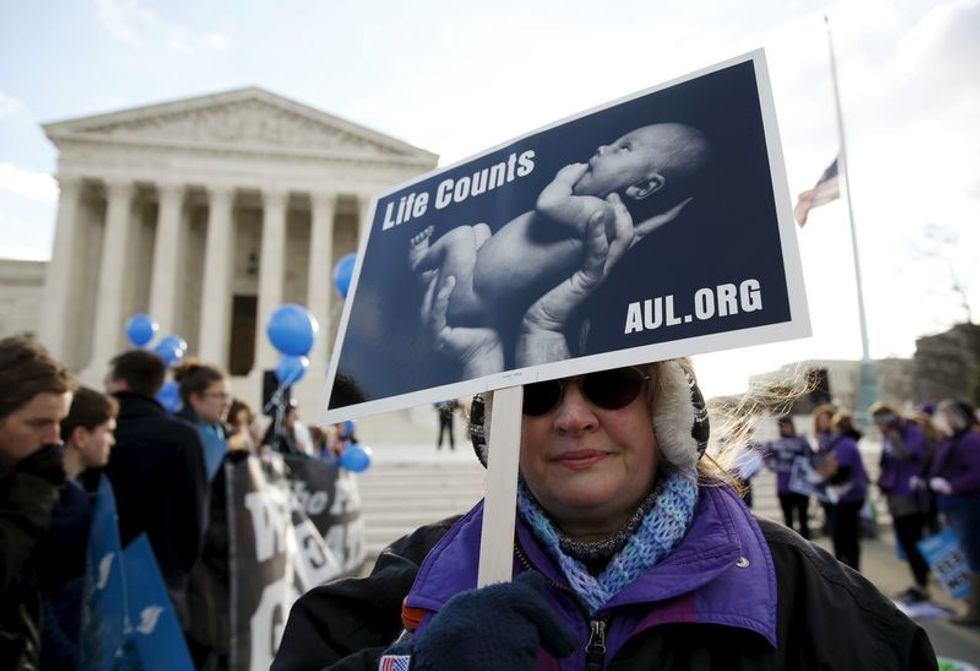 The issues that will define the upcoming presidential election are anybody's guess. Each candidate has his or her ethical lapses. Each will have trouble establishing his or her trustworthiness with a majority of the electorate. Indeed, voters for either Donald Trump or Hillary Clinton will largely have to settle for denying the presidency to the other candidate.
Where does that leave many of the most passionate interest groups that have driven voters to the polls in past elections? In limbo.
Consider the pro-life movement, one of the most fervent and dependable blocs of the Republican Party. Its activists are tentative about Trump, and with good reason.
The presumptive Republican nominee has been all over the map on abortion, an issue of obvious importance to voters on both sides of the issue. The next president will be able to appoint Antonin Scalia's replacement to the U.S. Supreme Court. The landmark Roe v. Wade decision likely hangs in the balance.
Pro-life voters know what they'll get with Hillary Clinton. But what about with Trump? In 1999, he described himself as "pro-choice in every respect" and even stated he would not favor banning "partial birth" abortions. By 2011, when he began to send up trial balloons about running for office, he told interviewers he was pro-life.
This is the position he maintains today, although earlier this spring Trump vacillated on the issue in response to press queries — so much that the Washington Post ran a piece with the headline, "Donald Trump Took 5 Different Positions on Abortion in 3 Days."
The doubtfulness of Trump's true convictions on abortion is underscored by his bungling lack of awareness of the pro-life movement's own messaging on the issue. In March, he asserted during a MSNBC interview that women who receive abortions should be punished. Whoa, Nelly! That set off a firestorm, as even the most ardent opponents of abortion seek to protect the child, not criminalize the mother. Trump aides quickly sent out clarifications.
His representations on abortion are reminiscent of his avowals of faith in God. Never in the history of American politics has there been a less convincing self-described Christian than Donald Trump. Which is fine for many, perhaps most, Americans. But for evangelical Christians who profess to live and to vote their faith, lending their voice and political influence to such a candidate as Trump could be troubling.
By May, Trump was insisting to Bill O'Reilly that he would appoint a pro-life justice to the U.S. Supreme Court. With the death of Scalia, and the apparent success of Senate Republicans in blocking President Obama's naming of a new justice to replace him, this puts conservative Christians in a dilemma. He holds out the only hope they will have in perhaps a generation to quash abortion through the Supreme Court. On the other hand, there is good reason to doubt his bona fides, and there is the man in full to consider. Donald Trump is many things, but nobody would ever describe him as a paragon of a single Christian virtue.
This dilemma is felt by Students for Life, a group of college and high school students concerned with stopping abortion. They avoid the ranting, confrontational tactics outside abortion clinics of the old guard within their movement. They defer to civil dialogue, prodding young people to consider when they believe life begins, at conception or somewhere further along within a pregnancy.
The president of the organization, Kristan Hawkins, has an opportunity to speak with Trump directly about his position on abortion. She has been asked to participate in a June 21 meeting in New York with Trump, Ben Carson, conservative Christian leaders and other pro-life advocates.
Her goal with Trump is to "educate him on how to talk about our 'issue' in a loving and compassionate yet effective way." That's how she phrased it in a letter to supporters in late May.
Good luck with that.
Hawkins told her organization's supporters that she doesn't want to ask yes/no questions of the presumed GOP nominee. That doesn't get people anywhere. And she doesn't want to waste her time trying to coach Trump on how to speak more eloquently. He's not a man who takes direction well.
"We certainly welcome converts to our cause; that's what we do every day at Students for Life," Hawkins told the Daily Beast. "The question is, is this a genuine belief?"
That may be the issue that defines the election after all. Does any belief or conviction guide Donald Trump beyond his ambition and narcissism? Or is he a deceiver who will bring down all who follow him?
Mary Sanchez is an opinion-page columnist for The Kansas City Star. Readers may write to her at: Kansas City Star, 1729 Grand Blvd., Kansas City, Mo. 64108-1413, or via e-mail at msanchez@kcstar.com.
Photo: A protester holds up a sign in front of the U.S. Supreme Court on the morning the court takes up a major abortion case focusing on whether a Texas law that imposes strict regulations on abortion doctors and clinic buildings interferes with the constitutional right of a woman to end her pregnancy, in Washington March 2, 2016. REUTERS/Kevin Lamarque