Trump Team Bolsters Security To Prevent 'Accidental' Meetings With Nazis
@next2godwin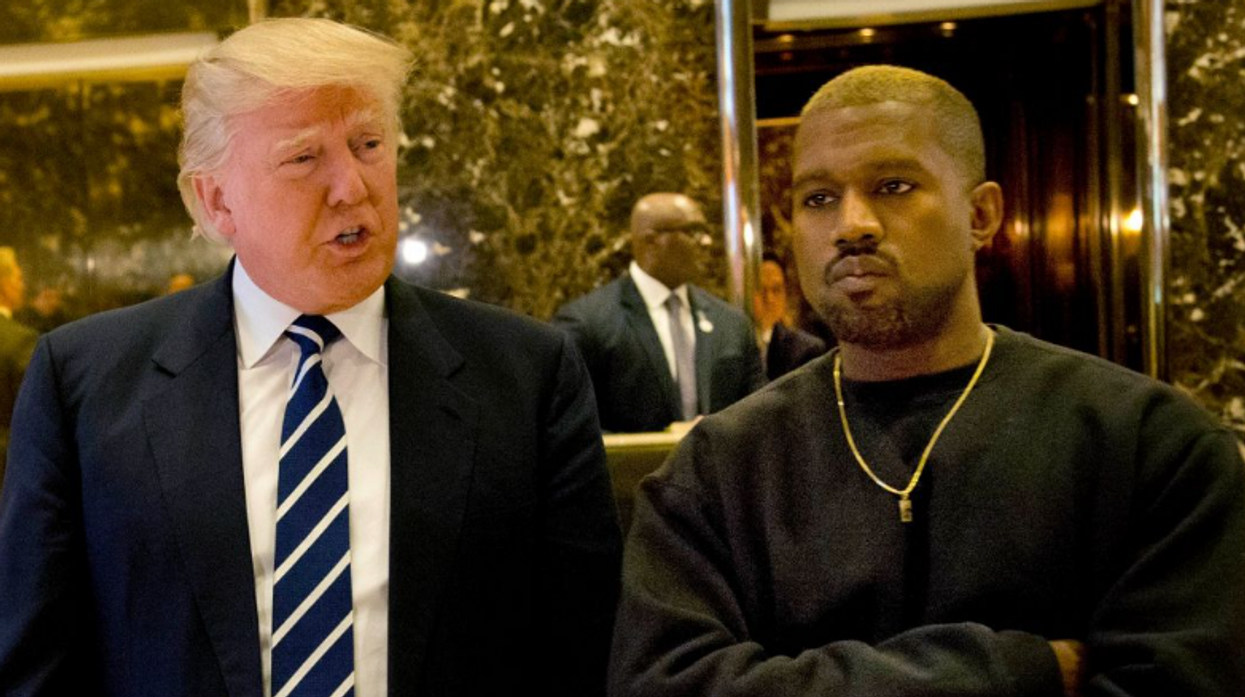 Security at Mar-a-Lago is undergoing an overhaul — not because it was once the inadequately secured storage for over 300 stolen classified government documents, but to prevent former President Donald Trump from sharing a table or even meeting with any more controversial provocateurs amidst the fallout from his disastrous fascist dinner last Tuesday.
That night, Ye, the rapper who formerly went by Kanye West, arrived at the Palm Beach resort to dine with the former president trailing an entourage that included an infamous Holocaust-denying, Trump-supporting anti-Semite: Nick Fuentes.
The Anti-Defamation League has branded Fuentes a white supremacist, rabid misogynist, and election denier "who seeks to forge a white nationalist alternative to the mainstream GOP," according to Business Insider.
Collective outrage followed news of the meeting, prompting a cascade of stinging criticism — much of which came from within the GOP — that has rocked the already-beleaguered ex-president and blindsided his nascent 2024 presidential campaign, announced under a cloud of investigations.
According to NBC News, the breadth of the backlash and a desire to avoid a repeat of the dinner debacle have spurred the Trump camp into instituting new protocols by which it vets and approves the president's guests.
The changes, sources privy to the deliberations told the Associated Press, would include having a senior campaign official tail Trump at all times, a security system the paper noted originated from Trump's White House tenure.
"Additional processes are being considered to ensure individuals who are scheduled to meet the president are fully vetted," sources in on the discussions told Semafor.
"The [current] gatekeeping process also doesn't explain why Ye, who has spouted antisemitic rhetoric in recent months, was allowed to meet with Trump," the outlet noted.
Rep. Marjorie Taylor Greene (R-GA) corroborated aforesaid security changes in a conversation with reporters on Tuesday.
"My understanding is they're making big changes over who can come in and the vetting process, which I think is smart. Any former president should have that in place," she said.
Greene, a conspiracy theorist, insurrectionist, and believer in "Jewish space lasers," also sought to defend Trump and condemn Fuentes — at whose February 2022 white supremacist conference she appeared as a guest speaker — and his hoaxes and fringe lexicon, some of which are as dangerous as some of hers.
"My thinking was, of course, I want to talk to these kids," Greene said of her encounter with Fuentes. "And I gave, you know, the same speech I gave there as I would anywhere. I'm proud of the speech I gave there. It's on video. I never said anything wrong."
In defense of Trump, she added, "I had no idea [Ye & his entourage] were going down there [to Mar-a-Lago]. And I found out about it, basically, like everybody else did on Twitter… President Trump had no idea he [Fuentes] was even coming."
Seeking a safe distance from Fuentes, Trump has denied knowing who the white supremacist is and that he would come with Ye, who Trump said he had invited over because "I appreciated all of the nice things he said about me on 'Tucker Carlson.'"
"I had no idea what his views were," Trump said of Fuentes at a Fox News interview Tuesday, "and they weren't expressed at the table in our very quick dinner, or it wouldn't have been accepted."
When the rapper and his cronies arrived at Mar-a-Lago, the driver of their transport vehicle was let into the former president's resort despite only providing a credit card as a means of identification, NBC News noted in its report.
In a now-deleted video titled "Mar-a-Lago debrief," released on Twitter the day after the meeting, Ye, who said he asked Trump to be his running mate in his then-potential 2024 presidential bid, confirmed to his 32.2 million Twitter followers that "Trump is really impressed with Nick Fuentes."
A member of Kanye's Mar-a-Lago entourage, Milo Yiannopoulos, the far-right provocateur and ex-Breitbart editor, told NBC News that he had arranged for Fuentes' attendance to "send a message" to the former president.
"I wanted to show Trump the kind of talent that he's missing out on by allowing his terrible handlers to dictate who he can and can't hang out with," Yiannopoulos said.
"I also wanted to send a message to Trump that he has systematically, repeatedly, neglected, ignored, abused the people who love him the most, the people who put him in office, and that kind of behavior comes back to bite you in the end," he added.
Several prominent Republican luminaries, including former Vice President Mike Pence and GOP Senate Leader Mitch McConnell (R-KY), have denounced Fuentes and condemned his meeting with Trump — a scandal that has divided the party further.
"There is no room in the Republican Party for antisemitism or white supremacy," McConnell said on Tuesday. "And anyone meeting with people advocating that point of view, in my judgment, are highly unlikely to ever be elected President of the United States."
Trump, who has yet to condemn Fuentes' views, swiftly fired back at the minority leader, who he called "a loser for our nation and for the Republican Party."
"[McConnell] would not have been re-elected in Kentucky without my endorsement, which he begged me for because he was going down," Trump said.
According to Newsweek, in the spate of exacerbated in-fighting within the GOP fueled by Fuentes fallout, Greene was accused of colluding with Yiannopoulos to set Trump up for a fall by Laura Loomer, a far-right anti-Muslim extremist who Greene endorsed in an unsuccessful 2022 Republican primary.
Greene quickly retorted with a statement on Telegram that critics had branded a moment of self-reflection.
"Laura Loomer and others like her make a living by keeping you outraged with made up salacious rumors about people like me in our government. Trust me, they know NOTHING!" Greene said.