During Sheriff Summit, Trump Threatens Anyone Who Crosses Him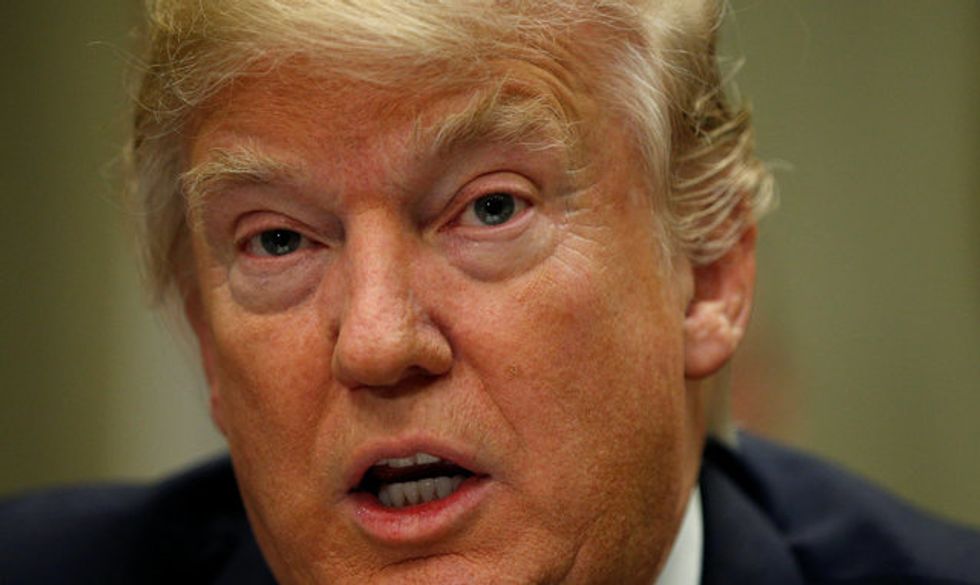 Reprinted with permission from AlterNet.
On Tuesday, President Trump held a White House meeting with sheriffs from around the country, cementing a new feud and baring his authoritarianism for all to see.
"We've got a state senator in Texas that was talking about introducing legislation to require conviction before we could receive forfeiture money. And I told him that the cartel would build a monument to him in Mexico if he could get that legislation passed," Rockwall County, Texas sheriff Harold Eavenson told Trump.
"Who is the state senator?" Trump asked. "Do you want to give his name? We'll destroy his career."
The other law enforcement officials present at the meeting laughed in unison. Eavenson refused to give up the name, both in the meeting and when asked later by the Dallas Morning News.
"He was just being emphatic that he did not agree with that senator's position," Eavenson said regarding Trump's remarks, but added that he wasn't interested in "assassinating" the senator's character.
During the meeting, Trump doubled down on his draconian immigration policy, including his travel ban and U.S.-Mexico policy.
"They want to take a lot of our powers away. Some people with the wrong intentions," he said. With regards to the Mexican drug cartels and Mexico, Trump reiterated his most infamous promise since announcing his candidacy: "We're going to be building a wall."
Texas senators on both sides of the aisle have introduced civil asset forfeiture legislation this year.
Alexandra Rosenmann is an AlterNet associate editor. Follow her @alexpreditor.
IMAGE: U.S. President Donald Trump speaks during a meeting with county sheriffs at the White House in Washington, U.S. February 7, 2017. REUTERS/Kevin Lamarque