President Trump Threatens U.C. Berkeley After Protests Stop Far-Right Speech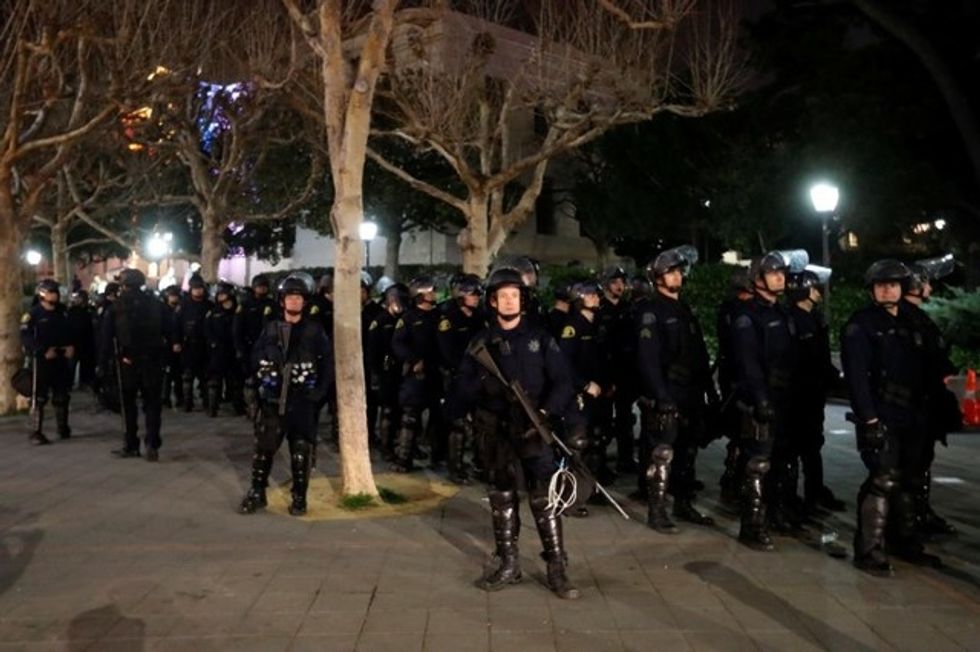 (Reuters) – U.S. President Donald Trump threatened on Thursday to cut funding to the University of California at Berkeley after protesters smashed windows and set fires at the liberal-leaning school, forcing the cancellation of an appearance by a far-right Breitbart editor.
"If U.C. Berkeley does not allow free speech and practices violence on innocent people with a different point of view – NO FEDERAL FUNDS?" Trump wrote on Twitter at 6:13 a.m. EST (1113 GMT). He did not elaborate.
Representatives for the university, which has 38,000 students and a long history of activism, could not immediately be reached for comment outside of the school's business hours.
Like other major U.S. research universities, Berkeley depends on federal agencies for scientific grants and other support. It was not immediately clear, however, what action Trump could take without authorization from Congress, or without risking legal action.
Trump's chief White House strategist, Steve Bannon, previously headed Breitbart News.
Hours before Breitbart's Milo Yiannopoulos was to give a speech at Berkeley's student union on Wednesday, hundreds of protesters clashed with police at the campus.
Demonstrators tossed metal barricades and rocks through the building's windows and set a generator on fire near the entrance, footage from news outlets showed. Police ordered the crowds to disperse, and the school was put on lockdown.
"We shut down the event," one protester told CNN. "It was great. Mission accomplished."
In a statement, the university blamed about 150 "masked agitators" for the violence during the otherwise mostly peaceful demonstration by about 1,500 people.
The school "is proud of its history and legacy as home of the free speech movement" in the 1960s, the statement said.
Many of the protesters voiced opposition to Trump, CNN reported. The president's executive orders and proposed policies, including his suspension of the U.S. refugee program and temporary ban on travelers from seven Muslim-majority countries, have triggered largely peaceful demonstrations by tens of thousands of people across the United States.
Yiannopoulos, whose Twitter account was suspended last year after he was accused of participating in the online harassment of a black actor, told Fox News he was rushed to safety by his security guards and police after protesters began throwing rocks.
"Obviously it's a liberal campus so they hate any libertarians or conservatives who dare to express an opinion on their campuses," he said. "They particularly don't like me."
(Additional reporting by Alex Dobuzinskis in Los Angeles and Brendan O'Brien in Milwaukee; Editing by Daniel Wallis and Lisa Von Ahn)
IMAGE: Police officers prepare to deploy a skirmish line after a student protest turned violent at UC Berkeley during a demonstration over right-wing speaker Milo Yiannopoulos, who was forced to cancel his talk, in Berkeley, California, U.S., February 1, 2017. REUTERS/Stephen Lam