Trump Threatens Civil War If He Is Removed By Impeachment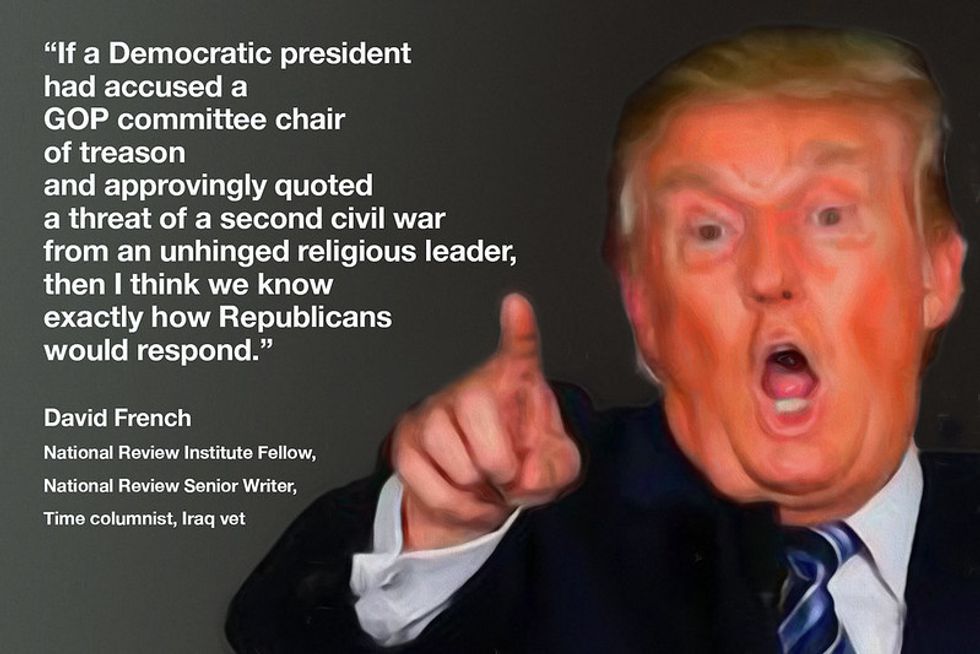 Donald Trump on Sunday night claimed once more that the country would be plunged into "civil war" if Congress was successful in removing him from office.
"If the Democrats are successful in removing the President from office (which they will never be), it will cause a Civil War like fracture in this Nation from which our Country will never heal," Trump tweeted, quoting ardent supporter Pastor Robert Jeffress, who had appeared on Fox News earlier that day.
The American Civil War, waged between the U.S. government and the pro-slavery Confederacy in the 1860s, led to the death of an estimated 600,000 to 800,000 Americans.
Trump's comment was part of a larger meltdown over the impeachment inquiry that has been launched in the House of Representatives.
The comment was so over the top and laced with violence that even one of Trump's fellow Republicans has since criticized it.
"I have visited nations ravaged by civil war," Rep. Adam Kinzinger (R-IL) tweeted, tagging Trump. "I have never imagined such a quote to be repeated by a President. This is beyond repugnant."
As extreme as it was, Trump's latest threat of civil war is in line with his habit of invoking violent rhetoric against his political rivals, often inspiring attacks and criminal behavior.
There have been at least 36 criminal cases so far in which Trump's name was invoked as part of violence, assault, or the threat of violence.
Trump himself is happy to promote such violence.
Last October, Trump praised Rep. Greg Gianforte (R-MT) for assaulting a reporter before his special election. "Any guy that can do a body slam, he's my kind of … he's my guy," Trump said, before pantomiming the assault on stage.
When he was campaigning for the presidency, Trump told his supporters to "knock the hell" out of anti-Trump protesters and offered to "pay for the legal fees."
His most diehard supporters again and again have responded to Trump's creation of a violent political atmosphere by acting out.
The mass shooter who opened fire in a Walmart in El Paso, Texas, last month, killing 22, echoed Trump's anti-immigrant rhetoric in his manifesto.
Just a few months ago a man was arrested for making violent threats against Rep. Ilhan Omar (D-MN) after Trump made her the target of a harassment campaign. Another arrest was made after a man threatened Rep. Alexandria Ocasio-Cortez (D-NY) after Trump went after her publicly.
And in August, the would-be "MAGA bomber" was sentenced to 20 years in prison for sending explosive devices to people identified as political enemies by Trump, including George Soros, President Barack Obama, President Bill Clinton, and Vice President Joe Biden.
Trump has invoked similar threats of civil conflict in the past, suggesting his supporters would "revolt" if he were ever impeached.
Published with permission of The American Independent.