Trump Told Breastfeeding Lawyer: 'You're Disgusting'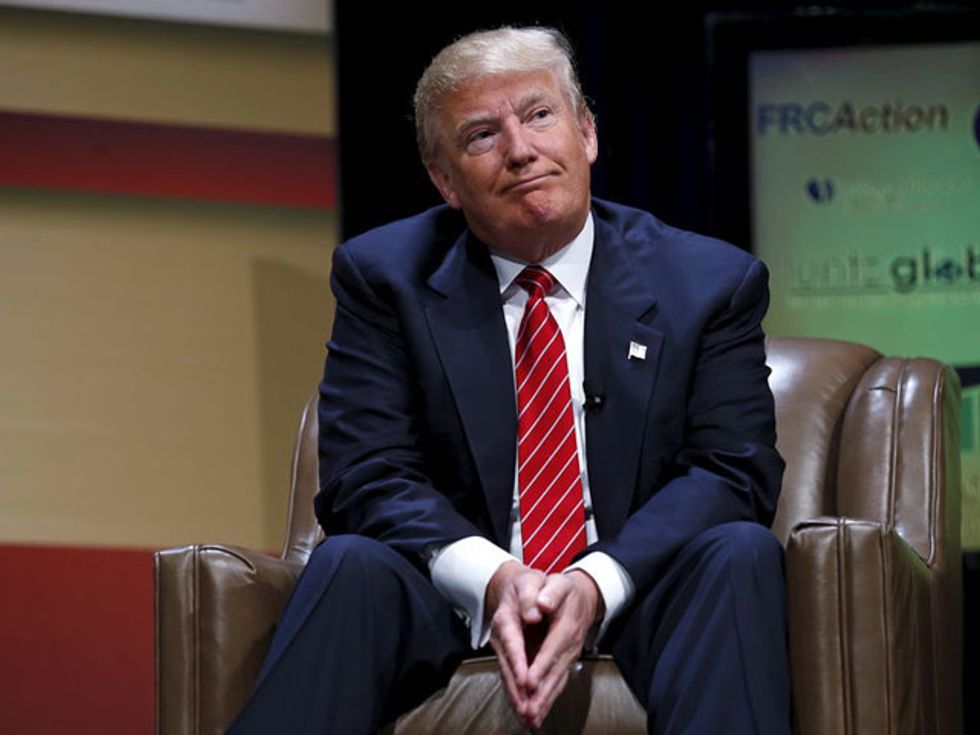 Donald Trump's legal history really does provide a wealth of material for his detractors to go after — and here's one they can milk for all it's worth.
The New York Times reports that The Donald lost his temper while being deposed in a 2011 lawsuit in Florida involving a failed real estate project:
When the lawyer, Elizabeth Beck, asked for a medical break, Mr. Trump and his lawyers objected, demanding that the deposition continue. Ms. Beck said it was urgent — she needed to pump breast milk for her 3-month-old daughter, and she took the pump out to make her point.

Mr. Trump erupted.

"You're disgusting," he told Ms. Beck, in a remark that is not disputed by either side. He then walked out of the room, ending the testimony for the day.
Trump's own lawyer, Alan Garten, told the Times that The Donald's reaction "was in no way a statement about her decision to breastfeed or pump."
"It was solely the fact that she was appearing to do it in the middle of a deposition," he said — although no one involved suggested that she had gone beyond displaying the pump.

Mr. Garten added: "In my 20 years of legal practice, I've never seen more bizarre behavior at a deposition. That is what led to his remark."
Garten also made the allegation that Beck wasn't genuinely seeking the break in order to pump milk, but was instead attempting to buy time to craft additional questions to ask Trump.
And for his part, Trump is personally responding to this story, too — with his usual trash talk on Twitter:
Lawyer Elizabeth Beck was easy for me to beat. Ask her clients if they are happy with her results against me. Got total win and legal fees.

— Donald J. Trump (@realDonaldTrump) July 29, 2015
.CNN & @CNNPolitics Lawyer Elizabeth Beck did a terrible job against me, she lost (I even got legal fees). I loved beating her,she was easy

— Donald J. Trump (@realDonaldTrump) July 29, 2015
Via New York Times
Photo: U.S. Republican presidential candidate Donald Trump listens to a question at the Family Leadership Summit in Ames, Iowa, United States, July 18, 2015. (REUTERS/Jim Young)