Trump Tweets Court Filing 'Totally Clears The President!' But He's Totally Wrong
@FAWFULFAN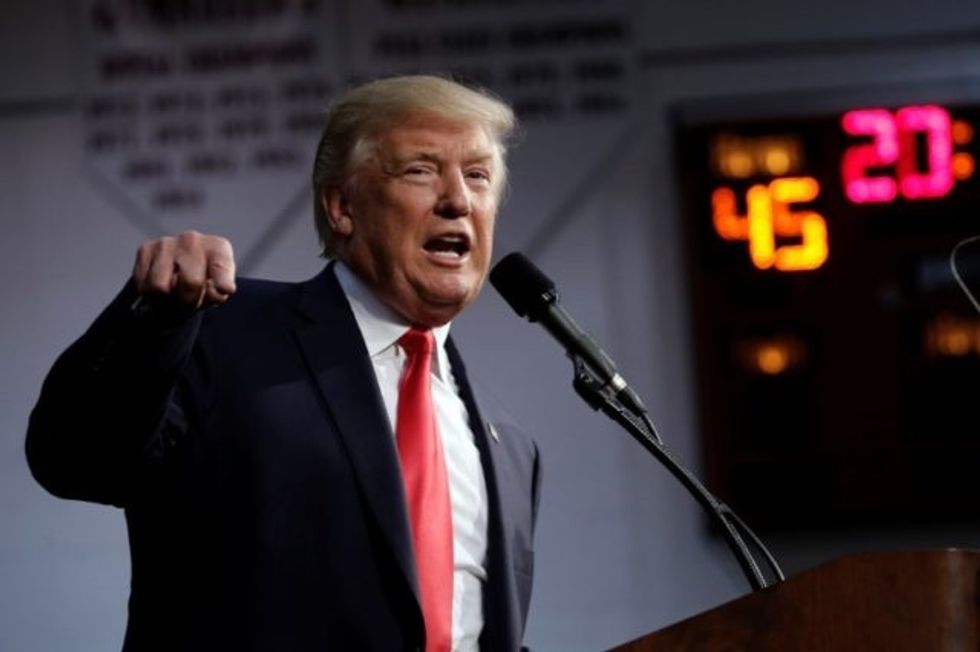 Reprinted with permission from AlterNet.
In response to the two court filings made by federal prosecutors against Michael Cohen on Friday, President Donald Trump took to the internet.
And this time, unlike his early morning outburst in which the president seemed to be on the verge of panic, Trump confidently proclaimed that the new filings mean he is proven innocent and home free.
Totally clears the President. Thank you!

— Donald J. Trump (@realDonaldTrump) December 7, 2018
Only one problem: he isn't.
In fact, the filings allege Trump (referred to as "Individual-1") was heavily involved in his former personal attorney's illegal financial activities, and that when Cohen committed campaign finance violations to make a hush payment to porn star Stormy Daniels to keep her affair with Trump under wraps, he did so "in coordination with and at the direction of" Trump. They also suggest that special counsel Robert Mueller is looking into Cohen's lies to the public, which sets a bad precedent for Trump.
Trump's seeming conviction that he has been "cleared" was not shared by legal experts, who broadly agreed the memos pose serious problems for him:
Except that that is absolutely not the case. Totally implicates the President. Thank you! https://t.co/gKFC4zqi4G

— Mimi Rocah (@Mimirocah1) December 7, 2018
Just to make it crystal clear, New York federal prosecutors concluded that the President of the United States committed a felony. https://t.co/ptDenENZ6d

— Renato Mariotti (@renato_mariotti) December 7, 2018
Hot Take: The President is a crook.

— Joyce Alene (@JoyceWhiteVance) December 7, 2018
Notice how Mueller nails Cohen for repeatedly lying to THE PUBLIC as relevant to seriousness of offense (and using public statements to signal other witnesses).

Should send shivers up the spine of Pres. Trump, Roger Stone, Erik Prince, Don Jr, and others.#CohenSentencingMemopic.twitter.com/vJyM8vvMiK

— Ryan Goodman (@rgoodlaw) December 7, 2018
Junior wasn't the only one the Russians approached during the campaign. They approached Cohen in November 2015 and dangled the Moscow Project as an incentive to pursue "political synergy" with the campaign.

Tell me again why Trump's business interests aren't a relevant concern? pic.twitter.com/xO3AlIf4Iu

— Bradley P. Moss (@BradMossEsq) December 7, 2018
One lawyer who corrected Trump was George Conway, husband of White House counselor and former Trump campaign manager Kellyanne Conway:
Except for that little part where the US Attorney's Office says that you directed and coordinated with Cohen to commit two felonies. Other than that, totally scot-free. https://t.co/YXmgY9KmXi

— George Conway (@gtconway3d) December 8, 2018
But perhaps the best topline summary of the report's implications for Trump came from former Justice Department official and MSNBC legal analyst Matthew Miller:
The president and his lawyer violated campaign finance laws to influence the outcome of the election while his campaign chair was meeting with an intelligence asset of a foreign government that was trying to influence the outcome of the election. Not very legal and very cool.

— Matthew Miller (@matthewamiller) December 7, 2018
It would behoove Trump to discuss the implications of these filings with attorneys before blurting out on Twitter that they "clear" him. If he had, he would have been told something very different.
Matthew Chapman is a video game designer, science fiction author, and political reporter from Austin, TX. Follow him on Twitter @fawfulfan.