Trump Tweets Photoshopped Anti-Refugee Cartoon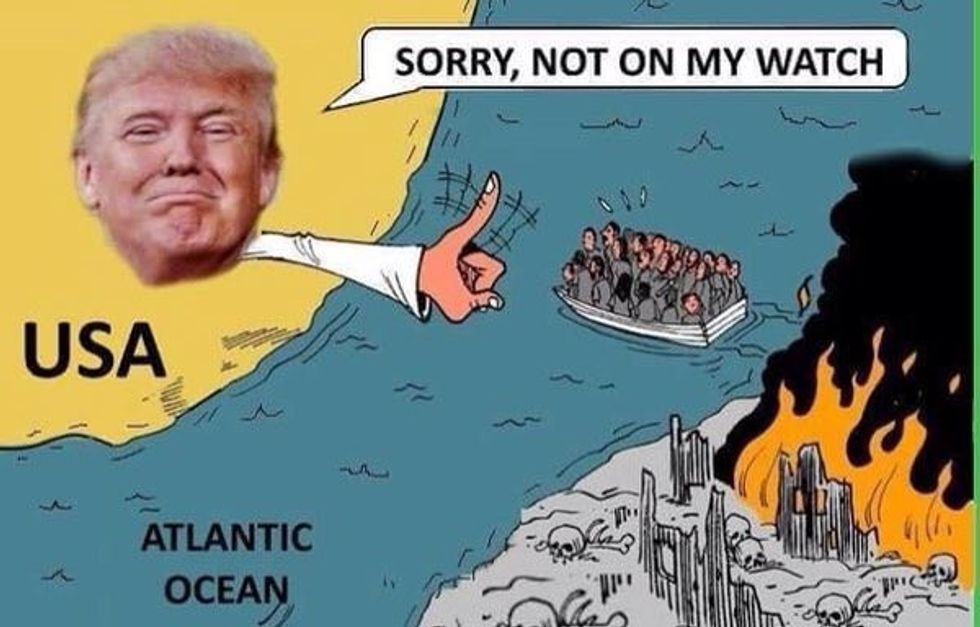 Despite the vicious fighting taking place in Syria, Donald Trump and his right-wing Twitter cabinet haven't budged on their proposal to cut off refugee resettlement from the war-torn country. Today, Trump retweeted a cartoon showing an animated version of himself denying entry to a boatload of Syrian refugees fleeing the war.
However, the retweeted cartoon originally appeared in Middle East Eye, a digital publication that reports on the Middle East, with an entirely different message.
In the original, a two-headed Gulf Arab leader, identified by a white robe and headdresses, is depicted denying entry to Syrian civilians fleeing the war while giving a thumbs up to rebel fighters, all against a backdrop of burning buildings and human skeletons.
Carlos Latuff, the artist who drew the original cartoon, was not pleased about Trump stealing his work.
The modified cartoon has conveniently photoshopped out the gunman, who in the original represents the near-constant bloodshed in Syria that created the refugee problem in the first place. 
Instead, it shows Trump's disembodied head with one hand raised, saying, "Sorry, not on my watch."
Perhaps the only similarity between the original and modified cartoons are the representations of nationalistic wealth and power denying Syrian refugees entry into their respective countries.
However, following an outcry over the lack of evidence that the Arab Gulf states had taken in any Syrian refugees, the Syrian population in the Gulf region increased nearly fivefold since 2010, according to documents obtained by Newsweek.
While 1.3 million Syrians currently live in the Gulf states, Trump has led the charge to deny even a fraction of that number from coming to American shores. And he's got enough Twitter friends to claim that he's just speaking for the "silent majority."
Photo:Carlos Latuff/Middle East Eye