Trump Tweets Racial Smear At Georgia Democratic Nominee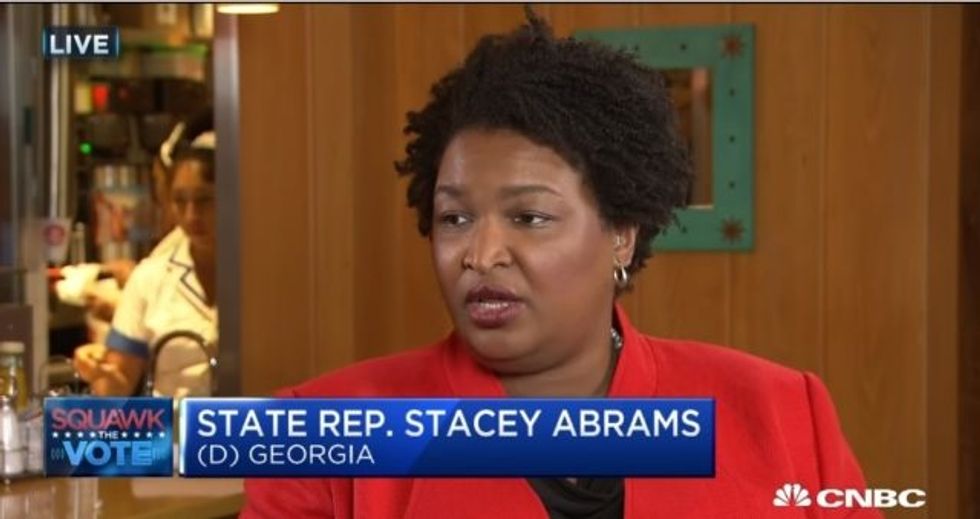 Reprinted with permission from Shareblue.
Trump revealed his ugly racism once again by attacking Democratic gubernatorial candidate Stacey Abrams — who would be the first black woman governor in U.S. history if she wins in Georgia this November.
In a tweet Wednesday morning congratulating Georgia Secretary of State Brian Kemp on his GOP primary victory, Trump instructed Kemp to "go win against the open border, crime loving opponent that the Democrats have given you."
Republicans have long used myths about crime to smear minority groups; the infamous "Willie Horton" ad is a classic example.
But Trump turned this longtime Republican dog whistle into a bullhorn. As the New Republic's Clio Chang once put it, Trump's entire presidential campaign was "basically a giant Willie Horton ad."
To name just a few examples from his campaign, Trump called Mexican immigrants "rapists," tweeted a false and racist graphic about murders by black people, and claimed that banning Muslims from entering the United States would help stop terrorism.
And of course, as president, he turned some of these racist attacks into actual policy, from ripping migrant families apart to instituting his Muslim ban.
Given this context, attacking a black woman candidate as "crime loving" is outrageous no matter what. On top of that, his smear against Abrams was worse than similar smears he has made against other Democrats.
Trump often criticizes other Democrats for being "weak on crime." In speeches and interviews, he has also made the more indirect argument that crime is the result of Democratic policies, which is also false.
But according to a comprehensive database of Trump's public statements, his tweet about Abrams is the only time he has used the phrase "crime loving." That's a much more direct, much more personal, and much more vicious attack on Abrams than he has launched against other Democrats when it comes to crime.
And Trump's use of this smear plays directly into the racism of Brian Kemp, who will be Abrams' opponent in November.
Kemp recently released a racist ad in which he says he owns a truck "in case I need to round up criminal illegals and take 'em home myself."
Since taking office, Trump has waged an all-out campaign to smear immigrants as criminals and gang members, and Republicans across the country are following suit.
But Trump also appears to hold a special grudge against black women.
He demanded the firing of Jemele Hill, the black ESPN reporter who accurately called Trump a white supremacist.
He singled out AURN White House correspondent April Ryan as an "enemy" in a campaign ad, and bullied her at a press conference.
And Trump has repeatedly attacked Rep. Maxine Waters (D-CA), an outspoken Trump critic, as a "low IQ individual."
At one particularly low point, Trump and his administration waged an all-out campaign of lies against Rep. Frederica Wilson (D-FL) after Trump disrespected a black woman whose husband was killed in action.
Trump only won Georgia by 5 points, and the most recent poll of the gubernatorial race has Abrams within two points of Kemp.
It's clear that Trump feels threatened by Abrams' historic candidacy.
Published with permission of The American Independent.