Jonn Dingell Is The Trump-Twitter Destroyer America Needs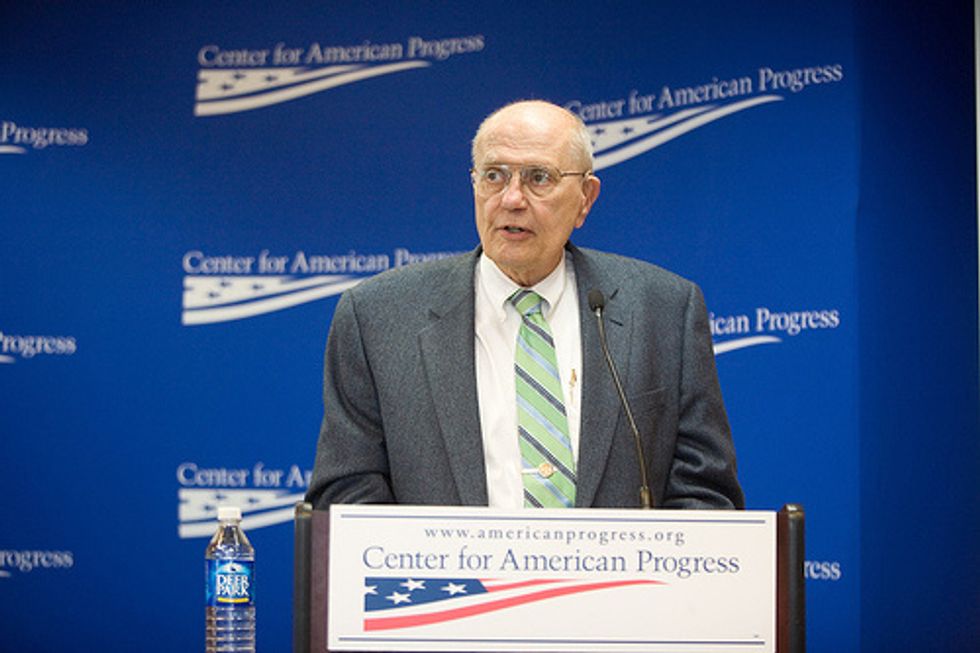 This article originally appeared in USA Today.
Since 1966, the news media have granted the opposition party a national platform to deliver a response to the president's annual State of the Union Address. This attempt to balance our debate must be upgraded for the 21st century, now that we have a new president who tweets like a moody teenager who was just denied a participation award. Democrats should name a Twitter account to issue official responses to President Trump's tweets, and those rebuttals should be noted in any relevant reporting.
There's one tweeter who has best demonstrated the character and the 140 characters necessary to perform this role. The best way to stop an unstable 70-year-old with an itchy Twitter finger is the world's greatest 90-year-old Twitter user — @JohnDingell, a former Democratic representative from Michigan.
While still serving in Congress as a spry 88-year-old in 2014, John Dingell was recognized by BuzzFeed as "probably the best person on Twitter" after an errant tweet from an Environmental Protection Agency account led him to tweeting about the shock of learning what a "Kardashian" is. Since then, he has retired from the House as the longest serving member of Congress in U.S. history and gone on to successfully defend his title of "tweet king" — as Politico Playbook recently called him — with reliable barbs focused on politics, Michigan sports, and Donald Trump.
"Forget the basket," Dingell  tweeted during Trump's transition. "The truly deplorable ones end up in the Cabinet."
When The New York Times reported that Trump aides couldn't operate the light switches at the White House, Dingell tweeted, "Luckly for them, setting the Constitution on fire provides at least a bit of working light." As for the fake-news inaugural furor, Dingell tweeted: "If you think lying about a crowd size is bad, wait until you hear about their plan to kick 30,000,000 people off their health care coverage."
America might have faced periods of greater discord, strife and division, but our public debate has never been so abrasive, typo-ridden, and pissy. And much, if not most, of the thanks for our degenerating discourse belongs to the more than 34,000 tweets of the new president of the United States.
A recent Quinnipiac University poll found that 64 percent of Americans — including 45 percent of Republicans — believe that Trump should give up his personal Twitter account. But given the president's unwillingness to release his taxes, divest from his businesses or even read a Dummiesguide to the Constitution, Democrats can't wait around and expect Trump to moderate his behavior on his own.
You could argue that the left would be better served if its official digital response came from a somewhat younger voice from one of the communities most likely to bear the brunt of Trump's attacks on reproductive health care, immigration, and voting rights. But institutions are all that Americans can rely on now to protect us from Trump's sleep-starved, anti-democratic impulses.
And John Dingell is an institution.
On the day Pearl Harbor was bombed, he was working as a page on the floor of the House of Representatives. First elected in 1955, he presided over the House in 1965 when Medicare passed and was there in 2010 when President Obama signed the Affordable Care Act into law. Dingell was one of the last two World War II veterans left in Congress when he retired after his 30th term in 2014.
Most important, Dingell doesn't ever have to worry about getting a job again. This gives him a freedom to swing back at Trump's wild accusations, proclamations and ejaculations.
Plus, he — like the president — seems to have a fair amount of spare time.
I visited Dingell's home in Dearborn and found him still filled with reverence for the presidential office that he says "our Founding Fathers and members of Congress regarded as almost mystical in its qualities." But that reverence is not extended to the man who now holds it, whom he finds to be "a bully and a blowhard and a liar."
Dingell doesn't want Trump to fail because "if he's not a success, everything goes to hell. I want to see him succeed in a proper way."
What would a proper success look like?
"He is the president of all Americans. It is his duty to look to the well-being of all parts of the county. We've not yet seen whether he is doing that, whether he intends to do that, or whether he will do that."
In fact, Dingell's seeing the opposite.
"Whether you're talking about Roosevelt, Hoover, or Trump, they have a responsibility to preserve the dignity of the office. I don't see him doing that so far."
His advice to the new tweeter in chief?
"Be careful. He has a responsibility for the economy, the jobs, the futures, the hopes, the dreams of 330 million Americans."
As a man born between the two world wars and a student of history, Dingell has a staggering sense of the perils of Trump's bombast.
"If you look, a bunch of big-mouthed European potentates got us into World War I. Do you remember what happened in August of 1914? Read that history. It's terrifying."
Many on the right have attempted to reframe Trump's Twitter usage as a modern update of Franklin Roosevelt's fireside chats that soothed a nation transitioning from the worst Depression in American economic history to the deadliest war ever. Dingell's not buying it.
"I listened to the fireside chats as a boy, and they were received reverentially by the American people. You can't say his tweets are received reverentially. You can't say mine are, either. You sure as hell shouldn't," Dingell said, displaying a self-awareness that is now not allowed within several hundred feet of the White House.
Are there any checks and balances on the Twitter use of a former U.S. congressman?
"John Dingell unfiltered is a little dangerous," Rep. Debbie Dingell, 63, who succeeded her husband and must still run for re-election, told me. "We encourage him to run (his thoughts) by us before they get posted."
"And I usually do," Mr. Dingell assured me.
He recognizes that Twitter offers everyone "a chance to make an ass of himself publicly." He compares putting that power in the undersized hands of the president to giving "a gun to a kid" without any safety training. But his worries extend far beyond Trump's Twitter use.
"He is a man who has two problems that work against each other. One is ego. He has a gigantic ego. And he has a gigantic inferiority complex," Dingell told me. "And he's playing into the hands of his enemies. But he's also playing into the hands of our enemies in the nation, which is why people in that kind of office are so careful about what they say. And he's not. And all of these things are going to come back."
Seven decades in public service have left John Dingell with some optimism that even Trump could rise to the stature of his office.
"He still has time. And you should watch this to see that he doesn't jeopardize our leadership position in the world."
But that hope is only discouraged by the new president's conduct.
After Trump fired his acting attorney general for refusing to defend his immigration ban, Dingell tweeted, "Comparisons to President Nixon's Saturday Night Massacre are a bit misguided, in that Nixon at least had a general idea of what the hell he was doing."
That's the kind of context every American needs.