Trump Threw A Giant Tantrum Over Twitter's Fact Check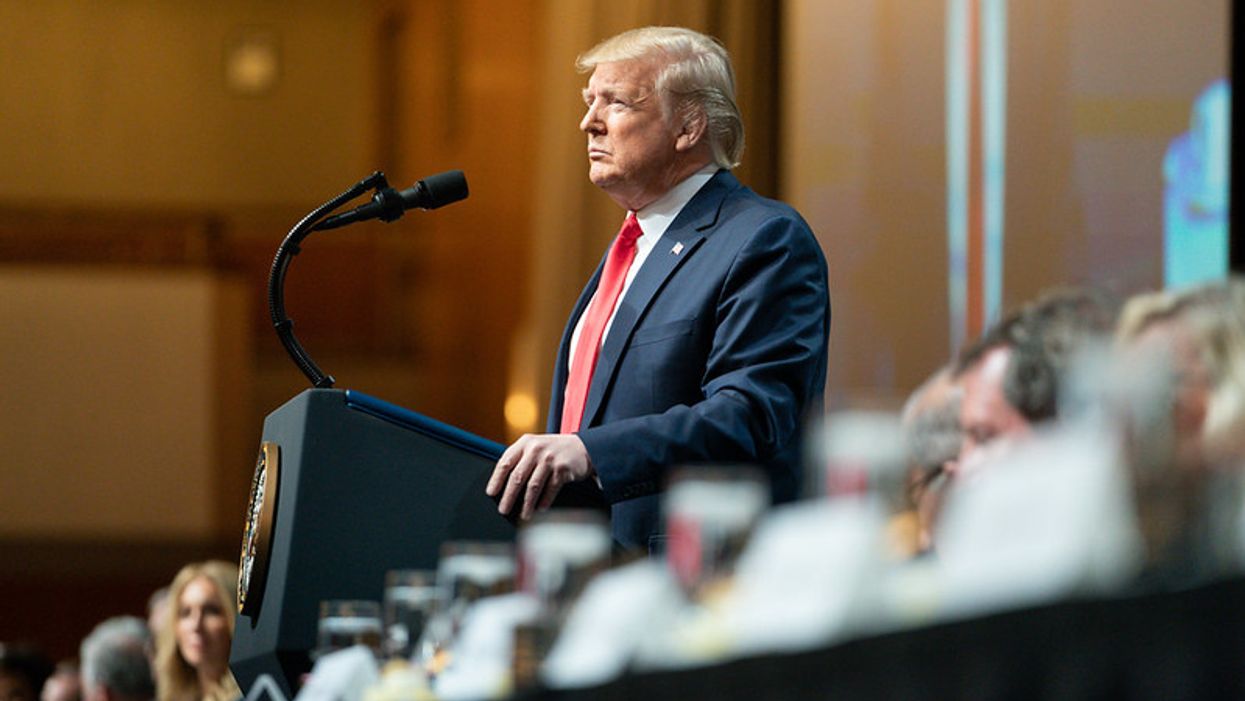 Reprinted with permission from Alternet
While President Donald Trump's signing of an executive order on Thursday supposedly trying to rein in overly partisan social media companies is being covered by many outlets as a policy story, this framing is deeply misleading. Though the policy details are relevant, this isn't about policy. This is about the president throwing a fit.
Twitter took the unprecedented move on Wednesday of appending a mild fact-check to Trump's lies about California's initiative to let people access vote-by-mail options. All of his other lies were allowed to stand with no additional information, of course. Many critics of the president weren't even impressed with Twitter's rebuke, pointing out that the note inserted by the company could misleadingly suggest that it was providing additional warnings about the supposed risks of mail-in voting, rather than contradicting Trump's lies.
Nevertheless, with this mild and equivocal admonishment from Twitter, Trump exploded. Many attributed his outburst to anger, though it may be at least as plausible that he was embarrassed to be called out so directly for his lies — and on Twitter, where he has spent so much time establishing his brand, of all places:
....happen again. Just like we can't let large scale Mail-In Ballots take root in our Country. It would be a free f… https://t.co/3qZCMy52Rs

— Donald J. Trump (@Donald J. Trump) 1590577913.0
Twitter has now shown that everything we have been saying about them (and their other compatriots) is correct. Big action to follow!

— Donald J. Trump (@Donald J. Trump) 1590589340.0
It was after this move that the White House announced a forthcoming executive order supposedly addressing bias at social media companies.
Now, conservatives have been complaining for years — with little evidence but many anecdotes — that they were being treated unfairly by social media companies, particularly Facebook and Twitter. Some GOP officials, such as Sen. Josh Hawley of Missouri, have seriously raised the prospect of taking significant actions to regulate these companies, even as the right-wing has been on a decades-long quest against business regulation.
But clearly, the new step taken Thursday wasn't about these simmering right-wing populist ideas. It grew from them, and it exploited conservative anger and generalized outrage about treatment on social media. But the impetus for launching this effort now was that Trump's feelings were hurt. He specifically felt victimized, so he decided to push immediately for an executive order. He wants to paint himself as the victim of censorship, even though he has a bigger platform to make his voice heard than anyone else on the planet, and it's his actions that genuinely threaten to undermine the First Amendment.
So what did he actually do?
As the Daily Beast's Asawin Suebsaeng explained, the White House dug up ideas that it had previously tossed around.
"Trump's social media EO signing today had been in the works for many months. About a year ago, the WH was holding meetings on crafting the precise language, and had to be reminded by agency envoys that early draft sounded… not lawful," he said.
Essentially, the idea behind the order was to reverse the section of federal law that allows social media platforms to avoid liability for the claims made by their users. Trump and other conservatives like to say that if a social media platform makes any content moderation decisions, it is, therefore, acting as a publisher rather than a platform, and so it should be held responsible for whatever it prints the way a news outlet is.
But this isn't what the law actually says, so any effort to enforce the order will likely be challenged in court.
Mike Masnick of Techdirt explained:
To be clear: the executive order is nonsense. You can't overrule the law by executive order, nor can you ignore the Constitution. This executive order attempts to do both. It's also blatantly anti-free speech, anti-private property, pro-big government — which is only mildly amusing, given that Trump and his sycophantic followers like to insist they're the opposite of all of those things. But also, because the executive order only has limited power, there's a lot of huffing and puffing in there for very little actual things that the administration can do. It's very much written in a way to make Trump's fans think he's done something to attack social media companies, but the deeper you dig, the more nothingness you find.
The actual executive order is, in all likelihood, largely toothless. If the Trump administration actually did try to take the steps the president seems to be envisioning, its actions would almost certainly be struck down even by the judges appointed by the president himself. Though they may have an allegiance to the conservative movement and the GOP broadly, they're unlikely to abandon their dislike of regulation to support the president's anti-Twitter whims.
Despite the fact that the order is in many ways antithetical to traditional conservative thought, and despite the fact that it is clearly motivated by his own sense of personal grievance, it's unlikely to lose him much support in Congress or among voters. Sure, there are many more important things he could be doing — continuing the fight against the ongoing, deadly, and devastating pandemic, for one — but those who are still bough in on the president accept his relentless egotism and self-absorption. The GOP truly does operate as a personality cult now, because any insult toward the leader is taken as an insult to the whole.
And insulted is exactly how Trump feels.
Asked on Thursday if he would leave Twitter, the president just whined about the media: "If we had fair press in this country, I would do this in a heartbeat. There's nothing I'd rather do than get rid of my whole Twitter account. But I'm able to get to I guess 186 million people when you add up all the different accounts, and add Facebook and Instagram."
The president would actually likely improve his public standing if he backed away from his Twitter account. He often creates unnecessary controversies with his posting habits, and his instinct to always play to his base likely turns off more voters than it wins him; anyone who appreciates his tweets is already a solid Trump voter.
None of which is to say Trump's tantrum doesn't have real consequences. If nothing else, his retaliation and outbursts are undoubtedly causing a lot of headaches at Twitter headquarters. And any regulatory uncertainty can make large companies very wary. Trump likely hopes to discourage Twitter from doing anything that would challenge him again. The goal seems to be to impose enough of a burden on any social media company that tries to counter his and the Republican Party's active disinformation campaigns, thus discouraging the companies from even trying.
"This is simply setting the wheels of law enforcement and regulation in motion against a private company for questioning the president," Matt Schruers, president of the Computer and Communications Industry Association, told the Washington Post.
In the case of Facebook, it seems to be working. Mark Zuckerberg has made clear he intends to let Trump lie on his platform with very few limits, and the president appears to be quite happy with that. Companies like Facebook know they're better off if they can keep those in power happy, so it won't let a little thing like truth get in the way of the bottom line. (To be fair, though, there are serious practical, logistical, and philosophical quandaries that emerge when platforms get into the business of fact-checking.)
This may make it easier for prolific right-wing liars to win power. The saving grace, at this point, is that the public is getting weary of Trump's shtick, and voters may not be willing to swallow four more years of his lies.