Trump University Followed A Familiar Model: Scam Wealth Seminars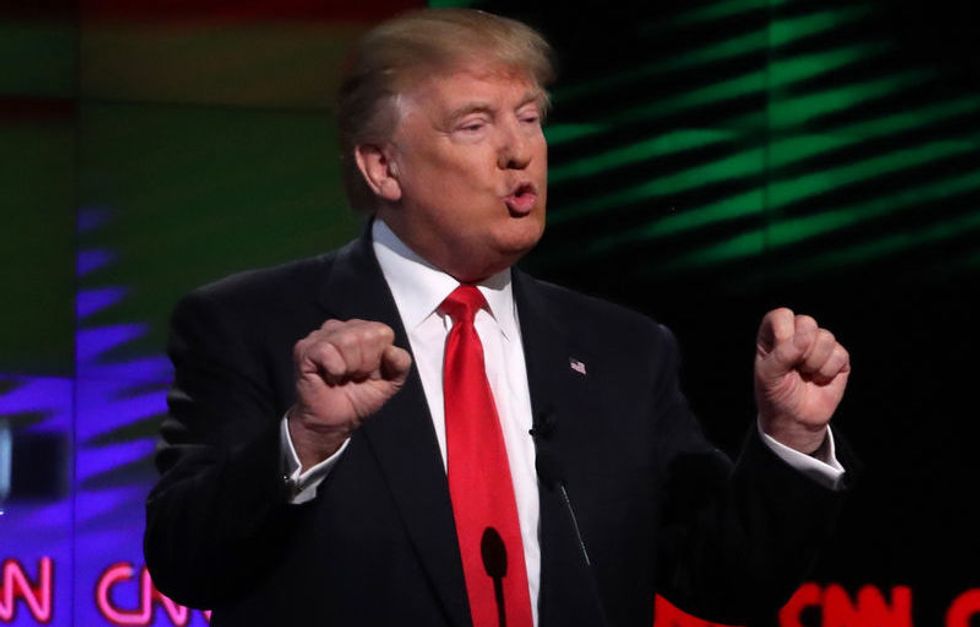 In 2009, Kathleen Meese paid Trump University $25,000 for a course in real estate. In return, she got no marketable expertise or business skills — just plenty of credit card debt.
Meese, who spoke out about her experience in an interview with The Guardian on June 5, provides a case study for the kind of exploitative business in which Donald Trump was engaged: pricey educational workshops and institutions targeting those with just enough good credit to go into massive debt paying for them. 
Although Trump University (the technical name since 2010 is "The Trump Entrepreneur Initiative" — it's not a real "university") professed to have trained dozens of several successful real estate brokers, it's clear that the business simply took students' money without advancing their actual skills.
"I did not feel that a three-day course in real estate, with an overwhelming amount of information thrown at me, provided enough education on my own to start investing," Maribel Paredes, who paid $4,500 for a "Trump Bronze Elite" program, said in her affidavit for one of several lawsuits against Trump University.
The business's 400-page "playbook," released last week, recounts its ruthless business practices, which focused on extracting as much money as possible from elderly and otherwise vulnerable customers.
Meese, for instance, was urged into paying $25,000 for a "Trump Gold Elite" program that would give her access to "website seminars, webinars, real estate leads, and legal forms for life" — though none of those benefits are still available, according to her affidavit for the lawsuit.
Despite the graduates' supposed success, it seems like Trump couldn't even find one who was willing to back up the program. A recent video from the campaign defending the business, released after Hillary Clinton focused on Trump University in a scathing speech, instead relied on three former students who have never worked in real estate, one of whom is a professional "testimonial giver." Another sells a water product in Trump resorts.
In response to the lawsuits, the Trump campaign has spun an elaborate media web — even creating a bizarre website — claiming that 98 percent of all students enrolled in workshops were satisfied with their experience. But these numbers are just as fraudulent as Trump University itself.
According to a class action lawsuit filed in 2013, the fake university's "mentors" filled out many of these evaluations themselves, or pressured students into giving higher ratings, promising more opportunities in exchange for higher scores.
And there's more: 32 percent of students who took the $1,495 three-day program offered through Trump University received refunds — requests for which had to have been made no more than three days after the class itself. These numbers simply don't match up to the 98 percent satisfaction figure.
It's undeniable that Trump University falls into the predictable mold of "wealth seminars" that look to maximize revenue while effectively minimizing their students' own monetary gains. Scam businesses like Trump's sport price tags as ludicrously inflated as their earnings promises. They exploit low-income students looking for an education and a path towards upward mobility.
The Wall Street Journalprofiled scam wealth seminars back in 2003, two years before Trump started his "university":
"It isn't unusual to see ads for public seminars promising to teach you 'everything — in three days,' says [John H. Vogel, a professor of real estate at the Tuck School of Business at Dartmouth]. Such seminars often are free, but are intended to entice you to pay for additional knowledge at a future conference.

"Joe Pianecki, a real-estate investor in Atlanta, recently attended a weekend seminar that seemed like a rip-off to him. The first part was just a goal-setting exercise. 'The middle part gave some information about what could be done, but taught very little about how to do it,' he says. 'At the end, it all led to having to take more expensive — $3,000 to $5,000 — seminars and boot camps to receive the actual hands-on experience you needed. They made you feel that you would fail if you didn't take it.'"
As reported in the Better Business Bureau, scam real estate workshops aim to cram as many people as possible inside large venues like hotel conference rooms, to be fed motivational myths of house flipping, hastily reviewed math, and corporate self-promotion. This all describes Trump University.
Trump has his own special addition, though. "Mentors" purported to teach students the boldness required for real estate by telling them to call their credit card companies and ask to have their credit limits increased. 
"Those who were successful… were celebrated and cheered by the Trump staff like they had just been inducted into a fraternity," another plaintiff, Wilma Fisher, said.
With more money to spend, the students were maliciously up-sold into paying up for even more expensive Trump University courses and packages.
Some pundits and writers have argued that Trump University is just another iteration of some of the aggressive — but not entirely unsuccessful — business practices on which Trump has built his fame and financial success.
But in his hyper-marketed series of workshops and mentoring programs, Trump wasn't being charitable, noble, or even original. He was just copying the long line of educational scammers before him.
Photo: Donald Trump speaks at the Republican presidential candidates debate sponsored by CNN at the University of Miami in Miami, Florida March 10, 2016. REUTERS/Carlo Allegri