If Trump Is Unraveling, Nobody Should Be Surprised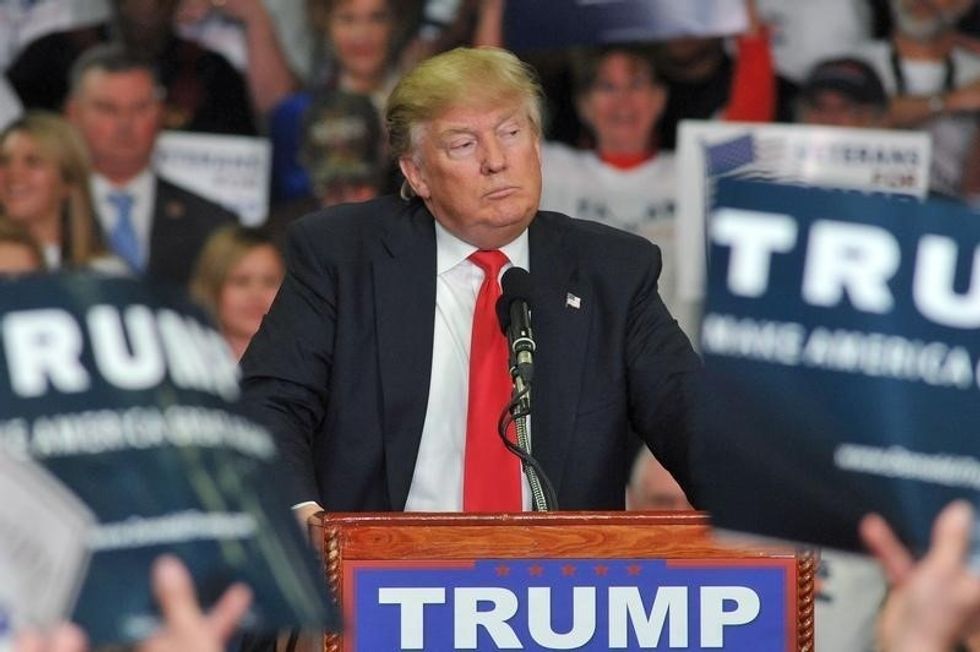 Reprinted with permission from AlterNet.
Reports of Donald Trump's precipitous descent into mental unravelment have reached a crescendo, fueled by a lengthy Vanity Fair article by Gabriel Sherman. The piece describes "a White House in crisis as advisers struggle to contain a president who seems to be increasingly unfocused and consumed by dark moods," and cites an inside source who suggests Trump is "'unstable,' 'losing a step,' and 'unraveling.'" MSNBC producer Kyle Griffin tweeted that Sherman notes that "people who've spoken to Trump on the phone say he repeats himself over and over again, rambles in convos."
It all sounds pretty frightening, considering this is the man who has the nuclear codes. Yet, it also feels strikingly familiar, probably because Trump has been the loosest of cannons dating back forever.
His ex-wife Ivana Trump says Trump once pulled out fistfuls of her hair before violently sexually assaulting her, because she recommended a plastic surgeon who didn't do enough pain mitigation in covering a bald spot. (She later recanted, stating in a letter that she "referred to this as a 'rape,' but I [did] not want my words to be interpreted in a literal or criminal sense.")
Barbara Res, who worked with Trump for 18 years, told CNN that the president is cruelly manipulative, weaponizing his ire to "find the weakness in people and then exploit it to his benefit," making his targets feel like he "cut your heart out." The article describes a mercurial man-baby whose moods shift quickly, turning to rage one minute and then fizzling to normalcy the next. Even as a child, Trump exhibited frightening behaviors that could have landed a less privileged kid in state custody. He has bragged about giving a music teacher a black eye in second grade, and a childhood neighbor says Trump used him for "target practice" by tossing rocks at him in his infant playpen. "Trump could erupt in anger" even as a boy, the Washington Post reports, "pummeling another boy or smashing a baseball bat if he made an out."
There was also ample evidence of Trump's mental instability on the campaign trail, and numerous psychotherapists have diagnosed him with personality disorders from afar, including the 27 practitioners who contributed to the book The Dangerous Case of Donald Trump. If things are getting worse with Trump, that's sobering, because things were never looking good.
Here are 10 examples (though there are many more) of Trump unraveling before the current unraveling started.
1. When the candidate he endorsed lost the Alabama Senate race.
According to multiple reports, Trump wanted to endorse likeminded Alabama U.S. Senate hopeful Roy Moore, a former Alabama Chief Justice who was kicked off the bench twice, and worked tirelessly to preserve racial segregation and outlaw homosexuality. Instead, he went with establishment candidate Luther Strange. When Strange lost, Trump reportedly took it personally, his fragile self-worth shattered by association with a losing brand.
CNN reported that Trump was infuriated as he watched the returns come in, growing increasingly furious at his advisers for urging him to bet on the losing horse. "What ensued was a barrage of angry venting at his political team and Senate Majority Leader Mitch McConnell, who had consolidated establishment GOP support behind Strange," according to the news outlet, and CNN senior White House correspondent Jim Acosta tweeted that Trump felt "outdone by [Steve] Bannon," who had backed Moore. Trump spent the rest of the night "embarrassed and pissed." Sherman's Vanity Fair piece effectively traces the beginning of Trump's current "unraveling" to this moment.
"Alabama was a huge blow to his psyche," an insider reportedly told the outlet. "He saw the cult of personality was broken."
2. When the news hit that Attorney General Jeff Sessions had recused himself from the Trump-Russia investigation.
Angry over news coverage that Sessions had met the minimum ethical requirement of recusing himself, Trump had an epic meltdown. The president was resentful that Sessions had become the focus of the news cycle, taking away attention from a speech he was going to make before Congress. The night Sessions' recusal became front-page news, Trump responded with "a lot of expletives" to staffers. A senior White House official told ABC News that the following day, Trump hastily convened a meeting with senior staffers and proceeded to go "ballistic."
Video shot from outside the Oval Office shows a highly animated Steve Bannon and others participating in what looks, from a distance, like a possible shouting match. Ivanka Trump, Jared Kushner and Sean Spicer are also present.
The meeting took place on a Friday, just before Trump was headed to Mar-a-Lago. To drive home his anger, Trump reportedly refused to let Bannon and Chief of Staff Reince Priebus travel with him to Florida aboard Air Force One. "Nobody has seen him that upset," an insider told CNN.
3. When he learned a special counsel had been appointed to look into his Russia ties.
Trump blamed Sessions for the appointment of Robert S. Mueller, who took over the Russia investigation after the president fired former FBI director James Comey for doing his job. The New York Times offered a detailed account of the "string of insults" Trump heaped on Sessions (no sympathetic character himself) when he learned of Mueller's new role.
Trump berated Attorney General Jeff Sessions in an Oval Office meeting and said he should resign, according to current and former administration officials and others briefed on the matter.

Ashen and emotional, Mr. Sessions told the president he would quit and sent a resignation letter to the White House, according to four people who were told details of the meeting. Mr. Sessions would later tell associates that the demeaning way the president addressed him was the most humiliating experience in decades of public life.
Trump also started vocalizing his anger in all directions, including at inanimate objects, according to an AP report.
Trump advisers and confidants describe the president as increasingly angry over the investigation, yelling at television sets in the White House carrying coverage and insisting he is the target of a conspiracy to discredit — and potentially end — his presidency.
4. When the crowd wasn't big enough at a rally in Arizona.
Hours before the event was set to take place, news coverage showed the Phoenix venue where Trump was slated to speak was still empty. The sight apparently enraged Trump. He had longtime aid Keith Schiller put in a call to George Gigicos, the organizer for the president's post-election victory rallies, demanding an explanation. Despite reassurances that a crowd would arrive by the time he took the stage, Trump "was irate, warning [Gigicos] that the venue better be full by the time he arrived," CNN reports. The venue did eventually fill, but it was too late to meet Trump's satisfaction. A few days later, Gigicos was fired.
This kind of flareup is "not uncommon," a source told CNN. "This is what (Trump) does. He tries to get under your skin."
5. When he lost it over a broken microphone.
At a rally in Pensacola, Florida in early 2016, Trump went on an extended angry rant against some poor audio worker who installed a mic that didn't work perfectly.
"I don't like this mic. Whoever the hell brought this mic system, don't pay the son of a bitch who put it in, I'll tell you. These people. No, this mic is terrible. This stupid mic keeps popping. Do you hear that, George? Don't pay him. Don't pay him. You know, I believe in paying, but when somebody does a bad job, like this stupid mic, you shouldn't pay the bastard. Terrible. Terrible. It's true. And you gotta be tough with your people, because they'll pay, they don't care. They'll pay. So we're not gonna pay. I'll guarantee I'm not paying for this mic. Every two minutes I hear like, 'Boom, boom.' Anyway, I hope it's okay for you out there, but it really is…Wow, you are really—look at that place, look up there, it's packed, to the rafters."
6. When Congress passed a Russia sanctions bill.
There is no country whose interests are more valued by Trump than Russia. After Congress passed a Russia sanctions bill, but stalled on taking health care away from millions, Trump got Senate Majority Leader Mitch McConnell on the horn to make loud noises and shout swear words. According to CNN, sources said the call "quickly devolved into a shouting match as an irate Trump expressed his frustrations about the congressional investigation into Russian interference with the U.S. election last year and fumed about a Russia sanctions bill Congress passed that would tie Trump's hands on the matter." The outlet also notes that "Trump cursed at the GOP leader," and then took to social media to rage-tweet at the senator.
7. When he yelled at an American ally.
Just days after being sworn in, Trump had a phone call with Australian Prime Minister Malcolm Turnbull. But when the conversation turned to a U.S. deal to resettle 1,250 refugees from an Australian detention center—which Turnbull had to repeatedly explain to Trump, who hates learning new things as much as he hates politics—the president popped his top. Trump began by whining that the exchange would make his administration "look awfully bad," and eventually crescendoed with the declaration, "This is going to kill me. I am the world's greatest person that does not want to let people into the country."
Having caught the vapors or some such, the drama king-in-chief then decided to abruptly end the planned one-hour call at the 25 minute mark. Note that he manages to squeeze in a bit of praise for his idol, Russian President Vladimir Putin.
"I have had it," Trump says, as he angrily winds down the discussion. "I have been making these calls all day and this is the most unpleasant call all day. Putin was a pleasant call. This is ridiculous."
8. When the people who are paid to advise him advised him not to pull out of the Iran deal.
Back in July, National Security Adviser H.R. McMaster and a few other senior staff members attempted to convince Trump not to scrap the Iran agreement he'd previously railed against. In response, Trump weighed all arguments presented, asked questions to understand complex aspects of the plan, and called for additional supplemental research to inform his decision.
Ha, I'm kidding.
He freaked out the way a baby might when you take his binky away. Per the Washington Post:
He was incensed by the arguments of Secretary of State Rex ­Tillerson, Defense Secretary Jim Mattis and others that the landmark 2015 deal, while flawed, offered stability and other benefits. He did not want to certify to Congress that the agreement remained in the vital U.S. national security interest and that Iran was meeting its obligations. He did not think either was true.

"He threw a fit," said one person familiar with the meeting…."He was furious. Really furious. It's clear he felt jammed."
9. When reports indicated the White House was a chaotic mess and had invented wiretapping charges.
CNN reports that in March, Trump was "enraged" by White House leaks and reports that the administration was in a state of disarray. His seething anger over the deluge of negative press led him to fabricate charges that President Obama had tapped his phones in Trump Tower during the 2016 election season. It's hard to know if Trump was in a delusional state or simply lying when he made the false charges via a series of tweets. In any case, the Washington Post reports daughter Ivanka and her husband Jared Kushner "were helpless to contain his fury. Trump was mad—steaming, raging mad."
"He was pissed," Christopher Ruddy, CEO of conservative outlet Newsmax and Trump golfing buddy, told the paper. "I haven't seen him this angry."
10. When he forgot why he was there, again.
This isn't an example of Trump having an angry outburst, but it does speak to questions about his ability to focus and remember important tasks before him.
On Thursday, Trump called a press conference so the news media could capture him signing an incredibly evil executive order to circumnavigate Congress in his effort to destroy Obamacare, leave millions without health care and obliterate the legacy of the black predecessor he both despises and is infatuated with. (That's obviously its own story.) After remarks, Trump departed the podium and headed for the door, before being reminded by Mike Pence that he needed to sign the documents.
Trump this morning nearly walked out of the room without signing his health care exec. order, had to be brought back by Pence. pic.twitter.com/P93N2TwGYc

— Kyle Griffin (@kylegriffin1) October 12, 2017
This is the second time Trump has forgotten why he was in a room filled with press, despite having assembled media for an explicit purpose. Back in April, Trump wandered out of the room without signing two executive orders. Pence hurriedly collected the documents and chased the president into the next room.
While neither case is an example of Trump's extreme temper, they do raise questions about his mental state and short-term memory capacity.
Kali Holloway is a senior writer and the associate editor of media and culture at AlterNet.