Trump Urges Prosecution Of Kerry In Rambling Press Conference
@alexvhenderson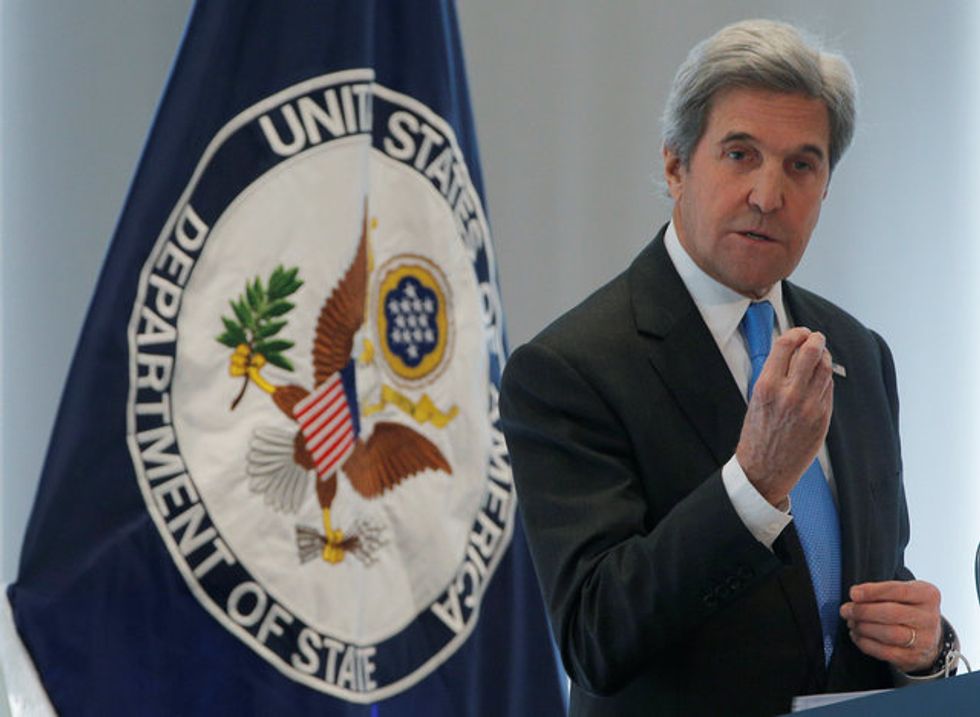 Reprinted with permission from Alternet.
On Thursday,  President Donald Trump gave a White House press conference that was intended, primarily, to address medical billing. But the president was all over the place during the briefing, using it for everything from attacks on special counsel Robert Mueller and former Secretary of State John Kerry to a defense of his China trade policy. Here are some of the wildest and craziest moments from Trump's May 9 White House press conference.
1. Trump described his administration as generous to Puerto Rico
Trump has been widely criticized for his response to the Hurricane Maria tragedy in Puerto Rico; San Juan Mayor Carmen Yulín Cruz and Puerto Rico Gov. Ricardo Roselló have been especially critical. But during his press conference, Trump vigorously defended his Puerto Rico policy — saying he "gave Puerto Rico $91 billion" and insisting "I think the people of Puerto Rico should really like President Trump."
2. Trump called for prosecution of John Kerry
Trump, after taking office, ended the Obama Administration's nuclear arms deal with Iran, which was negotiated in part by former Secretary of State John Kerry. And Trump took aim at Kerry on Thursday, accusing him of telling Iran not to call his administration. Trump claimed that Kerry was in violation of the Logan Act and should be prosecuted for interfering.
3. Trump deferred to Barr on Mueller testimony
Trump, recently, has begun saying that special counsel Robert Mueller should not testify before Congress, after previously saying he would leave it up to the attorney general to make that decision. But on Thursday, he again deferred to Attorney General William Barr on the matter. "I'm going to leave that up to our very great attorney general," Trump told reporters. "He'll make a decision on that."
4. Trump used a press conference on medical billing to attack Mueller
Although Thursday's press briefing was meant to primarily address medical billing, Trump reiterated his familiar theme that Mueller's Russia investigation was a pointless and partisan effort orchestrated by Democrats who are out to get him. Trump also suggested that Mueller might have had a conflict of interest, saying that after he fired former FBI Director James Comey in 2017, Mueller (who had previously directed the FBI) was considered as a replacement but ended up being special counsel instead.
5. Trump claimed Donald Trump, Jr. was 'exonerated' by Mueller
Trump also used the press conference to defend his son, claiming that Donald Trump, Jr. was "totally exonerated by Robert Mueller."
6. Trump says he 'gave China a break'
Trump defended tariffs on Chinese imports, saying that had been going easy on China and that he "gave China a break" when it came to tariffs. And after tariffs are increased, Trump said, "We're going to be taking in more money than we've ever taken in."
IMAGE: Secretary of State John Kerry in Cambridge, Massachusetts, U.S. January 9, 2017. REUTERS/Brian Snyder